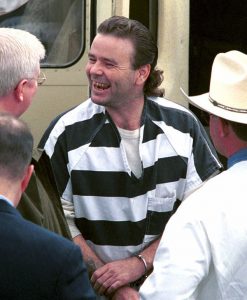 Tommy Sells was an American serial killer, who was convicted of only one murder but authorities believe he committed at least another 21 more.
WHEN TOMMY LYNN SELLS WAS YOUNG
Tommy Sells and his twin sister, Tammy Jean, contracted meningitis when they were only 18 months old. Little Tammy died and Tommy was sent to live with his aunt, Bonnie Woodall, in Missouri. He lived there until he was five years old.
When Tommy was eight, he began spending time with a man named Willis Clark. Clark began to molest him, with the consent of his mother. Tommy later stated that this abuse affected him greatly and it was these acts of sexual abuse that he would relive while committing his own crimes.
TOMMY SELLS ON HIS OWN
As Tommy Sells moved out into his own, he drank heavily, did drugs and remained homeless for the most part. He worked a few manual labor jobs, none of which lasted very long and he did several 'tours' in jailhouses for petty infractions. He hitchhiked, or hopped trains, across the United States from 1978 to 1999, committing various crimes along the way.
MORE CRIMES AND MENTAL DISORDERS
In 1990, Tommy Sells stole a truck in Wyoming and was sentenced to 16 months imprisonment. While there he was diagnosed with a personality disorder consisting of antisocial, borderline and schizoid features, bipolar disorder, major depressive disorder and psychosis. Not to mention he was an alcoholic that was addicted to opiates, cannabis and  amphetamines.
In May 1992, Tommy raped, knifed and beat a woman with a piano stool in while in Charleston, West Virginia. He was sentenced to two to ten years imprisonment for malicious wounding. The rape charge was dropped. While serving this sentence, he met and married Nora Price.
Tommy Sells was released in 1997 and moved to Tennessee with his wife. That, however, did not last long, and Tommy set out on his cross-country travels once more.
TOMMY SELLS AND MURDER
Tommy Sells said that he committed his first act of murder at age 16. He broke into a house, intent on robbing it , and instead discovered a man performing fellatio on a young boy. Tommy said he murdered the man in a fit of rage.
In July 1985, Tommy Sells, 21 at the time, worked at a Missouri carnival. While there, he met 28-year-old Ena Cordt and her 4-year-old son. Ena invited Tommy to her home one evening. According to Sells, he had sex with her, fell asleep and woke up to find her stealing from his backpack. He proceeded to beat the woman to death with her son's baseball bat. He then murdered her son because the child, he knew, was a potential eye witness. The bludgeoned bodies were found three days later. Tommy Sells was, by then, long gone.
THE MISTAKE THAT TAKES HIM DOWN
On December 31, 1999, in a burg west of Del Rio, Texas, Tommy Sells entered a home, where acquaintances of his lived, with their two young daughters and a son. Intent on raping the thirteen year old girl, Tommy entered her room and attempted to assault her. She fought her way from him, as ten year Krystal Surles lay in an upper bunk and watched in horror. Tommy grabbed the combative little 13-year-old Kaylene 'Katy' Harris and slit her throat two times before fatally stabbing her 16 more times. As the ten year old begged for her life, Tommy Sells sliced her throat as well. She fell to the floor.
Tommy Sells left the house, confident the eye witness was as dead as her roommate. She was not! Understanding that she would likewise be Tommy's victim, 'Krystal Harris' played dead until the intruder, that she had met more than once at church, had left the house. Expecting that the rest of the family had already been murdered, the ten year old fled to a nearby neighbors house for help.
Sells was quickly apprehended, as Krystal was quite positively able to describe, then identify, her attacker.
Tommy Sells confessed to more than seventy murders throughout his life and, although only 22 were confirmed, authorities do believe there were far more than that. Whether he was exaggerating that number or not made little difference. Tommy was given the death sentence and there was no exaggerating that fact.
EXECUTION DATE SET FOR TOMMY SELLS
On January 3, 2014, a Del Rio judge set Tommy Sells' execution date for April 3, 2014. Sells' death sentence was carried out at the Texas State Penitentiary in Huntsville. When asked if he would like to make a final statement, Sells replied "No."
As a lethal dose of pentobarbital was administered, he took a few deep breaths, closed his eyes and began to snore. Less than a minute later, he stopped moving. Thirteen minutes later, at 6:27 p.m., Tommy Lynn Sells was pronounced dead.
credit – wikipedia