Alyssa Bustamante | Kids That Kill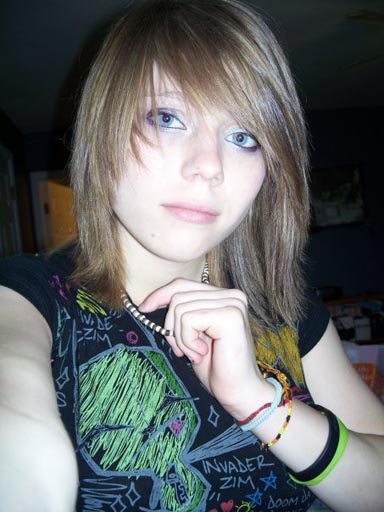 Alyssa Dailene Bustamante
Born: 01-28-1994
---
The Murder of Elizabeth Olten
An American Thrill Killer
Crime Spree: October 21, 2009
Incarcerated at the Women's Eastern Missouri Reception, Diagnostic and Correctional Center in Vandalia, Missouri
---
Alyssa was born into a dysfunctional family to say the least. Her parents, Michelle and Ceaser Bustamante, just teenagers themselves when they began their family, went on to have three more children, before child services stepped in and removed them all.
Gary and Karen Brooke, the children's maternal grandparents, took legal custody of Alyssa and her three younger siblings, a set of twin boys and a sister, named Emma, in 2002.
On the surface, the children seemed to adjust well in their new home, a ranch-like property in a rural area of St. Martins, Missouri. 
Alyssa too seemed to quickly adjust. It appeared, at least to most, that she was growing into a typical, pretty teenage girl next door. She went to church, had plenty of friends, was active on all kinds of social media and did pretty well in school. Inwardly however, Alyssa Bustamante was anything but typical. In fact she had a dark side that was quickly driving toward the surface. On her YouTube page, she wrote down that her hobbies included "cutting" herself and "killing people." She also posted a photograph of herself holding two fingers to her head, pretending to shoot herself. She painted herself in Goth and fantasied about murder and death.
---
Alyssa Bustamante suffered silently from deep depression and started self-harming herself. In 2007, she attempted suicide at thirteen with an overdose of pills and spent 10 days in a psychiatric hospital where she was put on strong anti-depressants. Alyssa's grandparents took her to several psychologists but all of this did very little to help her.
When Alyssa was 15, she started thinking about 'what it would feel like' to kill someone else.
Planning and Patience
When Alyssa Bustamante had a Friday off from school, she spent the day digging two holes in the ground in the wooded area behind her home. She intended to use them as graves. Then she waited patiently for an opportunity to present itself so she might live out a fantasy and fill those holes with her victim(s). It was thought, but never proven, that Alyssa actually intended to murder her younger twin brothers, therefore providing an explanation for two holes instead of one.
However, Alyssa provided her own opportunity just four evenings later.
Elizabeth Olten
According to friends and family, nine year old Elizabeth Olten was as sweet as they came. She was a shy little girl who loved horses, cats and the color pink. She had long brown hair and wide smiling eyes. She also had a younger friend, six year old Emma, who lived just a few houses away, across the woods from her house. So, when Emma came knocking about 5 pm on Wednesday evening, begging Elizabeth's mother for an hour of outdoor play time together, it was not unusual.
Reluctantly, Elizabeth's mother consented, telling the girls that Elizabeth must be home by 6 for supper. Knowing full well that her daughter was afraid of the dark, Patty did not concern herself further, knowing that Elizabeth would never willingly find herself outside as it began growing dark.
So, when the sun began to sink in the sky and Elizabeth did not come through the door around 6 pm., Patty Preiss knew immediately that something was frighteningly wrong. She called Emma's grandmother in search of her daughter.
That's when things really got confusing. Karen Brooke said Elizabeth was not there nor had she been there that day. Patty, knowing full well that Elizabeth had left her house with Emma, was now really beginning to panic.
The family frantically began looking for Elizabeth and Patty finally called police to report her daughter missing around 7pm.
Little Girl Lost
Law enforcement arrived within 15 minutes and the search for the nine year began almost immediately. Although there was a two-lane highway that ran the stretch from the ranch to Elizabeth's house, the little girl had, for one reason or another, chosen to take the shortcut through the darkening woods, behind neighboring lawns and backyards.
By the time the search started, with hundreds of volunteers, it was dark and cold and the weather had turned. It started pouring down rain making searching the woodsy terrain a difficult process.
The searchers however continued to grow and included dogs, firefighters, police, helicopters, neighbors for miles, the highway patrol and finally the FBI. They went over and over the area, but to no avail.
Patty knew that Elizabeth had her cell phone and she repeatedly called her line. Each call however sent her straight voice mail. Authorities did start pinging the cell phone and that did tell them she was somewhere in those woods. But, by early Thursday morning, the battery had died and offered no more help to the searchers.
The search through the dense woods was intense, using hundreds of volunteers on the ground. They had checkpoints set up on the roads. They tracked down all the local registered sex offenders and followed up on their alibis. They employed dive teams for streams and waterways, helicopters took to the sky in search of the child and dog teams searched frantically around the ranch. Nothing they did revealed the whereabouts of little Elizabeth Olten.
---
article continued below
prime video | start your free trial today
Watch All Your Favorites and A Few You Don't Want To Miss
Please Review Our Affiliate Disclaimer
article continued below
---
By Thursday afternoon, and nearly 24 hours since anyone had seen Elizabeth, authorities decide to turn their attentions in another direction. They headed to the last person to see Elizabeth on Wednesday evening.
Six year old Emma was interviewed by the FBI. Emma stated she was playing with her friend Elizabeth and about an hour later Elizabeth started walking home. That was the last time she saw her. She also added that they were outside playing and she got stuck in some thorn bushes. She cried out for her sister, 15 year-old Alyssa, to come and help her get out. Detectives instantly realized that Alyssa too was now someone they wanted to talk to about the last sighting of Elizabeth Olten. Authorities immediately sought to get permission for a more thorough search of the ranch property and home.
The Grave In The Woods
A volunteer, who was still searching the wooded area where Elizabeth's phone last pinged, came across something he deemed odd. He thought it looked like a fresh grave in the woods. Authorities were called at once.
In the Meantime
The FBI obtained consent to search the Bustamante home. When the agent assigned to Alyssa's room opened her bedroom door, she was a bit more than taken aback. To say what she immediately saw was disturbing was an understatement.
The walls were covered with bizarre drawings and writings, some in pen, some in blood. Cards and letters from her incarcerated father were taped all over the walls. There was a crude sketch of a person, covered with slash marks with the word 'Emma' written beside it, covering another wall.
The agent then found a journal, a diary of sorts. The words written within revealed a very disturbed young person. But more importantly, the last entry was on Wednesday, October 21, the same day that Elizabeth Olten disappeared.
The agent seized the diary as potential evidence.
---
article continued below
article continued below
---
The Interview with Alyssa Bustamante
The next morning, on Friday afternoon, the FBI called Alyssa to the FBI headquarters for an interview.
Just before the interview was set to begin, the detective was handed Alyssa's journal. He was specifically shown the final entry.
The last entry of the diary, which was the day that Elizabeth went missing, was completely scribbled out with a dark pen. Fortunately, back-lighting revealed two words quite clearly. Slit and throat. It's all the detective needed.
Alyssa Bustamante, her grandmother, Sgt. Rice (the detective in the case) and a juvenile officer entered the interrogation room.
The detective and Alyssa spoke about the events of Wednesday, October 21st. Alyssa appeared confident and answered questions easily. Then, at just the right moment, the detective told Alyssa they had found, and read, her diary. Including the final entry.
The atmosphere of the room instantly changed. Alyssa now knew – they knew.
A Confession
Alyssa then told the detective that she and Elizabeth were walking in the woods when the girl fell and hit her head, then suddenly died. The detective explained to Alyssa that when they found Elizabeth's body, they would conduct an autopsy and every wound would be examined.
After a moment of silence, the detective asked Alyssa another question. "Was her throat slit?"
Alyssa said yes and her grandmother burst into tears.
---
Elizabeth Kay Olten – Find A Grave
---
Premediated Murder
Alyssa knew what she was aiming to do. After all, it was she who had sent her six year old sister Emma after Elizabeth that sunny afternoon. Then, when the sun began to set and Elizabeth's six o'clock curfew approached, Alyssa sent her own sister home, took Elizabeth by the hand and headed in the opposite direction.
Alyssa told Elizabeth she had something to show her and led her into the wooded area behind the houses of the neighborhood near where she had previously, just the weekend earlier, dug the graves. Alyssa had a kitchen knife in her possession and her plan to kill Elizabeth was well passed the point of no return. She had at least 15 minutes, while they walked toward the pre-dug graves, to change her mind and intended actions, but Alyssa was on a mission she had no intention of changing.
The autopsy would later reveal that Elizabeth had been beaten, strangled, her throat and wrists had been slashed and she'd been stabbed repeatedly. Alyssa then buried Elizabeth in one of the shallow graves she had dug several days earlier and covered the site with mud and leaves. Then she headed for home.
The Body
Alyssa's grandmother was asked to leave the room.
Alyssa then told the detective that once she and Elizabeth got to the grave site, she put her hands around Elizabeth's throat and strangled the little girl. Then stabbed her repeatedly in the chest. She slashed her with the knife and finally slit her throat.
After her confession, Alyssa agreed with a nod to take the detective to Elizabeth's body.
The results of Elizabeth's autopsy mirrored the last entry of Alyssa's diary and her confession.
The Final Diary Entry
"I just fucking killed someone. I strangled them and slit their throats and stabbed them. Now they're dead. I don't know how to feel ATM. It was amazing. As soon as you get over the 'Oh My Gawd. I can't do this' feeling it's pretty enjoyable. I'm kinda nervous and shaking though right now. Kay, I got to go to church now LOL."
Entering a Plea
Alyssa was arrested, and charged with first-degree murder in the death of Elizabeth Olten. She appeared in court on November 17, 2009, where the judge ruled that she should be tried as an adult. Alyssa Bustamante was sentenced to life in prison with the chance of parole, plus 30 years for armed criminal action. Under Missouri law, she will serve 35 years and five months before she will be eligible for parole.
source: murderpedia |wikipedia | fox4kc | .thetealmango
This site contains affiliate links. We may, at no cost to you, receive a commission for purchases made through these links
WickedWe Suggests: