Robert Spangler | Parricide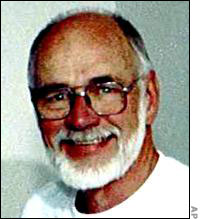 Robert Spangler
Born: 01-10-1933
---
Murder in the Family
An American Family Murderer
Crime Spree: 1978 / 1993
Death: 08-05-2001
---
On the morning of December 30, 1978, in Littleton, Colorado, Robert Spangler lured his wife Nancy into the basement with the promise of a "surprise." He then shot her in the head with a.38 handgun. Going upstairs, he shot his teenage children, Susan and David. David was slow in dying, so his father finished him off by smothering him with a pillow. Spangler had cunningly framed the crime scene, making it appear that his wife had shot their children and then herself.
Now he was free to marry his new love, Sharon Cooper. A former high school athlete, he hiked the Grand Canyon with Sharon, who chronicled the trip in a book dedicated to her "soul mate," Spangler. But their happiness was short-lived. The marriage ended in a costly, messy divorce.
In April, 1993, when Spangler's third marriage to 59-year-old aerobics instructor Donna Sundling went sour, he took her hiking in the Grand Canyon and pushed her off a 140-foot drop to her death. In 1994, when ex-wife Sharon committed suicide, Spangler became the focus of intense police scrutiny. Wracked with brain cancer, he told all to investigators in the fall of 2000, detailing his shocking serial sage-the story of a two-time widower, and a four-time killer.
The Confession
According to the author, you sometimes have to wonder how any killer, that takes time to plan and carry out his murderous action, manages to get convicted. I mean, if you don't get caught actually committing the crime, and you manage to dispose of the evidence, I really can't see how you can get convicted. The case of Robert Spangler is a good example. Here was a guy, that police knew had killed his family, but had no conclusive evidence against him. In fact, the only reason you are getting to read about him is because he got unlucky. Well, he got more than unlucky, he got cancer and an attack of the fame bug.
Not long after Robert Spangler learned he was dying of cancer in late 2000, detectives came knocking at his door on the chance he had something he might want to get off his chest before the end came. They weren't disappointed with what he had to tell them.
Robert Spangler very calmly admitted killing his family (his wife and two kids) in 1978. He also told the officers that he had pushed his third wife over the Grand Canyon 15 years later. She died as well.
Based on this confession, Robert Spangler was charged in Colorado with murdering his first wife and two children. According to prosecutors, he said that he was dissatisfied with family life. It was a pretty good plan to get rid of the family too. He had shot Nancy Spangler, 45, son David, 17, and daughter Susan, 15, in their home in suburban Denver. He had then placed the gun and a typewritten suicide note near the mother's body.
Robert Spangler
Despite this 'brilliant' plan, Robert Spangler was nearly caught. Robert initially told police he had been at work, but he had to explain how he happened to have gunshot residue on his hands. He told police he returned home and found his wife sitting in a chair with a gunshot wound to the head. He said he saw the gun nearby and handled it. Close call, and without solid evidence, the authorities concluded the mother killed the children and then herself.
Robert Spangler later remarried and then divorced in 1988. The ex-wife died in 1994 of a drug overdose, and Spangler has not been implicated. Interesting that they didn't try and get him to confess to this one as well.
In 1990, Robert Spangler married Donna Sundling, an aerobics instructor. The couple were visiting the Grand Canyon in 1993 when she fell 200 feet to her death. Robert told police he turned away to adjust his camera and when he turned back, she had disappeared. But her relatives were pretty suspicious of this as they said she was afraid of heights and very agile. Still, if there's no conclusive evidence, then why bother charging someone. I mean, it's not he's a serial killer or anything.
Another odd thing with this second murder is the fact that Robert Spangler had the body cremated before anyone had a chance to check the body out. Still, no conclusive evidence means no charges. This guy may have liked to push things with the law, but he was pretty smart.
Robert Spangler
Following his confession, Robert Spangler was indicted by a federal grand jury in Phoenix in the 1993 death of Donna Sundling Spangler. He was sentenced to life imprisonment without parole in Arizona in 2000. He died of cancer on August 5th the following year.
Source: murderpedia | The Wacky World of Murder
This site contains affiliate links. We may, at no cost to you, receive a commission for purchases made through these links