The Cannibal Murders of Illinois
A serial slayer, predictably dubbed "Jack the Ripper" was stalking young women in Chicago and environs, discarding their mutilated corpses like so much cast-off rubbish. Homicide detectives had no inkling of the killer's motive or identity. In truth, they couldn't even manage to agree upon a body-count. The speculation, published daily in Chicago's press, was bad. But the truth, when it was finally exposed, was infinitely far, far worse. And, unbeknownst to them at the time, until they caught a satan worshiper named Robin Gecht, things would only get worse
Ladies Go Missing
On May 23, 1981, 28-year-old Linda Sutton was abducted from Elmhurst, a Chicago suburb. Ten days later, her mutilated body, her left breast missing, was recovered from a field in Villa Park, adjacent to the Rip Van Winkle Motel.
The evidence suggested she had been kidnapped by a sadist.
A year would pass before the next acknowledged victim in the series disappeared. On May 15, 1982, 21-year-old Lorraine Borowski was scheduled to open the Elmhurst realtor's office where she worked. Employees turning up for work that morning found the office locked, Lorraine's shoes and scattered contents from her handbag strewn outside the door.
Police were called at once. Five more months elapsed before her corpse was found, on October 10, in a cemetery south of Villa Park. Advanced decomposition left the cause of death a mystery.
More Women Go Missing
Two weeks later, on May 29, Shui Mak was reported missing from Hanover Park, in Cook County, her mutilated body recovered at Barrington on September 30th.
On June 13, prostitute Angel York was picked up by a "john" in a van, handcuffed, her breast slashed open before she was dumped on the roadside, alive. Descriptions of her attacker had taken police nowhere by August 28th, when teenage hooker Sandra Delaware was found stabbed and strangled to death on the bank of the Chicago River. Her left breast neatly amputated.
Authorities Get A Break
Detectives finally got the break they had been waiting for October 6. That morning, prostitute Beverly Washington, age 20, was found nude and savaged beside a Chicago railroad track. Her left breast had been severed, the right deeply slashed, but she was breathing and emergency treatment would save her life.
Hours later, in a seemingly unrelated incident, drug dealer Rafael Torado was killed when the occupants of a cruising van peppered their phone booth with rifle fire.
Enter Robin Gecht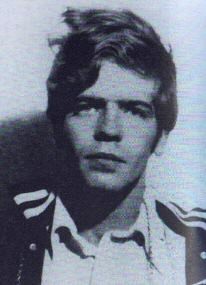 Two weeks later, on October 20, police arrested unemployed carpenter Robin Gecht, age 28, and charged him with the cruel assault on Beverly Washington.
Also suspected of slashing prostitute Cynthia Smith, before she escaped from his van, Gecht was an odd character. He was once accused of molesting his own younger sister. Authorities immediately linked him with the "Ripper" slayings. They did not however have enough proof and he made bail October 26.
In the mean time, detectives learned that Robin Gecht was one of four men who rented adjoining rooms at Villa Park's Rip Van Winkle Motel, several months before Linda Sutton was murdered nearby.
The manager remembered them as party animals, frequently bringing women to their rooms. He surprised investigators with one further bit of information. The men had been "some kind of cultists," perhaps even devil-worshipers.
Robin Gecht and the Ripper Crew Cannibals
Two of the Rip Van Winkle tenants, brothers named Thomas and Andrew Kokoraleis, had been kind enough to leave a forwarding address, for any mail they might receive. The authorities luck was beginning to shift.
Police found 23-year-old Thomas at home when they called on him. His inconsistent answers earned him a trip downtown.
The suspect promptly failed a polygraph examination. And then he cracked, freely describing the "Satanic Chapel" in Robin Gecht's upstairs bedroom. There, the captive women were tortured with knives and ice picks. They were gang-raped and finally sacrificed to Satan by members of the tiny cult, that included ring leader Robin Gecht, the Kokoraleis brothers and 23-year-old Edward Spreitzer.
Gecht and his gang of misfits drove around in a van looking for prostitutes to sacrifice in Gecht's apartment. Thomas claimed they removed one breast from each victim as Robin Gecht read passages from The Satanic Bible. It was also said that, after severing the breast, each man took turns raping the open wound. They then proceeded to each masturbate into the flesh of the breast and finally each take "communion" by eating a piece of the breast before the relic was consigned to the trophy box of Robin Gecht.
Breasts In The Trophy Box Of Robin Gecht
At one point, Thomas Kokoraleis told detectives, he had counted fifteen breasts inside the box. Some other victims had been murdered at the Rip Van Winkle, out in Villa Park. He picked a snapshot of Lorraine Borowski as a woman he had picked up, with his brother, for a one-way ride to the motel.
Police had heard enough. Armed with search and arrest warrants, they made their move. They swept up Robin Gecht, Ed Spreitzer, and 20-year-old Andrew Kokoraleis on November 5, lodging them in jail under $1 million bond.
A search of Robin Gecht's apartment revealed the Satanic chapel described by Tom Kokoraleis. The authorities lawmen came away with a rifle matched to the recent Torado shooting. Satanic literature was also retrieved from the apartment occupied by Andrew Kokoraleis. With their suspects in custody, authorities speculated that the gang might have murdered 18 women in as many months.
Tom Kokoraleis was charged with the slaying of Lorraine Borowski on November 12th. He was formally indicted by a grand jury four days later. Brother Andrew and Edward Spreitzer were charged on November 14 with the rape and murder of victim Rose Davis.
The Cannibal Killer of Illinois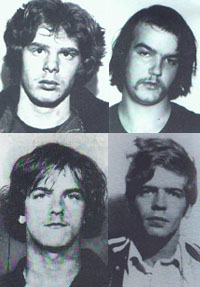 Facing multiple charges of attempted murder, rape, and aggravated battery, Gecht was found mentally competent for trial on March 2, 1983. His trial opened on September 20th, and Robin Gecht took the witness stand next day. He confessed the attack on Beverly Washington. Convicted on all counts, he received a sentence of 120 years in prison.
Tom Kokoraleis had suffered a change of heart since confessing to murder. But, on December 4, 1983, the confessions were admitted in evidence. Meanwhile, on April 2, 1984, Ed Spreitzer plead guilty on four counts of murder.
Sentenced to life on each count, he received additional time on conviction for charges of rape, deviant sexual assault, and attempted murder. Tom Kokoraleis was convicted of Lorraine Borowski's murder on May 18, 1984.
On September 7, the killer's helpful attitude was rewarded with a sentence of life imprisonment. Eighteen days later, Andrew Kokoraleis, his brother, and Ed Spreitzer were indicted for the murder of Linda Sutton. Andrew Kokoraleis and Spreitzer were also named in a second indictment, covering the murder of Lorraine Borowski.
The Canaries Just Keep Singing
On February 6, 1985, a statement from Andrew Kokoraleis was read to the jury in his trial for the Davis murder. In his confession, the defendant admitted he was "cruising" with fellow cultists Robin Gecht and Spreitzer when they kidnapped Davis, with Andrew himself stabbing her several times in the process. Convicted on February 11, he received his life sentence on March 18.
Andrew Kokoraleis was executed by lethal injection March 16, 1999.
A year later, on March 4, 1986, Edward Spreitzer was convicted of murdering Linda Sutton. He was formally sentenced to death on March 20. Authorities declared that Spreitzer had agreed to testify against Robin Gecht in that case and should have gained him life, not death. But, at this writing, no further changes have been filed in Chicago's grim series of The Cannibal Murders.
credit – murderpedia