Leonard Lake (aka – Leonard Hill) –  American Serial Killer
Early Life of Leonard Lake
Leonard Lake was born in San Francisco, California. When he was six years old, he and his siblings were sent to live with their grandparents after their parents had separated. He was reportedly a bright child, but had an obsession with pornography that stemmed from taking nude photos of his sisters, apparently with the encouragement of his grandmother. It was also alleged that Lake extorted sexual favors from his sisters.
Leonard Lake Has A Dark Side
In 1965 at age 19, Lake joined the Marine Corps and served two tours of duty in the Vietnam War as a radar operator. Diagnosed with schizoid personality disorder, Lake was eventually given a medical discharge in 1971 and underwent psychotherapy. Back in civilian life, he was living in San Jose, California, and briefly attended San Jose State University, however he dropped out after one semester.
It is believed that after dropping out of college, Leonard joined a group of hippies in the early 1970's and settled with them in a hippie commune. In 1975 Lake married, but the marriage dissolved quickly because his wife had found out that he was making and starring in amateur pornographic movies, usually involving bondage or sadomasochism.
Leonard Lake and the Law
In 1980, Lake was released from prison after serving time for car theft and was given a year's probation. In 1981 he married again, but, like his first wife, the second got fed up with his increasingly erratic behavior and his insistence that she star in pornographic films.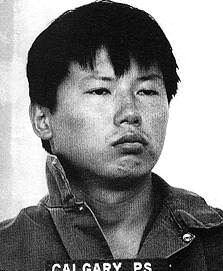 Leonard was arrested again in 1982 for a firearms violation. He skipped bail and settled into a remote ranch in Wilseyville, on property owned by his ex-wife.
That same year, Leonard met a man from Hong Kong named Charles Ng. The two struck up a friendship. Lake and Ng took up residence at the ranch and together they began abducting, torturing, raping and killing people. Most of their victims were people who one or both of  them knew.
Leonard Lake Discovered 
On June 2, 1985, Charles Ng was seen shoplifting in South San Francisco. He was gone by the time police arrived, but Leonard Lake, who was with Ng at the store, was arrested after his car was searched and the authorities found a .22 revolver, illegally equipped with a silencer.
Leonard lied about his name and produced a drivers licence with the same name as his identification. However, the ages obviously did not match and he was taken in for questioning. During the interview, Leonard asked for a glass of water and used it to swallow a cyanide pill hidden in the lapel of his shirt.
He collapsed, was rushed to a hospital and four days later was pronounced dead.
The Police Figure It All Out
By then, police had confirmed the true identity of their suspect as Leonard Lake. Furthermore, the man whose identity Lake had taken, Robin Stapley, had been missing for several weeks. The car Leonard was driving did in fact belong to Paul Cosner, 39, who had gone missing eight months previously in November of 1984.
As the police searched the ranch in Wilseyville, it became clear that Leonard Lake was a survivalist. His ranch was fitted with a bunker and a stash of weapons. In his diary, Leonard had written how he was convinced there was going to be a global nuclear war and how he planned to survive it. He also outlined how he would rebuild the human race with a collection of female slaves he planned to keep. He named this plan "Operation Miranda" after a character in the book The Collector by John Fowles.
The police also found videos showing Leonard and Ng torturing and raping women.
Looking For The Bodies
The grounds of the ranch were dug up and 12 corpses were uncovered in shallow graves. Among these victims were two families: Harvey Dubs and his wife, Deborah, and baby son, Sean; and Lonnie Bond and Brenda O'Connor and their baby son, Lonnie Bond Jr. The women had been sexually abused and killed after their husbands and infants were disposed of.
Five of the bodies were of men lured to the ranch to be robbed and killed. These included Robin Stapley and Paul Cosner. The 12th victim was identified as 18-year-old Kathleen Allen. Police also found charred fragments of human bones but they were unable to identity the victims or their number. It has been guestimated the number of unknown murdered persons could be as high as 25.
Leonard Lake's younger brother, Donald, had vanished in 1983 and was presumed dead, as had Charles Gunnar, a friend of Lake's from his military days. Charles' remains were discovered at the ranch in September 1992.
credit – murderpedia