ASHTON SACHS
In an Orange County courthouse on Friday October 14th, 2016, 22 year old Ashton Sachs sat in quiet anticipation. He was about to have a judge tell him his future. And it wasn't going to be good.
WHO IS ASHTON SACHS
Ashton Sachs was 19 years old in 2014. He was attending community college in Seattle Washington. On February 8th, 2014, Ashton Sachs set out on an 18 hour journey toward home.
Ashton later told police that he hatched the plot to kill his parents, and then himself, four or five days before the shooting. He drove the 18/20 hour drive south and went to a commercial building that his mother owned. He sat in the dark for several hours pondering his plight. Then he drove to the mansion.
He arrived at his parents Orange County home shortly after 2 a.m. on February 9th wearing a black beanie and gloves and carrying  a 22 caliber automatic rifle. He had a box filled with ammunition.
WHAT DID HE DO?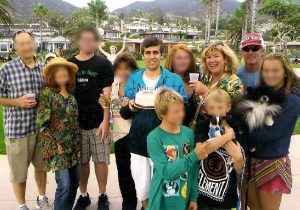 Upon arriving at the house, Ashton Sachs entered his family's home, via an unlocked door, and quietly climbed the stairs of the million dollar, ocean-view mansion undetected.  He paced around, for what he decided was 15 minutes or so, thinking about what to do. Whether to go through with his plan of familicide, go back home or just kill himself right there. He decided on murder.
Ashton Sachs entered his parents room and immediately riddled their bodies with bullets as they slept. He shot his father 10 times, including once in the face. His mother, he shot 12 times.
Ashton then entered his 8 year old brother's room and shot him in the same fashion. He likewise fired a shot at his sleeping younger sister.
After shooting his family, Ashton left the house and took a taxi to John Wayne Airport in nearby Santa Ana, California. He boarded a plane and was back in Seattle by the following morning.
WHAT HAPPENED THEN
Ashton Sachs immediately joined forces with his older brother, Myles, to get custody of his younger siblings. He also kept nightly vigils at Landon's hospital bedside.
At the funeral, no one seemed more upset than Ashton. The eulogy he gave was heartbreaking.
He had everybody fooled.
HOW DID ASHTON SACHS BECOME A PERSON OF INTEREST
At first, many theories were tossed around about the killings. There was speculation that the slayings were the result of a shady business deal or perhaps of a legal dispute.
Aston Sachs' mother, Andra, had a real estate empire that was worth close to $80 million dollars. Ashton was eager to cooperate with the police and offered the detectives several names of former business partners of his mother's as possible suspects to be considered.
There was security at the funeral, because at that point they didn't know if the murders had been a professional hit and whether or not someone might come back and try to finish what they'd started.
OR MAYBE IT WAS SOMEONE A BIT CLOSER TO THE FAMILY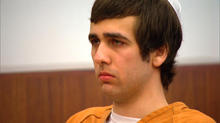 Just as true was the faint light that was being to be cast in Ashton Sachs' direction.
As the evidence mounted, including the discovery of the murder weapon in Ashton's car and phone records placing him in the area at the time of the murders, police also found a number of Wikipedia articles on his (Ashton's) cell phone on degrees of murder, attempted and felony murder and an insanity defense.
Investigators pushed Ashton to offer his personal opinion on exactly what he thought may have happened the night of the murders.
During one interview, an investigator simply asked Ashton why he did it. His reply was simple. "I don't have a reason why. Just a lot of problems." 
Ashton told the investigator that he had stopped attending classes and was spending his days smoking marijuana and playing video games. He blamed his parents for his depression and his "messed-up life." Ashton claimed that they hadn't taken his previous suicide attempt seriously. He said he was "the least favorite child in the family."
When asked why he shot Landon, he replied, "I don't know."
ASHTON SACHS WAS ARRESTED FOR MURDER
After an initial plea of not guilty, in May of 2014, Ashton Sachs surprised everyone by suddenly dismissing his public defender and stating that he would be representing himself in court.
"The defendant is a sociopath," Orange County Senior Deputy District Attorney Mike Murray told an Orange County, California, judge. He has no remorse or empathy. All he cares about is himself."
In another strange twist, Ashton Sachs called a 'special hearing, on September 20th and offered to plead guilty to all charges. Those charges being two counts of murder (for each of his parents) and two counts of attempted murder for firing at his sister Alexis, 17 at the time and his brother Landon, who was then 8. (Landon lived but was left paralyzed from the chest down.)
WHY DID ASHTON SACHS WANT TO MURDER HIS FAMILY
One month after the murder, Ashton was asked what was going through his mind at the time of the murders.
"I couldn't even remember," Ashton answered.  "It was just a rush… I was not myself.  I don't know.  I was something twisted." 
Ashton explained he was jealous for his parent's love and felt rejected by them.
Initial speculation was that Ashton murdered his parents to inherit their millions. But that thought has been pretty much dismissed. In the same interview Ashton expressed resentment toward his parents and his siblings and the rejection he felt by all of them.
Ashton's aunt did, however, state that he (Ashton) did have an unhealthy fascination with the Menendez brothers' murders, a high-profile 1989 Beverly Hills case where two brothers murdered their parents and went on a spending spree with their parents' fortune. So she might be a little hard to convince that money did not play a huge role in the cold blooded killings.
ASHTON SACHS FATE IS SEALED
Ashton Sachs was sentenced to four consecutive life terms with additional penalties for enhancements.
When offered to make any remarks or a statement, Aston Sachs declined and was quietly taken away to his life behind bars.
credit – people .com