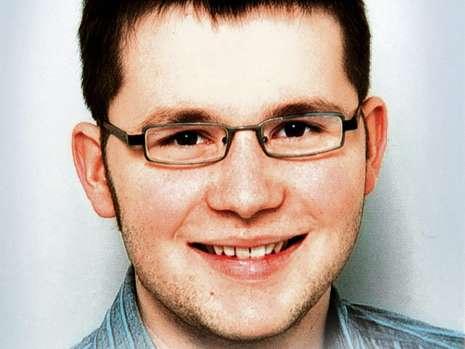 Tim Kretschmer
---
The Winnenden School Shooting
Mass Murderer
Crime Spree: March 11, 2009
The Winnenden School Shooting occurred on the morning of March 11, 2009 at a secondary school in Winnenden in south-west Germany, followed by a shootout at a car dealership in nearby Wendlingen. The shooting spree resulted in 16 deaths, including the suicide of the perpetrator, 17-year-old Tim Kretschmer, who had graduated from the school one year earlier. Several more people were injured.
The Shootings
Tim Kretschmer opened fire with a 9 mm Beretta semi-automatic pistol in the Albertville Realschule at approximately 9:30 a.m. Eyewitness reports state that Kretschmer started on the upstairs floor, where he made a beeline for two classrooms and a chemistry laboratory.
In these two rooms, Tim Kretschmer killed 7 students and a female teacher. The BBC reports that he shot all of his victims in the head, firing more than 60 rounds at the school.
After receiving an emergency call from a student at 9:33 a.m., three police officers reached the scene and entered the school, interrupting the shooting spree. Tim Kretschmer shot at them as he fled the building, killing two more female teachers in the hallway as he made his escape.
The Hijacking
Tim Kretschmer fled the scene and murdered a 56-year-old gardener in the park of a nearby psychiatric institution as he ran.
At about 10:00 am, Tim hijacked a Volkswagen minivan at gun point from a car park in Winnenden. Tim ordered the driver to head towards Wendlingen, 25 miles from Winnenden. The journey first took the gunman and his hostage westwards into the suburbs of Stuttgart, the Baden-Württemberg state capital, travelling through the towns and districts of Waiblingen, Fellbach and Bad Cannstatt before driving on the B14 dual carriageway through the Heslach Tunnel onto the A81 autobahn (motorway) towards Böblingen and Tübingen.
The two then drove onto the B27 dual carriageway before leaving on the B313 to Nürtingen. Shortly before the Wendlinger junction to the A8 autobahn the hostage steered the car onto the grass verge, jumped from the vehicle and raced towards a police patrol car. It was shortly after 12:00.
The Shootout with Tim Kretschmer
Tim Kretschmer immediately abandoned the car and ran toward the nearby industrial area, entering a Volkswagen car showroom through the main entrance. Here he threatened a salesperson and demanded a key for one of the vehicles.
The salesperson managed to escape while the gunman was momentarily distracted. Tim then shot and killed another salesperson and a customer, firing 13 bullets into the bodies. As he reloaded, another salesperson and visitor fled through the rear exit.
The gunman emerged at about 12:30 and shot at a passing car. The driver escaped without injury. The police started to arrive and a shootout began. An officer fired 8 shots at the gunman, hitting him once in each leg.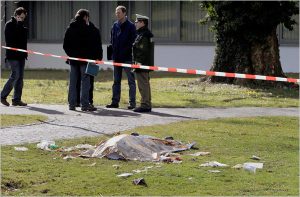 Tim Kretschmer returned to the car showroom, taking 12 shots from within the building at police from nearby Nürtingen, who were gradually surrounding the building.
He then left via the rear of the building and ran across a yard to a neighboring business complex where he shot and injured two police officers in an unmarked police car.
The Shooting Continues
According to police reports, at this point Tim Kretschmer continued to fire at random, shooting at nearby buildings and people. Witnesses then describe observing the 17-year-old as he reloaded his pistol before shooting himself in the head. The final seconds of the shootout were captured with a cell phone video camera.
According to forensic evidence, during the whole shooting spree the gunman fired a total of 112 rounds.
Tim Kretschmer
The perpetrator of the Winnenden school massacre was 17-year-old Tim Kretschmer, a resident of the neighboring municipality of Leutenbach, and graduated from Albertville Realschule in 2008 with relatively poor grades.
His failing grades had prevented him from an apprenticeship so he attended a commercial high school in preparation for an apprenticeship for a commercial career. Tim Kretschmer was described by a friend as "a lonely and frustrated person who felt rejected by society." An anonymous friend described Kretschmer as a quiet student who "began to withdraw from his peers".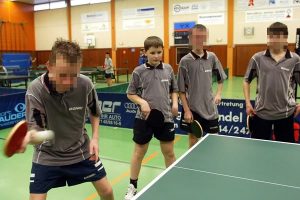 Tim was an avid table tennis player and had hoped to become a professional player. Marko Habijanec, a Croatian table tennis player who coached Tim at the Erdmannhausen sports club between 2000 and 2003, remembers him as being "a bit spoiled", his mother fulfilling many of his demands.
According to Habijanec, Tim Kretschmer had great difficulties accepting defeat. He would have a temper tantrum, yelling and throwing his racket. Having a high opinion of his own abilities, Tim Kretschmer openly denigrated his teammates. When Habijanec discussed Tim's attitude with his mother, he was shocked to discover her siding fully with her son.
No Criminal Record
Media reports say he enjoyed playing the video game Counter-Strike and playing with air soft guns. He also shot his real guns in the forest behind his home and in the basement of his house.
He had profiles at "MyVideo.de", Kwick.de and other websites. He often played poker with his classmates in the "Cafe Tunix" after school hours in Waiblingen. And, after inspection of his computer, it came to light that he was also interested in sadomasochistic scenes, where a man is bound and humiliated by women. He also viewed such a movie the evening before the crime.
Kretschmer did not have a criminal record. The press reported that in 2008, Tim Kretschmer had received treatment as an in-patient at the Weissenhoff Psychiatric Clinic near the town of Heilbronn. After being discharged, Kretschmer was supposed to continue his treatment as an out-patient in Winnenden, but instead ended his treatment.
According to police and clinic staff, he had been treated repeatedly for clinical depression on an out-patient basis in 2008. His family rejected these claims and maintained that he never received psychiatric treatment. According to a psychiatric report prepared for the prosecutor's office, Tim Kretschmer met five times with a therapist and talked about his growing anger and violent urges, which the therapist then reported to his parents.
Three weeks before the shooting Tim Kretschmer had written a letter to his parents, saying that "he was suffering and just couldn't go on".
source: murderpedia
This site contains affiliate links. We may, at no cost to you, receive a commission for purchases made through these links