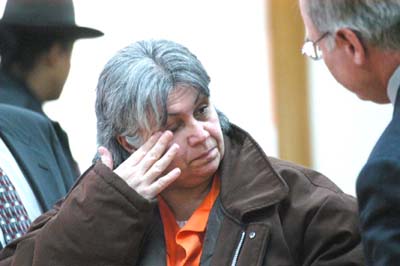 Diane Odell
---
Infanticide
Crime Spree: 1982 / 1983 / 1985
Justice finally caught up with Diane Odell on Tuesday, as Sullivan County Court Judge Frank J. LaBuda sentenced the 50-year-old former resident of Kauneonga Lake to 25 years to life in state prison for killing, "with depraved indifference," three of her newborn babies in 1982, 1983 and 1985.
Diane Odell was convicted of three counts of murder in the second degree on December 16th after a jury trial that relied heavily on forensic evidence including detailed testimony related to the badly decomposed/mummified remains of the babies found in a storage shed in Safford, AZ in May 2003.
Wrapped in blankets and garbage bags stuffed into stained cardboard boxes, photos and x-rays of the tiny skeletons visibly affected many jurors during the trial, causing the media to dub the case "The Babies in Boxes Murder Trial."
Before pronouncing sentence, Judge LaBuda reflected upon the timing of the trial. "It occurred during a time when many people throughout the world celebrated the birth of an infant who was perhaps unwanted by others . . . born in a barn and wrapped in swaddling clothes," he said.
Diane Odell
As Diane Odell stood before the judge, she wiped tears from her eyes and appeared to clutch a religious medal on a silver chain. Dressed in a baggy brown jailhouse jacket over an oversize orange jail-issue jumpsuit, Odell was flanked by her legal aide attorneys, Stephen Schick and Timothy Havas.
While LaBuda said he was not unmoved by the letters he received from her children "asking this court for mercy upon you," he said the sentencing was not for punishment and retribution, but for reaffirmation of the "respect for life we Americans have – a country dedicated to life, liberty and the pursuit of happiness."
"You have violated a basic tenent, a basic principle, a basic belief that all Americans have, a right to life and liberty," he said. "It was a dark tale that you created . . . no matter how small a life."
LaBuda said the final judgement was influenced by the 1989 discovery of the remains of a baby born to Diane Odell in 1972.
Stuffed in a suitcase found in a junked car in Max Shapiro's wrecking yard in Kauneonga Lake, under questioning by authorities Diane Odell reportedly admitted the baby was hers, but police could not make a case.
Odell faces a maximum sentence of 75 years to life. She will be eligible for parole in 2029.
Diane Odell
LaBuda sentenced Diane Odell to 15 years to life for the "depraved and indifferent murder" of the 1982 baby, 20 years to life for killing "baby #2" (1983) and 25 years to life for the second degree murder of the third infant born in 1985. All sentences run concurrently.
"You allowed those babies to rot away," said LaBuda. "It is a dark tale, but one you wrote. Today is judgement day, 25 years later, a quarter of a century later."
Before LaBuda handed down the life sentence, Diane Odell addressed the court, reading from a short handwritten statement, a statement that portrayed the convicted murderer more as a victim than a killer.
"For what I hope is the last time in my life, I will say I did not kill my children," she said softly.
"I have been in a jail of my own making for most of my life. I want to know, when does my suffering end?" she added. "I will apologize for not making conscious, educated decisions. And I hope that one day truth and justice will set me free. I will spend the rest of my life trying to be the person I should have been," Diane Odell said, choking back tears.
According to Sullivan County District Attorney Stephen Lungen, after the remains of the infants were discovered last year, Diane Odell gave authorities seven different versions of "the truth," claiming "she was kept off the witness stand by her attorney because he didn't want (facts related to) the 1972/1989 baby brought out [in court]."
Diane Odell
"The truth is, Diane Odell didn't testify because she knew there would be cross examination that could have exposed her," he added.
Lungen said that in a post-conviction jailhouse interview published in the press, Diane Odell in essence blamed her deceased mother for the deaths of "the three unwanted 'bastard' children'."
"In no way did she take any responsibility or show any real remorse," said Lungen. "She said her babies were the greatest gift from God and she loved them more than anything – she lived her life everyday for her children."
As the visibly moved local DA continued, he said, "It was clear from the evidence, she was only talking about the children she wanted. While she was supposedly telling the police the truth, the three babies were rotting away in a closet in her house."
The remains were later moved to the storage shed in AZ, as Diane Odell moved around the country. "This trial was about her unwanted children," said Lungen. "There are no illegitimate children, only illegitimate parents."
On behalf of Diane Odell, her common-law husband Robert Sauerstein and three of the couple's five children, Jeffrey, 13; 14-year old Robert and Jonathan, 15, Odell's lead legal aide attorney asked the judge to release the remains of the three babies to the family for proper burial.
source: murderpedia
This site contains affiliate links. We may, at no cost to you, receive a commission for purchases made through these links