May 18, 2012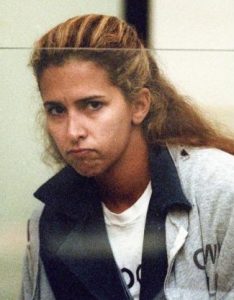 Nanette Johnston, 46, was the former girlfriend of a millionaire entrepreneur. That millionaire was shot to death in his bay side home in Newport Beach in 1994. Nanette was sentenced to life in prison without the possibility of parole for orchestrating that murder for the purpose of financial gain. But not until 2012.
Nanette showed no reaction as the Superior Court Judge gave her the maximum-allowable sentence for the 'special circumstances' murder of William McLaughlin. William was shot to death by an intruder as he lounged in a robe in the kitchen of his Balboa Coves home on Dec. 15, 1994.
Nanette Johnston Never Looked Up
Nanette Johnston sat in the jury box, using her attorney as a shield from the glare of news cameras, and did not look up as William McLaughlin's daughters delivered eloquent victim-impact statements.
"No one should be interrupted while having dinner in the safety of their own home by a person pointing a gun at him," said Jenny McLaughlin. "I feel very grateful to have such a wonderful father in my life for as long as I did. I wish he could have stayed with us longer and that God could have chosen his time to leave rather than a person with a gun and a greedy heart."
Kim McLaughlin-Bayless spoke directly to Nanetee Johnston and said her "destructive trail of deceit is astounding. The fact that you, Nanette, destroyed so many lives, including my Dad's, is vile. You had absolutely no right to take him from us for your own selfish reasons. He was incredibly good to you for four whole years."
Nanette Johnston Was The "Femme Fatale"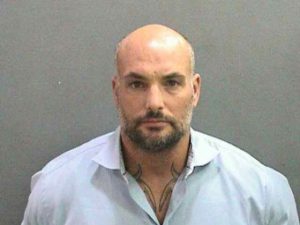 The Deputy District Attorney contended that Nanette Johnston was the femme fatale (an attractive and seductive woman who will ultimately bring disaster to any man who becomes involved with her) at the center of a love triangle. Nanette convinced her young lover, professional football player Eric Naposki, to gun down her wealthy, older live-in boyfriend, William McLaughlin. She did not, she said, want him to detected that she was cheating on him and stealing from him. And, as well, so she could also reap a financial windfall from McLaughlin's $1 million life insurance policy and from his will.
Attorney Murphy contended that Nanette, who was then 29, provided keys to Eric Naposki, who was 28 at the time, so that he could quietly sneak through a pedestrian gate at Balboa Cove and into McLaughlin's home near Lido Village so he could kill William at close range.
William McLaughlin Was Shot Six Times
William, who had just returned from a quick trip to Las Vegas, was shot six times in the torso with a 9 mm handgun. His mentally disabled son heard the shots and hurried downstairs to find his 55-year-old father in a pool of blood. The son's anguished cries for help were recorded in a 911 call.
Nanette Johnston Needed To Have William McLaughlin Killed
Attorney Murphy insisted Nanette needed William dead so that he would not discover that she had been cheating on him with Eric Naposki and stealing hundreds of thousands of dollars from his various bank accounts. She was also making a play to serve as trustee of his estate, which could have been worth millions.
Eric Naposki, who played parts of two seasons in the NFL as a linebacker, was convicted of special circumstances murder at a separate trial. His sentencing was postponed several times to give his attorneys more time to prepare a motion for a new trial.
Eric refused to enter the courtroom and listen to the victim-impact statements and instead agreed to the continuance by shouting from the courtroom holding cell.  Attorney Murphy called Eric Naposki a "gigantic coward" who was afraid to face the two daughters of his murder victim. "This is his final blaze of no class and cowardice," Murphy said.
Nanette Johnston Was A Person Of Interest From The Very Beginning
Nanette Johnston and Eric Naposki were suspects in the murder from the outset. Especially after detectives learned the two were carrying on a secretive affair behind William McLaughlin's back. Just as importantly though, he learned that Nanette was writing checks to herself from the millionaire's accounts.
The pair were questioned about the slaying in 1995, but neither was arrested. Nanette did however, plead guilty in 1996 to forgery and grand theft for stealing from William's  accounts. She was sentenced to a year in jail.
Time Moves On and The Case Grows Cold
The case went cold for more than a decade. Then investigator Larry Montgomery took another look at the file in 2008. He found new witnesses who provided enough additional evidence to file murder charges. And he filed those charges against Eric Naposki and Nanette Johnston in 2008
They, of course, had long since broken up by the time arrest warrants were issued in May 2009. Nanette Johnston was arrested in 2009, at her home in Ladera Ranch. She was living there with her third husband.  Eric Naposki was arrested at his home in Connecticut. He was extradited to Orange County.
Nanette Johnston was sentenced to life in prison without the possibility of parole on May 17, 2012
credit – murderpedia