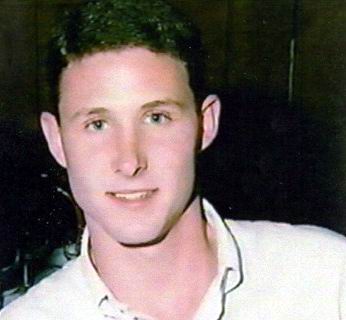 Dana Ewell
---
Murder to Inherit
An American Murderer
Crime Spree: April 19, 1992
Dana Ewell was born on January 28, 1971 and is an American convicted triple murderer, sentenced to three life sentences for ordering the killing of his mother, father and sister in 1992. All to inherit money.
In April of 1992, a well known Fresno family was murdered in one of the most notorious crimes anywhere. And it soon came to light that the slayer was son, Dana Ewell! The motive? Because he stood to inherit millions. Or so he thought!
In 1992, Dana Ewell had his college friend, Joel Radovcich, murder his family. In 1998, he was sentenced to life in prison with no chance of ever seeing parole.
The Murders
20 years after the most complicated case of his young career, former Fresno County homicide investigator Chris Curtice, still remembers nearly every detail of the triple murder case. He says only the second victim — Glee Ewell — caught a glimpse of the killer — a man who was her son's guest in the house just a month before.
Curtice said, "The shooter actually went and straddled her and, like the other two, shot her at close range."
Former prosecutor, Jeff Hammerschmidt said, "I'm sure when she saw who it was, she knew her son was murdering her."
Shaved hairless from head to toe and lying on a plastic sheet, Joel Radovcich left behind no DNA and no shell casings behind as he murdered Glee, Dale and Tiffany Ewell on Easter in 1992.
Dana Ewell stood to gain the most from the deaths, becoming the sole heir to an $8 million fortune. But the 21-year-old soon discovered he'd have to wait nine years before controlling most of the money.
Hammerschmidt said, "When the will was read, Dana Ewell pounded his fist and said, 'how could my father do that to me?' And maybe his father was wondering the same thing — how his son could do that to him."
Dana Ewell
Jeff Hammerschmidt was the junior prosecutor in the Dana Ewell murder trial. He traced activity in Ewell's 47 bank accounts to prove he was funneling money to Radovcich — a person he claimed to barely know.
A complicated timeline covering the length of a hallway also outlined their contacts.
The 12 people who found both suspects guilty of the three murders have rarely spoken about the case. But now, jury foreman Mike Elder says the jurors could sense Dana Ewell was an evil man.
"Dana actually scared people," Elder said. "They would look over at him and he had this look on his face. You just thought any minute these horns were going to come up."
And although they believed Joel Radovcich shot and killed Ewell's parents, jurors sympathized with the triggerman. They saw him as a broken being, someone Dana Ewell simply used as means to an end.
Joel's attorney, Phil Cherney, says similar emotions spilled from Santa Clara University students forced to testify in court. "What would happen is, they would come in and look at Joel and start crying."
The case initially targeted a third defendant — the man who admitted to buying the murder weapon and later, burying it.
Dana Ewell
Prosecutors gave Ernest Jack Ponce immunity in exchange for his testimony, but Elder says the jury didn't trust what Ponce said. He described the murders in great detail — too much detail for some — and Elder thinks he had a Freudian slip while talking about how Dale Ewell died.
Elder explained, "He was supposedly saying this from the standpoint of Joel, but he said, 'and I saw the eye,' and then corrected himself."
In fact, several jurors believed Radovcich was not alone at the Ewell house. But, because of his immunity, they couldn't stop Ponce from walking away a free man.
Elder said, "You know, I wouldn't say every juror, I couldn't guarantee every juror thought he was there. I can only say that most of them did."
Hammerschmidt says he thought Ponce was truly in the dark about the murders until Radovcich laid out the details.
Ponce even passed a lie detector test. Two decades later, he is an attorney in Orange County. He never responded to our repeated requests for comment on the case. His true role may always remain a mystery, but it's not the only mystery surrounding the killers.
Dana Ewell
Prosecutors couldn't prove that Dana Ewell and Joel had also targeted the Ewell family member who was most vocal about suspecting Joel after the murders — a grandfather in Ohio.
Hammerschmidt said, "His grandfather ended up dying as a result of an explosion in his basement and there was evidence that Joel Radovcich was in Ohio around that same time."
Detectives also suspected Dana Ewell of trying to have Radovcich kill his grandmother. Without any of that evidence, jurors couldn't reach a unanimous decision on whether the killers should be put to death. Both men have now exhausted their appeals and will die in prison.
Instead of becoming a millionaire, Dana Ewell is isolated at Corcoran State Prison. His uncle tells Action News he'd rather forget Dana even exists, while the victims live on in his memories — together forever.
Dana Ewell is housed in the Protective Housing Unit of California State Prison, Corcoran.
source: murderpedia | Corin Hoggard
This site contains affiliate links. We may, at no cost to you, receive a commission for purchases made through these links