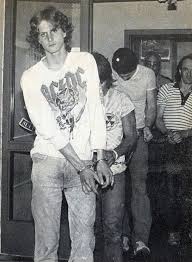 1984 – Year Of The acid King – Ricky Kasso
Ricky Kasso was born in March of 1967. Despite his secure, affluent background and privileged upbringing, he was an instant mess. By the time he entered high school, he was a dope head and bad to the bone in every possible way. He was described as 'socially handicapped'.
At age seventeen, Ricky, known on the streets around Northport, Long Island, as the 'Acid King', had become obsessed with black magic and Satanism. He had read, and was obsessed with, LaVey's Satanic Bible. He absorbed the book to the point where fantasy and reality overlapped dangerously.
Although he never became a full member, Ricky Kasso hovered around on the periphery of the Knights of the Black Circle, a drug 'n' orgy cult based at Northport High School. He was fond of initiating his own circle of druggy hangers-on into his brand of immature Satanism.
Ricky Kasso and Dracula
Ricky's closest friend at the time was James Troiano, who was called 'Dracula'. Jimmy was less dominant than Ricky, but just as screwed up and wicked in his own right. One of Ricky's biggest fans was seventeen-year-old Gary Lauwers, who followed the Acid King rather as a dog follows its master.
In 1984, Ricky Kasso led his merry men on a pilgrimage to the notorious house at Amityville where Ronald 'Butch' DeFeo had massacred his family ten years earlier. It was 30 April, the witches' feast of Walpurgisnacht, so Ricky knocked together an altar and they all shouted a few praises to Satan.
Missing Angel Dust and Death
A month or so later, at the start of June, Kasso found he was missing several twists of 'angel dust'. He repeatedly accused Gary Lauwers of having stolen the drugs. On 16 June Kasso, Troiano, Lauwers, and a youth named Albert Quinones, hid themselves away in Newport's Aztakea Woods to partake of some mescaline.
During the course of subsequent reveries they renewed the dispute over the allegedly pilfered drugs. The result was a vicious attack by the dope-crazed Kasso on the disciple who, in trying to escape was felled by Dracula and held down while Ricky repeatedly drove a hunting knife into his body. Lauwers' disinclination at the time to embrace the church of Satan in his hour of need resulted in Kasso gouging out his eyes and brutally filling his mouth with stones.
Albert Ran Away
Ricky and Dracula covered the dead body of Gary Lauwers with leaves, while Albert, freaked to peeing his pants, fled from the horrifying scene.
Despite the fact that Ricky Kasso was openly boasting of his human sacrifice, it was not until 5 July that anybody had the courage to tell the police. And even then it came through an anonymous tip to the authorities. That day Kasso and Troiano were arrested and held in a cell.
Two days later the Acid King, Ricky Kasso hanged himself with a bed sheet.
Albert Quinones turned state's evidence. But, having been out of his mind on drugs at the time of the 'sacrifice', proved a very unreliable witness against James Troiano at his trial in April 1985. This, combined with some irregularity in Dracula's confession, led to his eventual acquittal.
(In 1991, Ricky's father also killed himself.)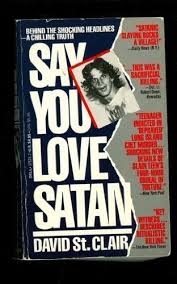 This book is available if you would like to read more
Credit – murderpedia