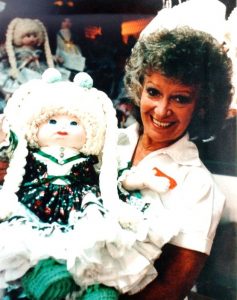 The Chilling True Story A Real Black Widow Woman – Betty Lou Beets
Betty Lou Beets was born in 1937. At the age of 62, she executed in the state of Texas. She was convicted of shooting her fifth husband, Jimmy Don Beets, on August 6, 1983.
The Early Life of Betty Lou Beets Was Not So Good
She was born Betty Lou Dunevant. Due to measels as a child, Betty Lou was hearing impared. She was, as a young girl, sexually abused by her father. Her mother was institutionalized when she was just 12-years-old, leaving her to take care of her younger sister and brother. Betty Lou married her first husband, Robert Branson, at the age of 15.
The Marriages of Betty Lou Beets
According to those who knew Betty best, all of her marriages were plagued with sexual abuse and domestic violence. Betty Lou's claims of domestic violence and sexual abuse however, occurred well after her conviction and sentence of death.
Betty Lou Beets Has A Criminal History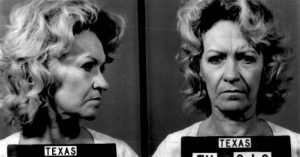 Beets had a temper and a criminal history prior to her arrest for murder, including public lewdness and shooting a former husband in the side of the stomach. Married six times, twice to the same man, Betty Lou shot her second husband, Billy York Lane, twice in the back of the head in 1970 and tried to run over her third husband, Ronnie  Threlkold, with her car in 1978. Both men survived and testified at her trial.
Jimmy Don Beets 
On August 6, 1983, Betty Lou reported her husband missing. Her son, Robert Branson, would later testify that Betty had said that she intended to kill her husband and told her son to leave the house. On returning home, two hours later, Robert found Jimmy Don Beets dead from two gunshot wounds. He helped his mother conceal the body in the front yard of the house, after which betty Lou Beets telephoned the police about her missing spouce.
According to her son, Betty Lou put some of Jimmy Don's heart medication in his fishing boat the next day. Robert and Betty then abandoned the boat in the lake. It was found on August 12, 1983, washed ashore near the Redwood Beach Marina. Believing that he had had fallen overboard and drowned, the police spent three weeks dragging the lake, looking for Jimmy Don's body.
Enough Evidence To Arrest Betty Lou Beets For Murder
In 1985, information was received by the Henderson County Sheriff that led to enough evidence to arrest Betty for the murder on June 8th. A search warrant was issued and a search of the Beets' home revealed the remains of Jimmy Don, in a filled-in wishing well. Also found, buried in a garage, were the remains of Doyle Wayne Barker, another former husband of Betty Lou Beets. Both had been shot with a .38 caliber pistol. She was never tried for Barker's murder. Jimmy Don Beets was her fifth husband. She was sentenced to death.
Betty Lou Beets was executed by lethal injection at 6:18 p.m.  on February 24, 2000. She did not request a final meal, nor did she make a final statement.
Betty Lou Beets was the second woman executed in the state after the reintroduction of the death penalty. At the time of the execution, Betty was 62 years old. She had five children, nine grandchildren and six great-grandchildren.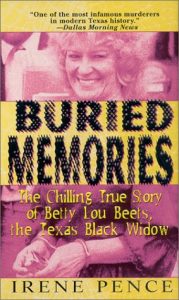 This book is available if you would like to read more
credit – wikipedia