Evelyn Dick Is A Person Of Interest in the

Torso

Murder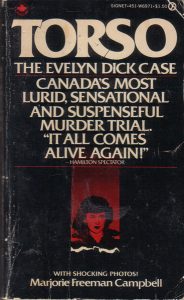 When the headless and limbless body of John Dick was found in a wooded area of Hamilton, Ontario suspicion turned immediately to his young wife, Evelyn Dick.
Who Is Evelyn Dick
Evelyn Dick was born to Donald and Alexandra MacLean on October 13, 1920. A year after her birth in Beamsville, near Niagara Falls, the family moved to 214 Rosslyn Avenue in Hamilton. The elder MacLean worked for the Hamilton street Railway as a streetcar conductor. He later attained an office position that gave him access to company revenues. 
Evelyn's Childhood Was Not Particularly Happy
Evelyn's father indulged too much in alcohol, and it was assumed that he sexully abused Evelyn in her youth. Her mother was known to have quite a wicked temper. The parents didn't get along at all and often spent time apart. Evelyn didn't associate much with the neighborhood children. Her parents considered her too fragile to be out playing on the streets. Rumors abounded that Donald was dipping into the coffers of the H.S.R. They lived very well, always had huge sums in the bank and would send Evelyn shopping with handfuls of nickels, the fee collected for a fare in those days. With parental encouragement, Evelyn tried hard to become recognized in the finer circles in town. She would host lavish parties at the Royal Connaught Hotel, Hamilton's finest, and spend money freely on acquaintances but her social acceptance was never reciprocated in the way that she wanted.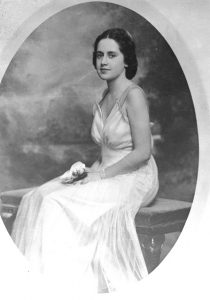 The very attractive Evelyn became the focus of rumors while still in her mid-teens. She had more expensive jewelry and furs than was considered proper. She spent time in the company of much older men and at places out of town and at race tracks. In 1942, Evelyn gave birth to a daughter. This further fueled rumors. Evelyn announced that it was OK, that she was married to a man stationed overseas by the last name of White. Later examination of military records failed to prove the existence of such a person. Heather White was born with mental retardation and would require much attention from her mother and grandparents.
Evelyn Has Another Baby
Evelyn gave birth the next summer to a stillborn baby, and then on, September 5, 1944 Peter David White was born. No one is certain of who the father was to any of these children. In June of 1945, Evelyn, Heather and Alexandra MacLean, who had recently separated from Donald, moved into an apartment together in downtown Hamilton. After a month or so together, Evelyn astounded her mother by announcing that in two weeks she was going to marry John Dick. Alexandra MacLean had never heard of him.
The Torso Murder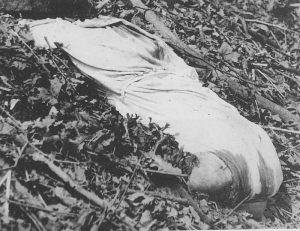 On Saturday, March 16th, 1946, a group of children were playing on the Niagara Escarpment. Part way down the slope, among the trees, they found what they thought was the body of a pig. Police quickly realized they were dealing with the naked torso of a man. It was soon identified as belonging to John Dick.
The Story of Evelyn Dick
In his book, The Torso Murder: The Untold Story of Evelyn Dick, Brian Vallée recounts the story of the murder and subsequent trials.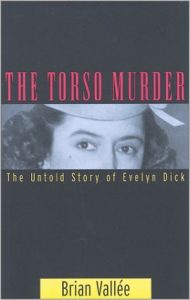 It seems that the beautiful and young (she was 26 at the time of her husband's death) Evelyn Dick had many lovers.
She moved in the upper-class circles of Hamilton society so her marriage to John Dick, a Hamilton Street Railway conductor came as a surprise. By all accounts the relationship was stormy and ended quickly. According to Time Magazine, five days after her marriage, in October of 1945, Evelyn Dick committed adultery. Shortly after, she and John separated.
All Eyes Looked Toward Evelyn Dick
The 2002 movie, Torso, says that when Evelyn Dick was questioned by police about her husband's fate her response was "Don't look at me. I don't know anything about it." Then she started to tell stories about a Mafia-style hit man and a jealous husband who claimed John Dick had been fooling with his wife as the likely suspects.
But investigators weren't buying any of Evelyn's stories because they were turning up hard, physical evidence. About the time of John's disappearance she had borrowed a car and returned it with bloodstains on the upholstery that were the same group as John's. "Out in the back yard of her home," wrote Time, "police found bits of human bones mixed with some cinders from the furnace."
Evelyn Dick Gets Charged with Murder
And that wasn't all. Another gruesome discovery was made on the Dick property. In the attic, of Evelyn and John's home, was found the body of an infant boy, encased in concrete inside a suitcase. The body was identified as that of her son, Peter.
Police charged Evelyn with the murder of her husband and son and she came up with yet another version of what had happened. She signed a statement that John Dick had been killed by a lover named Bill Bohozuk and her father, Donald MacLean.
Now, all three faced charges of murder.
The Sensational Coverage of Evelyn Dick's Trial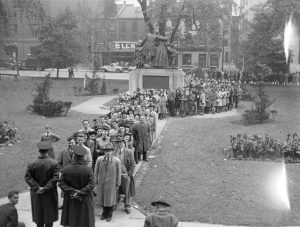 In October of 1946, Evelyn Dick's case came before the courts.
Charles Gillis, of the Maclean's Magazine, comments that "It was the golden age of newspapers, and they had a field day with Hamilton's 'black widow' trial. Constant front-page treatment of the story transfixed readers, drawing hundreds to gather outside the courthouse during the proceedings."
After nine days of testimony, the jury took less than two hours to return a guilty verdict. Evelyn was given death. She was sentenced to be hanged, but her conviction for the murder of her husband John was overturned on appeal.
Bill Bohozuk walked away a free man when Evelyn refused to give testimony in his trial. Her father was convicted of being an accessory to murder and got a five-year sentence.
Sentenced to Life
Evelyn, however did not escape the hand of justice. She was found guilty of the manslaughter death of the infant Peter and received a life sentence. She served only 11 years before 'friends in high places' engineered her freedom in 1958. When she left prison, she was given a new identity, an entrée to a new life. And then she disappeared.
Author Brian Vallée claims she married a wealthy man after her release and moved to Canada's West Coast where she lived without anybody knowing about her past.
credit – murderpedia