Robbie Middleton was only eight years old when he was attacked by a 13 year old neighbor boy, who raped him in a nearby woods, then threatened him into silence.
A few weeks later, on his (Robbie's) 8th birthday, in the same woods, the same 13 year old boy grabbed Robbie again. Only this time he doused him with gasoline and set him on fire.
Only the Lord truly knows how the little boy did it, but he (Robbie) managed to get out of the woods and close to his home before his burning body dropped to the ground. It was his mother who found him! His tiny body was burnt nearly beyond recognition as he suffered third-degree burns to 99% of his body! Only the soles of his feet had been spared.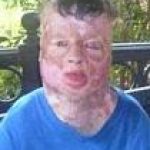 Once he was at the hospital, his parents were told that he would not survive. But Robbie had other plans. He endured 200 operations, before dying at age 21 from a cancer that doctors blamed on the original injuries.
Before he died however, Robbie recorded a 27 minute video naming Don Wilburn Collins, just 13 at the time of the crime, as the person who had done this awful thing to him. He told them that Donny had raped him in the same woods just weeks before trapping him again and then setting him on fire. He intended to murder him to ensure silence of the rape.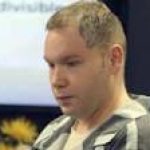 In 2011, Robbie, 21 years old, passed away due to a rare form of skin cancer that was linked to the more than 200 surgeries and skin grafts he endured. The coroner ruled his death a homicide and Donnie, now 26, was found guilty! On February 9th, 2015, a jury convicted him and gave him 40 years!
In December of the same year, Robbie's family was granted the largest compensation-payout ever awarded- $150 billion, which most likely will never be realized.