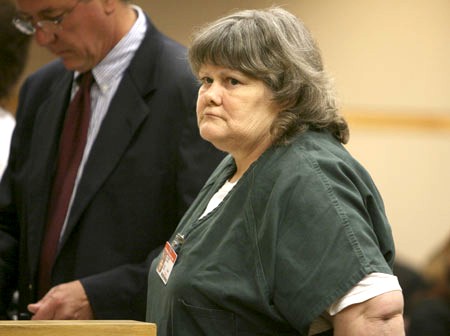 Barbara Burns - A Real Nice Killer
After caring for her mentally disabled sister for decades, one night two years ago, she snapped. A detective said of her: "Barbara Burns is the nicest murderer I've ever met."
July 19, 2006 Barbara Burns doted over her mentally disabled sister, Debbie, for 40 years. She sacrificed many of life's pleasures to care for her younger sibling, who could be crabby and demanding. But on an August night, Barbara Burns snapped. She shot her sister in the head with a .38-caliber revolver, killing her on her 40th birthday. Prosecutors and Burns' attorney realized this was not a standard murder case. In a fairly rare move, prosecutors on Tuesday allowed Burns to plead guilty to manslaughter and receive 15 years in prison. After the shooting, Barbara Burns lived with her sister's rotting body in their St. Petersburg double-wide mobile home for six weeks, then fled the state. Movers found her sister's badly decomposed body six months later after the bank foreclosed on the home. Detectives tracked Barbara Burns to Virginia and arrested her on a first-degree murder charge.
Barbara Burns
On Tuesday, Barbara Burns quietly answered questions posed to her by Pinellas Circuit Judge Doug Baird he sentenced her. With credit for time already served in jail and gain time, Burns could be out of prison in less than 12 years. "It's just an unusual, compelling situation," said Michael Hays, the assistant public defender who represented Burns. "She didn't have any prior criminal history at all. She was just in a situation where she just snapped." If convicted of first-degree murder, Barbara Burns could have received life in prison without the possibility of parole or the death penalty. Prosecutor Kendall Davidson said he didn't believe Burns, 55, would pose a threat to society when she was released from prison, one of the reasons his office agreed to the plea deal. "I would not expect Barbara Burns to be a danger in the future," Davidson said. He said a sister and brother of the Burns sisters wrote letters urging a lighter sentence. "She is a gentle person," her brother, Robert Burns, wrote in a letter. "Everyone she comes in contact with likes her. I don't think she belongs in a prison for hardened criminals. She will not survive. That would be like putting a gentle beagle in a room full of attack-trained pit bulls."
Barbara Burns
The St. Petersburg Times published a two-part series about the case in September. The Burns sisters were born 13 years apart in Maryland. At a young age, Debbie Burns got a high fever that damaged her brain. Her mind would never outgrow that of a 6-year-old and she never would be able to care for herself, her brother told the Times. Barbara Burns became her main caretaker. Eventually, they moved to Florida with their mother, who later died. Another brother also died, leaving the sisters with his estate, worth about $350,000. Barbara Burns spent the money taking her sister on trips to California and Australia and buying her memorabilia from favorite movies and TV shows like Star Wars and Snow White
.
Three years later, the money was gone, but Debbie Burns continued to demand the comforts she had become used to. Barbara Burns took a job and worked extra shifts trying to make ends meet, but their mortgage on the double-wide on Yellow Pine Street in St. Petersburg was too much. On the night of August 15, 2004, Debbie pestered her sister for more things. They began arguing about money. After Debbie fell asleep, Barbara Burns grabbed a .38-caliber revolver she kept in a dresser. She pointed the gun at Debbie's head and pulled the trigger.
Barbara Burns
"I just took it all in to the breaking point," Barbara Burns told the Times last year from the Pinellas County Jail. "Then I exploded." Barbara wrapped Debbie in blankets and a shower curtain. She cranked the air conditioner and bought potpourri and air fresheners. Six weeks later, she headed to Virginia and began working for a convenience store. After movers found her sister's body six months later, detectives used bank records to track Barbara Burns to Virginia. She at first denied having a sister, then broke down and admitted to killing Debbie. "She kept crying. She said she wished she hadn't done it. She was sorry," Pinellas sheriff's Detective Ed Judy told the Times. "She's a really nice person, as far as murderers go. She's the nicest murderer I've ever met." credit
murderpedia
/ Chris Tisch