WAYNE ADAM FORD
On November 4th in 1998, Wayne Ford made headlines. He walked into the sheriff's station in Northern California, pulled from his pocket a Ziploc baggie with a severed breast inside it and admitted to killing four women.
Wayne Ford, 36, of Arcata, was being held on murder charges in the Humboldt County Jail on $1 million bail. Sheriff Dennis Lewis said Ford walked into his department, said he had some evidence, and pulled out the breast.
WAYNE FORD WAS TIRED OF HIS LIFE
According to the Sheriff, the emerging serial killer "was remorseful." Apparently he had reached a point in his life where he wanted to talk about what he'd been involved in.
Investigators in Eureka said the four victims he mentioned were female hitchhikers and/or prostitutes who had been sexually assaulted before they were slain and mutilated postmortem. One of the slayings dated back to 1997, when the torso of a woman (age 18 to 25) was found floating in a channel near Eureka.
Investigators found six or seven body parts of the unidentified woman based on information Ford provided. The breast he brought to the station was from yet another victim. Authorities said Ford implicated himself in two other recent slayings. One in San Bernadino and the other in San Joaquin counties.
DISMEMBERED BODIES
The first body found, discovered in October 1997, had been so thoroughly dismembered that her identity still remains unknown. Believed to have been a hitchhiker, whom Ford picked up, her mutilated torso was found in a marsh near Eureka. One of her arms was later found on a beach. Her head, other arm and parts of her legs are still missing. Ford stored other body parts in the freezer of his Arcata trailer for over a year and, according to laboratory analysis, apparently tried to cook some of them.
On June 2, 1998, the nude body of a Las Vegas prostitute, Tina Renee Gibbs, 26, was found in a Kern County aqueduct. She had been strangled. Four months later, the nude body of Lanett Deyon White, a 25-year-old prostitute from Fontana, was found floating in a San Joaquin County irrigation canal. The precise cause of her death remains undetermined.
THE BREAST IN HIS POCKET
Patricia Ann Tamez's nude body was found floating in the California Aqueduct in San Bernardino County in October 1998. She had been strangled and one of her breasts removed. (the one Ford carried in his coat pocket more than a week later when he and his brother walked into a sheriff's station in Humboldt County.)
After confessing to killing the four women, Wayne told authorities he turned himself in so he wouldn't kill his ex-wife and leave his son an orphan. He said he was ashamed of what he was doing and his anger was mostly directed against his wife and he was getting more angry at her every day for keeping him from seeing their son.
People who knew Ford have said he regularly complained that, since his separation and divorce from his wife, he had been frustrated in his efforts to see their son. Their divorce decree gave him only limited visitation.
WAYNE FORD AND THE INTERVIEW
In a 3 1/2-hour interview with investigators, just before his arraignment, Wayne Ford disclosed the location of the head of a woman's headless torso that was found on October 26th in 1997, in a channel outside Eureka. Pathologists hoped to use the knife and saw marks on bones from five body parts Ford led them to at a campsite outside Trinidad to match them with the still-unidentified torso. Ford had kept the body parts in a freezer in his Air Stream trailer in Arcata for the past year but hid them in a hole at the base of a tree just days before turning himself in.
Wayne's arrest has led officials to identifying Patricia Anne Tamez, a 29-year-old Victorville woman who was discovered dead two weeks earlier in the California Aqueduct near Interstate 15 outside Hesperia. The San Bernardino County officials said the body was missing a breast.
Authorities identified another of Wayne Ford's victims, Tina Renee Gibbs,26, a prostitute from Las Vegas, whose body was dumped in an aqueduct in Kern County. Ford admitted to killing Gibbs, saying that she died during rough sex that included bondage. Two other victims remain unidentified.
NO INSANITY PLEA FOR WAYNE FORD – HE KNEW RIGHT FROM WRONG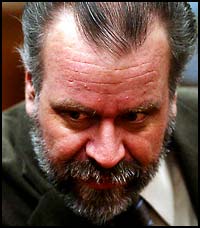 Despite obvious mental problems, Wayne Ford was not seeking an insanity defense when he surrendered because he could tell the difference between right and wrong. Crippled inside and a broken man, Ford turned himself in because he wanted to do the right thing.
Prosecutors pointed to the deeply depraved way the four women were killed. Each was raped, tortured and used for the Wayne's own sexual gratification. Each of the victims was then coldly discarded with no identification, no way to inform police and loved ones of their deaths.
Wayne Adam Ford was found guilty of four counts of first-degree murder on June 27, 2006. He was sentenced to death in August 2006. Currently, he resides on death row at San Quentin State Prison in California.
credit – murderpedia