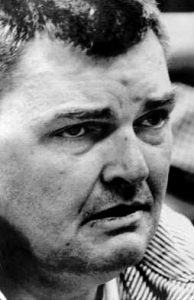 Simon Nelson
---
Murdered All Six Kids
Parricide Mass Murder
Crime Spree: January 7, 1978
Simon Nelson was a pretty ordinary guy. The only problem in his life was the fact that his wife had left him. Nelson didn't like this fact and was intent upon changing it. Despite numerous attempts at reconciliation, his wife, Ann, would not come back to Simon and their six children.
On January 6, 1978, Simon Nelson had finally had enough. He found out that his wife was staying at a motel in Milwaukee. Well he actually found her by stalking her, but that's a different story. He went to her room and asked her to come home with him. When she refused he lost his temper and beat the shit out of her, only stopping once the police showed up. He was arrested on an aggravated battery charge.
Police took him in and started to question him about the events of the night, thinking it was a simple domestic dispute, but instead they copped the shock of their lives. Out of nowhere Nelson just looked up and told them that he had killed his six children in Rockford, Illinois. He told the cops that he had done it to 'get even' with his wife. At this stage they though he was bullshitting them, trying to get his wife worried about it.
When police went to the house they found that Nelson wasn't bullshitting. All six kids- Jennifer, 12; Simon, 10; Andrew, 9; Matthew, 8; Roseann, 5 and David, 3 were found dead in their beds. Nelson had beaten each about the head with a rubber headed mallet, then stabbed the fuck out of each with a hunting knife.
He claimed all had been asleep when killed. He had even mutilated the dog so badly that officers thought it was a piece of flesh from one of the bodies.
Nelson chose not to defend himself at the trial and, not14 surprisingly, received a sentence of life.
Source: The Wacky World of Murder
This site contains affiliate links. We may, at no cost to you, receive a commission for purchases made through these links