Murder Among the Sequoias
Yosemite National Park is a vast area of mountain paths, alpine wilderness and redwood forests. It's one of the most beautiful scenic attractions in America. Set aside in 1890 to preserve a portion of the natural beauty of the Sierra Nevadas in California, its breathtaking topography rises as high as 13,000 feet above sea level. Two-hundred miles of winding road and .840 miles of foot trail have lured tourists, campers and skiers for decades.
But, at one time, under the mosaic of green conifer pines, domes of granite rock, silvery waterfall and misty mountain sky, a killer lurked. His first victims were a 43-year-old woman and two teenagers. They were missing for more than a month, and when the FBI located their bodies a cry of "serial killer!" shook the peaceful tranquility of God's country.
Evil in Paradise
The saga began on Feb 12, 1999.when Carole Sund, daughter Juli 15, and 16-year-old Silvina Pelosso left the Sund home in Eureka, California, and started on a vacation to where the foothills of the Sierra Nevada Mountains melt into Yosemite. After first flying to San Francisco, where Mrs. Sund rented a red 1999 Pontiac Gran Prix, they paused in Stockton, where Juli took part in a cheerleading contest at the University of the Pacific. They then headed out for Cedar Lodge in El Portal, which is located on Yosemite's western slope. There, a room for three was reserved. They arrived at the inn early on the 14th.
Mrs. Sund and her husband, Jens, 43, both prominent realtors in the Stockton area, had been entertaining the Pelosso girl for several weeks. A foreign exchange student from Argentina and a friend of Juli's, she was spending three months with the family that had already shown her the Bay Area and Disneyland. Jens couldn't accompany them on this trip because he needed to prepare for an upcoming business trip.
On Feb. 15, the ladies hiked and took in the wonders of the park. According to the FBI, witnesses later reported seeing the trio inspecting the giant sequoia trees in nearby Tuolumme Grove. That evening, by reports, the mother and the teens rented a couple of videos from the lodge's service desk to watch in their room.
None Of Them Were Seen Alive Again
The inn staff claimed that when they cleaned the room the next morning, February 16th, they had detected no evidence of foul play. Check-out had been done in advance and the keys were left on the room desk, as was customary. Jens Sund had scheduled to meet them at the San Francisco airport that evening on his way to Arizona, to where the others were to accompany him. While he attended his meeting, the females were to tour the Grand Canyon.
"(Jens) did not find his wife at the airport and assumed she had flown ahead," writes columnist Robert F. Howe in Time magazine. "She was not in Phoenix, either, but he played a round of golf there the next day and when she had still not attempted to contact him, he called the police." Evidently, it seemed that the ladies had never returned the rented Pontiac nor notified an anxious rental agency that they were extending their agreement.
Local police and Yosemite security began to search the area where the missing three were last seen. Initial suspicion was that they may have wandered off the main hiking paths and got lost in the maze of confusing woodland. But, soon that assumption dwindled.
The Search
"For four weeks, police, family and volunteers combed the rugged terrain of the Sierra Nevada Mountains in and near Yosemite National Park by helicopter, foot and skis," report Patricia King and Nadine Joseph in Newsweek. "They were looking for a missing red 1999 Pontiac Grand Prix — and the women who rented it." But, when days passed and, strangely, Carole's wallet, showed up on a Modesto (Calif.) street — its money and contents intact – the FBI smelled something bigger.
"At this point, we have not yet uncovered evidence to allow us to determine conclusively whether this was a tragic accident or a criminal act," said FBI agent Nick Rossi on February 26th. But, two weeks later, FBI predictions darkened. After a massive search-and-rescue team working around the clock in a 30-mile radius failed to find anyone, agent James Maddock, now placed in charge of the investigation, told the press, "We feel almost certain that the women were victims of a violent crime."
Because of the discovery of Sund's wallet in suburban Modesto, police and FBI canvassed (to quote Maddock) "the logical routes in and out of that spot, interviewing homeowners and business owners and others who may have seen them." The Bureau relocated its headquarters from Yosemite to Modesto at this point and, on February 28th, twelve days after the women's disappearance, hinted that was is no longer treating the Sund incident as a missing persons case, but as murder. More than a thousand leads, they confessed, produced nothing. Still, the Bureau intensified its search, recruiting the use of more high-tech equipment and air support.
No One Lost Hope
As the last days of February stumbled into March, the public still hoped. In Modesto, a march and vigil were held for the missing persons. Unofficially, Jens Sund offered a $250,000 reward for information that would lead to the to the return of the missing women. After a couple of weeks, he upped the sum to $300,000. But, to no avail. Mrs. Sund's parents, Francis and Carole Carrington, appeared on television's Good Morning, America, to entreat the prayers of Americans and their help in locating their daughter and the children.
In nowhere else were expectations higher than among the other Sund children who believed their mother and sister Juli would be returned. By the middle of March, however, even their anticipations sagged. "Her mother, sisters and family friend had been missing for a month by the time Gina Sund read her poem in front of a thousand or so people who gathered in Modesto," writes Time. "'Deep in my heart I know something my mind does not want to learn,' said Gina,13. 'I try to stay strong because I know that's what you'd want your baby to be, but, Mommy, I don't want you to leave me.'"
Then It Happened
The Sund family's worst fears were confirmed when a hiker wandered onto the site of a burned-out red 1999 Pontiac hidden off the Highway 108 in the Stanislaus Forest region late in the day on March 18. The California Highway Patrol verified the car's license plate as Mrs. Sund's rented vehicle and immediately notified the FBI. Agents arrived at the scene early the 19th. Opening the trunk, investigators found two charred bodies. The corpses were unrecognizable, but, within days, were identified as Carole Sund and Silvina Pelosso. Authorities now suspected that young Juli may have met with a similar fate elsewhere.
The Last Victim Found
Spotting the vicinity, FBI agents spread out along Highway 108, questioning locals and stopping cars for any information that might tell them how and when the car got there, but, more importantly, to find Juli.
But it was near Lake Pedro in Tuolumme County, miles away, that the badly decomposed body of Juli Sund was at last found on March 25. The girl's throat had been cut.
The Suspects
Throughout the next several weeks, a task force (comprised of FBI agents and law enforcers from four surrounding counties), dedicated to no other purpose than to round up suspects, arrested several known sex offenders, drug users and ex-convicts with a record of violence from within a 75-square-mile area between Modesto and Sonoma. The police figured that the killer of the three women was someone familiar with the county, for whoever was guilty had successfully maneuvered an otherwise obvious shiny red Pontiac unseen through the natural terrain of ravines, lakes, dense woods and country roads. More so, opined the FBI, only a native would have been aware of the out-of-the-way site where the car, with its grisly contents, was eventually abandoned.
Said the March 29 edition of Newsweek: "The FBI…believes that the killer knows the area of abandoned gold mines well enough to hide the car off a spur road where locals dump old refrigerators, cars and washing machines. And well enough to know that the smell of a burning car would likely not attract attention because the air often reeks from people burning their garbage. Unsettled locals are starting to whisper about possible murderers in their midst."
No Man Left Unquestioned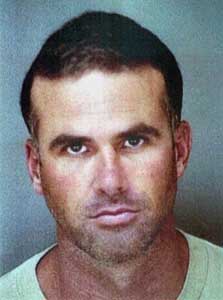 By mid-April, those who had been apprehended-on-suspicion were ordered to testify in front of a grand jury in Fresno, California. "A few weeks later," says the Fresno Bee, "(James) Maddock (in charge of the FBI manhunt) …confirmed what The Bee and other news media outlets already were reporting: that the key players in the sightseer slayings had been arrested and were in jail on unrelated charges."
Although not named in print at the time, they were later published by the Fresno Bee.
By the end of June, the FBI had reviewed the testimonies of and the evidence linked to the suspects in custody. At that time, the Bureau stated that, while no one had yet been charged, it felt that those responsible for killing the three women at Yosemite were already behind bars. The nation breathed a sigh of relief.
Others, too, had been questioned in the slayings, more routine than anything, and released. One of these was a man named Cary Stayner, clean cut, no record of violence, and was in the employment of Cedar Lodge as its handyman.
Three weeks after the FBI made its statement above, the case was reopened. And the nation grimaced. A fourth victim was brutally slain just a few miles from Cedar Lodge.
Unexpected Tragedy
Acting on a tip from a caller who was worried about the whereabouts of his friend, Joie Ruth Armstrong, park rangers found her mutilated body on the morning of July 22. It was discovered beyond a campground adjacent to her living quarters in the Foresta community, an enclave of some 30 cabins for use by park workers. Twenty-six-year-old Joie had been employed by the Yosemite Institute.
Station KCRA-TV in Sacramento, citing an unidentified source, was the first to leak the terrible news that the girl was decapitated. She had probably been murdered on the evening of Wednesday, July 21, investigators determined. In fact, she had been seen that day at the Institute offices near where Carole Sund and the teenagers were found earlier in the year.
Miss Armstrong was probably only hours away from leaving her quarters to visit a friend in Sausalito, California. When she did not appear as planned, her would-be host had phoned the park. Police found her car in front of her cabin, packed for the trip.
Dark Fears Reawakened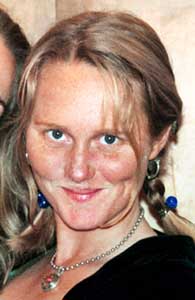 In light of its earlier estimation that the case was closed, the FBI remained relatively quiet, but conceded that the case needed to be re-evaluated. Chief James Maddock said he himself questioned whether the Bureau could have done anything to prevent Armstrong's killing. "I've struggled with that issue for the last 24 hours and continue to do so," he confessed. He did feel, however, that the FBI spared nothing to investigate the earlier killings. "I'm confident we've done everything that could be reasonably done."
The Armstrong tragedy reawakened dark fears and brought back those bad dreams the local residents thought they could put behind them. By Friday, the day after she was found dead, a hush had fallen over Yosemite Park.
"Freckled, red-haired and full of energy and enthusiasm, Armstrong loved children, nature and teaching. Those loves took her to Yosemite, a place known for its peace and beauty," wrote the Modesta Bee, one of a line of community Bee newspapers throughout California. Written the weekend after Armstrong was slain, it went on: "For the past year, she had worked for the Yosemite Institute, a nonprofit group that runs education programs through a partnership with the National Park Service…
"'Joie was a bright light to all who knew her,' said Mike Lee, the Yosemite Institute's director 'We will remember her as so full of laughter and love, and as a committed and gifted teacher.'…
Another Body
"Authorities went to the meadow Armstrong loved on Thursday, not long after she was reported missing (and) found her body next to a stream she and her friends used for drinking water.
"'You should come see this place – I wonder if you ever will,' Armstrong had e-mailed her friend, only days earlier. 'I love my garden and living in Yosemite – one of the most beautiful places in the whole wide world.'"
Cary Stayner
On Saturday, July 24, within 48 hours of the Armstrong killing, FBI agent and in-charge James Maddock announced at a press conference that a man was in custody on strong suspicion of murder and that a "significant announcement" would be made shortly.
The suspect, Cary Stayner, 37, had been one of the people questioned after the triple killings in February, but, at that time no evidence linked itself to Stayner and he had been released. Because he was the handyman at the Cedar Lodge in El Portal where Carole Sund and her two charges had stayed before they were murdered, his questioning at that time seems to have been more routine than anything else.
But, now, after another ghastly murder, he was again led in for questioning immediately after the body of Miss Armstrong was found. This time, agents detained him and forced him to answer more questions. Investigators searched his truck and confiscated his backpack for examination. Upon release, the FBI warned him not to leave El Portal as they probably were not through with him.
According to the San Francisco Chronicle, "(A witness claimed that) Cary Stayner was angry about authorities seizing his backpack after he was questioned earlier that day. He was also angry about how his truck had been searched."
Evidence Seized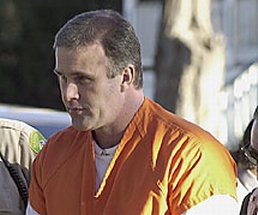 Evidently, the agents also searched Stayner's apartment later in the day and discovered evidence that they determined linked him to Armstrong's murder. And they found even more. Special agent Maddock explained, "During the last 24 hours, we have developed specific information linking Cary Stayner (also) to the Sund-Pelosso murders." What this evidence is was not made known, but he did indicate it was discovered in a search of Stayner's apartment over Cedar Lodge.
Cary Stayner, in the meantime, had disappeared from the locale and was gone from the premises by the time agents came to arrest him. This was Friday evening, July 23rd.. They caught up with him, however, at the Laguna Del Sol nudist colony, where he was known to frequent. Its manager had seen a newscast on television, recognized Stayner's photo as one of his guests, and notified the FBI. Agents returned him to El Portal on Saturday where he was put through a lengthy interrogation.
By evening's end, the FBI felt it had gathered enough evidence and damaging testimony to arrest Cary Stayner for murder, Sunday morning, they rushed him to Fresno to officially lodge a complaint, then to Sacramento on Monday where he was arraigned before the courts.
Cary Stayner Confesses
That same day, Cary Stayner allowed himself to be interviewed by a reporter from KNTV. During the session, an unexpected event occurred. In a voice that seemed relieved to be unburdening from its depth a long-kept secret, Stayner blurted, "I am guilty. I did murder Carole Sund, Juli Sund, Silvina Pelosso and Joie Armstrong. None of the women were sexually abused in any way."
His confession and the details that followed shocked America.
"In (the) interview, Cary Stayner said he had fantasized about killing women for the last 30 years," reports Yahoo!News, "and described in detail how he murdered Carole Sund, her daughter Juli, and visiting Argentine student Pelosso. He had strangled Pelosso and Carole Sund in their rented cabin in the Cedar Lodge motel, then took Juli Sund to a lake, where he killed her early the next morning.
"He abandoned the group's rental car with the bodies of Mrs. Sund and Silvina inside, returning two days later to burn evidence and retrieve Mrs. Sund's wallet, which he dumped in Modesto to confuse authorities," the Yahoo! report continues. "Cary Stayner said he thought he had gotten away with the earlier crimes, but could not resist the urge to kill Armstrong after he struck up a chance conversation with her."
Cary Stayner Addressed The Victim's Families
Concluding the interview, he addressed the victims' families: "I am sorry their loved ones were where they were when they were. I wish I could have controlled myself and not done what I did."
FBI sources claimed that he had already confessed his guilt during the Saturday evening interrogation. In the Bureau's mind, this time it had the right man. He had given the FBI details "only the killer would know in such specificity that agents were able to recover evidence confirming his confession," Yahoo! asserts. "Knives were used in the slayings and the weapon suspected in Ms. Armstrong's death was recovered."
Billed as "Mr. Nice Guy. He would have been the furthest of suspects in the locals' minds."
Most of Stayner's coworkers would probably say they fully understand why he had fooled the FBI as long as he did. He just wasn't the killer type, not a troublemaker, not a wise guy, never violent. His only encounter with the law was for marijuana use in 1997.
The relatively quiet but friendly motel handyman's only passions seemed to be nude sunbathing and hiking. On days off he would escape to Laguna Del Sol, a nudist colony in Sacramento County. Despite this sensual surrender, he never behaved lewdly nor perversely.
The Story Behind Cary Stayner
Stayner's father, Delbert, admits that he thinks son Cary may have suffered a trauma at age 11, when younger brother Steven, then seven, was abducted in 1972, disappearing for eight years. In that time, Steven had been forced to endure molestations by his kidnapper, whom he finally turned in to the police. The real-life drama was later turned into a television movie. But, says Delbert, puberty-aged Cary endured some emotional hardships because of that incident.
After graduation from Merced (California) High School, Cary Stayner worked as a window installer at a glass company. The Cedar Lodge hired him as handyman in 1997 and gave him the use of a small apartment on the top floor. Management found him a hard-worker and honest. In his capacity, Stayner performed technical and housekeeping duties, everything from fixing electrical and mechanical breakdowns to delivering extra towels and bedding to guests. He usually ate lunch and dinner at the motel restaurant and often after work would relax with one beer and a bowl of soup.
Some who knew Cary Stayner have an incredibly difficult time accepting the facts. Sandy Cox, whose husband owned the window company where Stayner worked for in Atwater, says, "We've known Cary Stayner since he was a little boy. It just doesn't match up. Out of respect for his family and the victim's family, we don't want to say anymore."
Did Cary Stayner Act Alone?
In defense of the FBI's hesitancy to speak and commit, they and many others cannot believe that Cary Stayner acted by himself. Accounts conflict. In the meantime a grand jury continues to look into whether or not others were involved, including the previously listed suspects. "(No one's) off the hook yet," an unidentified source has told the San Francisco Chronicle.
Quote the Modesto Bee: "In El Portal, a number of residents are convinced that no one person could have created so much horror, especially in the Sund and Pelosso slayings. "'The logistics of it say it had to involve more than one person," said Letty Carolyn Barry, owner of the Yosemite Rosebud Lodge, west of Cedar Lodge. "Privately, some members of the Sund-Pelosso task force are saying the same thing, sources have told the Bee. Those sources say it is difficult for some investigators to believe Cary Stayner could have gotten the jump on all three women without any help, let alone dispose of their bodies."
And on the flip-side, the same paper notes another unconfirmed source that maintains Cary Stayner did act alone, with the help of only a weapon. "Stayner," says the source, "used a gun after gaining entry to the motel room of the Sunds and Pelosso, and tied them up." The rest was relatively easy then.
The Update
In an affidavit filed August 30, 1999, by FBI Special Agent (SA) Marcee Robinson in support of a search warrant for blood, hair and saliva samples from Cary Stayner, further details were presented about the murders in Yosemite. In this official file, which was requested by the state of California, it is made clear that CaryStayner, despite earlier denials, sexually assaulted two of his victims, Juli Sund and Silvina Pelosso.
Robinson bases his report on the evidence discovered by local police and FBI agents – in particularly Special Agent Christopher Hopkins — who investigated the case and rounded up the evidence.
"According to SA Hopkins, both the (FBI's) Evidence Response Team and the Mariposa County Sheriff's Office collected items of potential evidence from Room 509 at the Cedar Lodge Motel, the room in which Cary Stayner claims to have sexually assaulted Juli Sund and Silvina Pelosso and murdered both Carole Sund and Silvina Pelosso," reads a passage from the affidavit. "In his interview, Cary Stayner claimed that hair from his body was left on the bedspread in their motel room, but he returned later and changed the bed. Upon examination by the FBI Laboratory, some items have yielded trace evidence. Among other things, the FBI Laboratory has found hairs in vacuum sweepings taken from Room 509 and possibly body fluid stains on a blanket (and) a latent palm print from the window sill."
Unreleased Evidence
Of the Joie Armstrong homicide, previously unreleased evidence strongly supports Stayner's confession and gives new details of that murder. For instance, according to the affidavit, "Vacuum sweepings taken from inside Armstrong's house, where Cary Stayner claims to have bound her with duct tape, have yielded hair evidence.
The FBI Laboratory has also found possible bodily fluid stains on a bed sheet taken from Armstrong's residence. The FBI also seized clothing stained with blood from Joie Armsttrong's body. Although most of the stains are likely to include Armstrong's blood, Stayner was observed to have a laceration on his hand during his interrogation, and therefore may have been cut and bled during the attack. Latent fingerprints have also been lifted from the interior of Joie Armstrong's truck, which Cary Stayner admits to touching during his encounter with her."
Other objects of evidence are being examined in the interim. These include the knives Stayner claimed to have used to kill Juli Sund and Joie Armstrong, pieces of duct tape from Armstrong's house, and a blanket Cary Stayner said he wrapped around the Sund teen.
Two vials of Stayner's blood, as well as 25 samples of Stayner's head and pubic hair, saliva and fingerprints, were scheduled for testing against trace evidence in the Fresno County Jail in the presence of law enforcement officials.
The Death Penalty
The death-penalty trial of Cary Stayner was moved from Mariposa County to Santa Clara County, CA. In May, 2002, Stayner pleaded not guilty by reason of insanity in the 1999 murder of three tourists in Yosemite National Park. In mid-July of 2002, the trial began in Judge Thomas C. Hastings' courtroom with the prosecution team headed by George Williamson and the defense team headed by Marcia Morrissey.
On Monday, July 22, the court heard the former motel handyman's taped confession, which he had given to FBI agents.
According to Fresno Bee reporter Cyndee Fontanta, "In the taped confession, Cary Stayner calmly reviewed how he strangled 16-year-old Silvina Pelosso in a motel bathtub near Yosemite National Park. How he sexually assaulted Juli Sund, 15, for hours before spiriting her away from the motel room she shared with her mother, 42-year-old Carole Sund, and friend Silvina.
"And then, not as calmly, how he carried Juli, "kinda like a groom carrying a bride over the threshold" to a lonely vista point near Lake Don Pedro, pledged his love and then cut her throat as the sun lightened the sky."  Stayner's confession to the strangulation murder of Carole Sund had been played to the court the previous week.
Sane or Insane – That Is The Question
The issue was no longer who committed the murders but whether Stayner was insane at the time and whether the confession to the FBI agents was coerced.  Stayner is serving a life sentence for the Yosemite Park murder of Joie Ruth Armstrong.  The issue of whether Stayner's confession was coerced seemed to be resolved when on July 24, the court heard the recorded demands that Stayner made to the FBI agents that he wanted satisfied before he would give them his confession.
Stayner demanded that his parents be given the reward money, that he be incarcerated at a prison near his parents' home, and, to Stayner's detriment, that he be given a large cache of child pornography. Previously, the defense had maintained that the FBI had coerced Stayner's confession.  In the end, Cary Stayner confessed without the promise of child pornography or reward money for his parents.
credit murderpedia / as told by Joe Geringer