Patrick Purdy | Massacre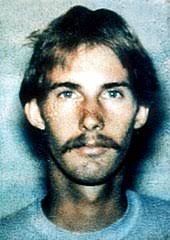 Patrick Purdy
Born: 11-10-1964
---
The Stockton Massacre
An American Mass Murderer
Crime Spree: January 17, 1989
Death: committed suicide the same day
The Stockton Massacre was a mass murder that occurred on January 17, 1989, at Cleveland Elementary School in Stockton, California. The gunman was a drifter, with a long criminal history, named Patrick Purdy. He shot and killed five schoolchildren, wounded 29 other schoolchildren and one teacher, before turning the gun on himself, committing suicide. His victims were predominantly Southeast Asian refugees.
The Massacre
On the day of the shooting, an anonymous person phoned the Stockton Police Department and warned of a 'death threat' against the Cleveland Elementary School.
Later that same day, at 11.40 am Patrick Purdy parked his car outside the school, got out and set his car on fire. He walked toward the school and then straight through the front gate, armed with the AK-47 and two handguns. Purdy strode like a man on a mission into a classroom and proceeded to randomly shoot at the children sitting behind their desks.
While Patrick Purdy was spraying bullets through the small room, his car exploded outside. Seemingly finished then with his attack on the children in the classroom, Purdy calmly turned and walked back outside. Once there he let loose with the AK-47. Survivors said 'he was firing the weapon in wide swoops, causing maximum carnage, in all directions'.
After 130 shots of the automatic rifle Patrick Purdy dropped the rifle and pulled one of his handguns from his waistband. He put the barrel to his head and pulled the trigger.
The entire massacre only took less than 6 minutes but, in that time, Patrick Purdy managed to kill five children between the ages of 6 to 9 and injure thirty-nine others.
Patrick Purdy
Patrick Edward Purdy was born on November 10, 1964 in Tacoma, Washington. His father, Patrick Benjamin Purdy, was a staff sergeant in the Army and was stationed at Fort Lewis at that time of his son's birth. His mother was Kathleen Toscano.
When Patrick was two years old, his mother divorced her husband after he had threatened her with a weapon. Kathleen moved with her son to South Lake Tahoe and later to the Sacramento area. Patrick attended Cleveland Elementary School from kindergarten through second grade.
Patrick's mother remarried, although she again divorced five years later. Albert Gulart, Purdy's stepfather, said Patrick was an overly quiet child who couldn't cope with things and according to his aunt, he was an alcoholic during his childhood.
When Patrick Purdy was thirteen, he once struck his mother in the face and therefore was permanently thrown out of her house. Patrick began living on the streets of San Francisco for a while, before being placed in foster care.
Purdy was adopted shortly after and settled with his foster family in the West Hollywood area. There, he became a drug addict, who barely attended school and began creating what would become a lengthy criminal history.
In order to support his drug addiction, he became a prostitute, which resulted in his first arrest in 1980. He was later arrested in 1982 for possession of marijuana and drug dealing. In 1983 he was arrested for possession of an illegal weapon and receipt of stolen property.
While On The Streets
In October 1984 Patrick was arrested for being an accomplice in an armed robbery and spent 32 days in the Yolo County Jail. In 1986 his mother called police when he vandalized her car, after she refused to give him money for drugs.
In April 1987, he was once more arrested for firing a semi-automatic pistol at trees in the Eldorado National Forest. At the time, he was carrying a book about the white supremacist group Aryan Nations, and told a County Sherriff that it was his "duty to help the suppressed and overthrow the suppressor."
Later, while in jail, Patrick Purdy tried to commit suicide twice, once by hanging himself with a rope made out of strips of his shirt and a second time by cutting his wrists with his fingernails. A subsequent psychiatric assessment found him to suffer from mild mental retardation and was said to be 'a danger to himself and others'. However, for one reason or another, he was released back to the streets.
In the fall of 1987, Patrick Purdy began attending welding classes at San Joaquin Delta College and complained about the high number of Southeast Asian students there. In early 1988 he worked at Numeri Tech, a small machine shop located in Stockton and from July to October as a boilermaker in Portland, Oregon, living in Sandy, where he had relatives. He also bought the Chinese-made AK-47 derivative used in the shooting there on August 3.
Little Toy Soldiers
In October 1987 Patrick left and drifted between Oregon, Nevada, Texas, Florida, Connecticut, South Carolina and Tennessee searching for work. He eventually returned to California where he rented a room at the El Rancho Motel in Stockton on December 26. After the shooting the room was found decorated with numerous toy soldiers.
Police stated that Patrick Purdy had problems with alcohol and drug abuse and had developed a deep hatred for everybody. His hatred was especially directed against Vietnamese and other Asian immigrants, stating that they take away jobs from native-born Americans, while he himself struggled to get along.
According to his friends, who described him as nice and never violent towards anyone, Patrick Purdy was suicidal at times and upset and mad about the fact that he failed to "make it on his own".
Steve Sloan, a night-shift supervisor at Numeri Tech described him as a "real ball of frustration" who "was angry about everything", while another one of Purdy's former co-workers noted: "He was always miserable. I've never seen a guy that didn't want to smile as much as he didn't."
In a notebook, found in a hotel where he lived in early 1988, Purdy wrote about himself in a self-loathing perspective: "I'm so dumb, I'm dumber than a sixth-grader. My mother and father were dumb."
No real motive was ever decided upon when it came to Patrick Purdy and the Stockton School Massacre.
Source: wikipedia | schoolshooters.info | amok.fandom.com
This site contains affiliate links. We may, at no cost to you, receive a commission for purchases made through these links
WickedWe Suggests: