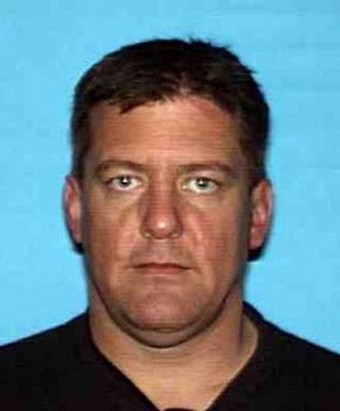 Bruce Pardo
---
The Covina Massacre
An American Mass Murderer
Crime Spree: December 24, 2008
The Covina Massacre occurred on December 24th, 2008, in Covina, a city in the suburbs of Los Angeles, California, in the United States. Nine people were killed from either gunshot wounds or an arson fire inside a house where a Christmas Eve party was being held.
The perpetrator, 45-year-old Bruce Pardo, who was dressed in a Santa Claus suit while in the house, committed suicide from a gunshot wound to the head at his brother's residence in the early morning hours after the attack. Authorities have cited marital problems as a possible motive for the violence; reports indicate Pardo's divorce had been finalized December 18, just one week prior to the massacre.
The Christmas Eve Attack of Bruce Pardo
At approximately 11:30 p.m. Bruce Pardo, dressed in a Santa Claus suit, knocked on the door of his former in-laws' house, occupied with about 25 people, with a gift-wrapped package (containing a homemade flamethrower) in one hand and a semi-automatic handgun in the other hand. (He also had three additional semi-automatic handguns in his possession.)
When the door opened, Bruce Pardo fired the handgun at an eight-year-old girl as she ran to greet him, injuring her in the face. He then fired indiscriminately at fleeing party goers. Police speculate that Pardo may have stood over and pointedly executed some of the victims, using the other handguns.
After the shootings, Bruce Pardo unwrapped the package containing the homemade flamethrower and used it to spray racing fuel gasoline to set the home ablaze. Nine people died from either gunfire or flames, and three others were wounded: the eight-year-old girl who was shot in the face with severe but non-life-threatening injuries, a 16-year-old girl shot and wounded in the back and a 20-year-old woman who suffered a broken ankle jumping out of the second-floor window.
There was one survivor who called the authorities during the attack after escaping to a neighbor's house. The resulting fire soared approximately 40 to 50 feet and took 80 firefighters an hour-and-a-half to extinguish. Due to the intensity of the fire, identification of the victims had been done by referencing dental and medical records.
Bruce Pardo
After the attack, Bruce Pardo put on his street clothes and drove his Dodge Caliber rental car to his brother's house in Sylmar, approximately 30 miles away from the crime scene, where he was later found dead from a self-inflicted gunshot wound. His brother was not present in the home at the time of Pardo's death. It was initially believed that Pardo intended to flee to Canada by plane as he had bought an airline ticket to a flight on Air Canada; however, subsequently it was discovered the flight was from Los Angeles to Moline, Illinois (with a layover in Minnesota). Bruce Pardo had called days before to tell his high school friend that he was planning to visit, but investigators are unsure if he intended to go or if the flight was to fool investigators. He had visited the friend before in October 2008.
However, due to suffering from severe third-degree burns on his arms stemming from the blaze, he decided to go against the initial plan. Police found $17,000 in cash cling-wrapped on his legs inside a girdle, and his rental car that had been parked one block from his brother's house, which had been rigged by remnants of his Santa suit that would ignite a flame and detonate the car with black powder if removed. Also recovered from the scene were four 13-round capacity handguns that were each empty, and at least 200 rounds of ammunition. Suggesting that what had been inside the car was being treated as a threat, a bomb squad fired an incendiary device into it, destroying and burning it. At Pardo's house in Montrose, police had recovered five empty boxes for semi-automatic handguns, two shotguns, and a container for high octane fuel tank gasoline.
The Fatalities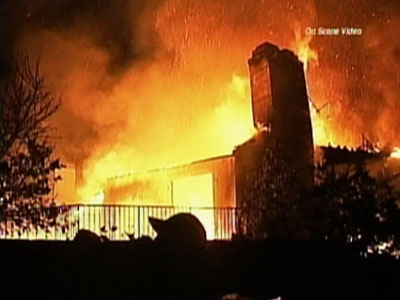 At least three victims' deaths were caused by gunshot wounds alone, while four others died from a combination of both gunshot wounds and fire; two other deaths stemmed from the fire alone.
Police speculate that the motive of the attack was related to marital problems. Pardo's wife of one year had settled for divorce in the prior week. However, Bruce Pardo held no criminal record and had no history of violence. He had been fired from his job as an electrical engineer in July. There is some speculation that the divorce may have been caused by Pardo concealing a child from a previous relationship. This child was severely injured in a swimming pool accident several years previous.
The couple wed on January 2006, but soon grew apart after their marriage, when Bruce Pardo refused to open a joint account with Mrs. Pardo; he also expected Mrs. Pardo to take care of her own three children with her own finances.
In June 2008, divorce court had ordered Bruce Pardo to pay $1,785 a month in spousal support. During the divorce proceeding, Bruce had confided to a friend his wife was "taking him to the cleaners." In July, Pardo was fired for billing false hours and the court suspended the payments due to job hardship.
After The Facts
It was revealed, after the facts, that Bruce Pardo had planned to kill his own mother after the massacre at Sylvia's home due to her apparent sympathy for Sylvia during the divorce proceedings.
Source: murderpedia | Wikipedia
This site contains affiliate links. We may, at no cost to you, receive a commission for purchases made through these link