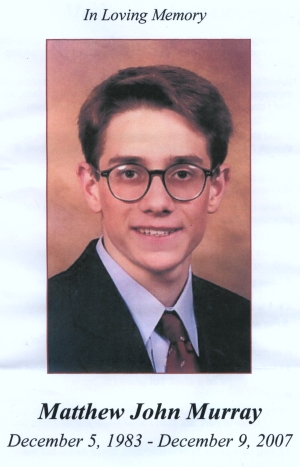 Matthew Murray was an American gunman who on December 9, 2007 killed four people in the Youth With A Mission and New Life Church shootings before taking his own life.
Mass Murder
The YWAM Murders and the New Life Church Shootings
December 9, 2007
Matthew Murray was one of two sons of a prominent Colorado neurologist and was home schooled by his mother Loretta in a suburb of Denver. According to friends and neighbors it was "a deeply religious Christian home".
________________________________________
The Killing Spree of Matthew Murray
The Arvada Missionary Shooting
Around 12:30 a.m., following a Christmas banquet that had taken place earlier that night, a man knocked on the door of the Youth With a Mission center. The man asked personnel in the facility if he could stay at the center overnight. When he was refused, the man opened fire, killing Tiffany Johnson, the center's director of hospitality, and staff member Philip Crouse. Dan Griebenow, 24, was critically wounded with a bullet in his neck, and Charlie Blanch, 22, suffered bullet wounds to the leg. Witnesses told police that the gunman had been a young, white male, wearing a dark jacket and skull cap, armed with a handgun and fled on foot.
The New Life Church Shooting
At about 1 p.m., 30 minutes after the 11 a.m. service had ended at New Life Church, Matthew Murray opened fire in the church parking lot shooting the Works family and Judy Purcell, 40. Murray then entered the building's main foyer where he shot Larry Bourbonnais, 59, hitting him in the forearm. At this point, Assam opened fire on Murray with her personally owned concealed weapon. Police say that after suffering multiple hits from Assam's gun, Murray fatally shot himself.
The pastor of the church stated that Assam shot Murray before he entered 50 feet inside the building, after she encountered him in the hallway, and that Assam probably saved "over 100 lives.
Connections
It was not immediately known whether the shootings were related to an earlier Arvada missionary shooting, 70 miles away. However, prior to the second shooting, police were already conducting an investigation at Murray's home.
At the Arvada missionary shooting, two people died and two were wounded at 12:30 a.m. after a gunman opened fire in a dormitory at a missionary training center on the campus of Faith Bible Chapel.
Police said the description of the gunman in the second shooting was similar to the first: a white male wearing a dark hat and dark jacket.
On December 10th, the gunman in both the YWAM Arvada and New Life Church shootings was identified as Matthew J. Murray, age 24, as the shooter in both attempted massacres.
The Death of Matthew Murray
[caption id="attachment_17957" align="alignleft" width="406"]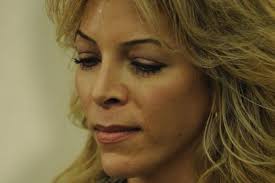 Denver Post[/caption]
Jeanne Assam, a New Life Church volunteer security guard, shot Matthew Murray several times with her personally-owned concealed weapon, stopping the young man is his killing spree. After Matthew was wounded however, he killed himself with his own shotgun.
According to the Colorado Springs Police Department, Matthew Murray was carrying two handguns, an assault rifle and over 1,000 rounds of ammunition. Pastor Brady Boyd estimated that about 7,000 people were on the church campus at the time of the shooting. He has no doubt that Ms Assam saved many a life that day with her swift actions.
The Motives of Matthew Murray
Police initially claimed that Matthew Murray had sent hate mail to the Youth With A Mission training center--but later retracted the statement, stating that Matthew Murray sent e-mails to an affiliated group in which he criticized Christians but did not threaten violence. He had been dismissed from the school's program three years earlier. Murray self-identified with Seung-Hui Cho, Eric Harris, and former Children of God member Ricky Rodriguez.
Before the shooting Matthew Murray left several violent and threatening messages on several religious websites, espousing his hatred for Christianity and his intentions on killing as many Christians as possible.
One message read:
"I'm coming for EVERYONE soon and I WILL be armed to the teeth and I WILL shoot to kill... God, I can't wait till I can kill you people. Feel no remorse, no sense of shame, I don't care if I live or die in the shoot-out. All I want to do is kill and injure as many of you as I can, especially Christians who are to blame for most of the problems in the world."
This posting demonstrates that Matthew Murray was influenced by Columbine perpetrator Eric Harris, who left the following message on his website prior to his own killing spree:
"I'm coming for EVERYONE soon and I WILL be armed to the fucking teeth and I WILL shoot to kill... God, I can't wait til I can kill you people. Feel no remorse, no sense of shame. I don't care if I live or die in the shoot-out. All I want to do is kill and injure as many of you as I can, especially a few people. Like Brooks Brown."
Matthew Murray
Investigators obtained copies of Murray's writings and studied other Web sites. Their probe revealed that his writings, which spanned several months, became increasingly violent. Some web users tried to counsel Murray and one psychologist even offered her services after reading his poem called "Crying all alone in pain in the nightmare of Christianity". Matthew Murray refused her offer.
credit in part - murderpedia