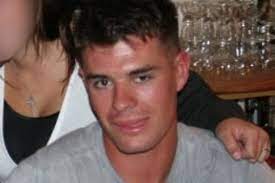 Ian David Long
---
The Borderline Bar & Grill Massacre
Massacre
Crime Spree: November 7, 2018
Ian David Long
A mass shooting took place on November 7, 2018, in Thousand Oaks, California, United States, at the Borderline Bar and Grill, a country-western bar frequented by college students. Thirteen people were killed, including the perpetrator, who died of a self-inflicted gunshot wound and a police officer who was shot multiple times, with the fatal wound being fired by another officer. Ten to twelve others were also injured.
The killer was identified as 28-year-old Ian David Long, a United States Marine Corps veteran.
Ian David Long
Ventura County Sheriff. Geoff Dean, identified the gunman as Ian David Long from nearby Newbury Park. He served in the United States Marine Corps from August 2008 to March 2013 and had gone to Afghanistan from November 2010 to June 2011. After being discharged, he attended California State University, Northridge as an athletic training major from 2013 to 2016, but he did not graduate. While he was previously living with roommates in Reseda, Ian David Long was living with his mother at the time of the shooting. Police and a mental health crisis team visited Long in 2017 for his irate and irrational behavior, but they decided not to detain him at a psychiatric facility.
A high school teacher raised claims that Ian David Long had physically assaulted her as a student but was encouraged to not push the incident to not endanger his future in the Marine Corps. In her statement, the teacher alleged that Long had issues long before his military service. A neighbor of Long claimed that Ian suffered from PTSD as a result of his time in the military. Behavioral scientist and clinical psychologist Lisa Jaycox said that it was premature to say whether Ian David Long suffered from PTSD or that it was a factor in the shooting.
Ian David Long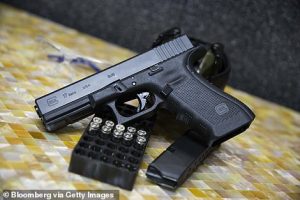 At approximately 11:20 p.m., Ian David Long, armed with a legally purchased .45-caliber Glock 21 semi-automatic pistol with a laser sight and seven banned high-capacity magazines shot a security guard standing outside the building. He then went inside and shot other guards and employees before moving to shoot patrons inside the bar, firing a total of approximately 60 rounds and throwing smoke bombs. Witnesses described the gunman as a heavily tattooed white male dressed entirely in black.
With more than 200 patrons inside, the bar was hosting a regularly scheduled College Country Night event and was popular among students in the area, especially those from Pepperdine University, California Lutheran University, California State University Channel Islands, and Moorpark College.
Three minutes after the first 9-1-1 calls, Ventura County Sheriff Sgt. Ron Helus and two California Highway Patrol officers arrived at the scene. Hearing gunshots coming from the building, Helus and a California Highway Patrol officer ran inside and immediately came under fire. In the ensuing gunfight, Helus was shot five times by the shooter who used a flashlight with a laser sight on his pistol in the large, darkened, smoke-filled room. Positioned between a Highway Patrol officer and the gunman, Helus was also accidentally struck by a bullet from the officer's rifle that went through his heart and fatally wounded him. Moments later responding deputies, who were securing the perimeter, located and evacuated Helus to safety outside. A SWAT team and other police officers arrived on the scene shortly afterwards.
After officers entered the building, the gunman was found dead in the kitchen area from a self-inflicted gunshot wound. Agents from the Federal Bureau of Investigation and the Bureau of Alcohol, Tobacco, Firearms and Explosives and the Department of Homeland Security were deployed to further investigate the scene. During the shooting, Ian David Long made several posts on Instagram expressing his thoughts.
Ian David Long
Nine men and three women died during the shooting. Seven were college students, and one other a recent graduate. The four others killed were 54-year-old Ron Helus; a 48-year-old bouncer; a 33-year-old Marine Corps veteran; and a 27-year-old Navy veteran who was at the 2017 Las Vegas shooting during the Route 91 Harvest festival.
They all died from multiple gunshots, and one victim was also stabbed in the neck. Ten to twelve others were injured, only one by gunfire.
Many of the survivors had to evacuate, or assisted in the evacuation due to the Woolsey Fire in the aftermath of the shooting. A vigil at Calvary Community Church, for two of their congregation, was attended by around 500 mourners. The only gun store in the town told reporters that there was an increase in individuals looking to purchase a weapon for protection on the day after the shooting. The mother of the victim who survived the 2017 Las Vegas shooting, called for gun control legislation in media interviews.
On November 15, 2018, the funeral for Helus was held. Law enforcement officers, local and state leaders including California Governor Jerry Brown and Governor-Elect Gavin Newsom, as well as local citizens attended his funeral. Numerous sports teams highlighted the victims and donated money to those affected by the shooting.
Credit wikipedia | daily mail.co
This site contains affiliate links. We may, at no cost to you, receive a commission for purchases made through these links