John Robinson | Serial Killer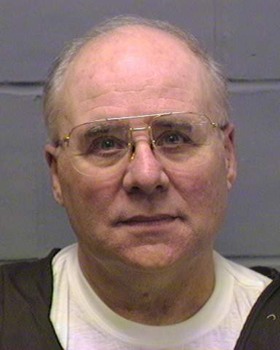 John Robinson
Born: 12-27-1943
---
Bodies In The Barrels
American Serial Killer
Crime Spree: 1984 – 2000
Incarcerated: Death Row in Kansas
---
John Edward Robinson was born on December 27, 1943. He is an American serial killer who was convicted in 2003 of the murders of three women during a fifteen-year period. He subsequently admitted responsibility for five additional murders during that time. Because he made contact with most of his post-1993 victims via on-line chat rooms, he is sometimes referred to as "the Internet's first serial killer".
Early Life Of John Robinson
The third of five kids born to an alcoholic father and a strict mother, John Edward Robinson was born in Cicero, Illinois. He reportedly went to London with a troop of Scouts who gave a performance for Queen Elizabeth II after becoming an Eagle Scout in 1957. He enrolled in Quigley Preparatory Seminary, a private boys school in Chicago for future priests, later that year, but dropped out after a year owing to behavioral concerns. He enrolled in Morton Junior College in Cicero in 1961 in order to train as a medical X-ray technician, but he left after two years. He got married to Nancy Jo Lynch after relocating to Kansas City in 1964. Fraternal twins Christopher and Christine were born in 1971 after the birth of their first child, John Jr., in 1965.
The Early Crimes
In 1969, John Robinson was detained for the first time in Kansas City after stealing $33,000 from Dr. Wallace Graham's medical office, where he was employed as an X-ray technician under false pretenses. He was sentenced to three years probation.
Robinson broke the terms of his probation in 1970 by relocating to Chicago without the consent or knowledge of his probation officer and accepting a position as an insurance salesman at R.B. Jones Company. He was detained once more in 1971 on suspicion of embezzling money from that company and was sent back to Kansas City, where his probation was extended.
In 1975 it was extended again after another arrest, this time on charges of securities fraud and mail fraud in connection with a phony "medical consulting" company he had formed in Kansas City. During this period, Robinson cultivated and maintained the outward appearance of a personable, community-minded citizen and family man. He became a Scoutmaster, a baseball coach and a Sunday school teacher.
In 1977 he talked his way onto the board of directors of a local charitable organization and forged a series of letters from its executive director to the mayor of Kansas City, and from the mayor to other civic leaders, commending his generous volunteer efforts and generally singing his praises. Eventually he had himself named the organization's "Man of the Year", and threw a festive awards luncheon in his own honor.
In 1979, Robinson finally completed probation, but by 1980 was under arrest again on multiple charges, including embezzlement and check forgery, for which he served 60 days in jail in 1982.
He formed a bogus hydroponics business and swindled a friend out of $25,000 who had hoped to receive a fast investment return to pay for his dying wife's health care. At this time he reportedly began sexually propositioning many of his neighbors' wives, triggering a fistfight with one of the husbands. He also joined a secret sadomasochism cult called the International Council of Masters and became its "Slavemaster", whose duties included luring victims to gatherings to be tortured and raped by cult members.
The Murders Begin
In 1984, having started two more fraudulent shell companies, John Robinson hired Paula Godfrey, 19, ostensibly to work as a sales representative. Godfrey told friends and family that Robinson was sending her away for training. After hearing nothing further from her, Godfrey's parents filed a missing persons report. Police questioned Robinson, who denied any knowledge of her whereabouts.
Several days later they received a typewritten letter with Godfrey's signature at the bottom, stating that she was thankful for Robinson's help, that she was "OK", and that she did not want to see her family. The investigation was terminated, as Godfrey was of legal age and there was no evidence of wrongdoing. No trace of Paula Godfrey has ever been found.
In 1985 Robinson, using the name John Osborne, met Lisa Stasi and her 4-month-old daughter, Tiffany, at a battered women's shelter in Kansas City. He promised her a job in Chicago, an apartment, and daycare for her baby, and asked her to sign several sheets of blank stationery.
A few days later, Robinson contacted his brother and sister-in-law, who had been unable to adopt a baby through traditional channels, and informed them that he knew of a baby whose mother had committed suicide. For a $5,500 fee to an imaginary lawyer, Don and Helen Robinson received Tiffany Stasi (whose identity was confirmed by DNA testing in 2000) and a set of authentic-appearing adoption papers with the forged signatures of two lawyers and a judge. Lisa Stasi was never heard from again.
In 1987 Catherine Clampitt, 27, left her child with her parents in Wichita Falls, Texas and moved to Kansas City to find employment. She was hired by John Robinson, who reportedly promised her extensive traveling and a new wardrobe. She vanished in June of that year. Her missing persons case remains open.
From 1987-1993 Robinson was incarcerated, first in Kansas (1987-91) on multiple fraud convictions, and thereafter in Missouri for another fraud conviction and parole violations. At Western Missouri Correctional Facility he met and ingratiated himself with 49-year-old Beverly Bonner, the prison librarian, who upon his release left her husband and moved to Kansas to work for him. After Robinson arranged for Bonner's alimony checks to be forwarded to a Kansas post office box, her family never heard from her again. For several years Bonner's mother continued forwarding her checks, and Robinson continued cashing them.
By now John Robinson had discovered the Internet, and roamed various social networking sites using the name "Slavemaster", looking for women who enjoyed playing the submissive partner role during sex. The first victim he met online was Sheila Faith, 45, whose 15-year-old daughter Debbie was confined to a wheelchair due to spina bifida. He portrayed himself as a wealthy man who would support them, pay for Debbie's therapy and give Sheila a job. In 1994 they moved from Fullerton, California to Kansas City and immediately disappeared. Robinson cashed Faith's pension checks for the next seven years.
Gradually, Robinson became well-known in the increasingly popular BDSM online chat rooms. In 1999 he offered Izabela Lewicka, a 21-year-old Polish immigrant living in Indiana, a job and a bondage relationship. When she moved to Kansas City, the still-married Robinson gave her an engagement ring and brought her to the county registrar where they paid for a marriage license that was never picked up. It is unclear whether Lewicka believed she and Robinson were married. She told her parents she had married, but never told them her husband's name. She did sign a 115-item slave contract that gave Robinson almost total control over every aspect of her life, including her bank accounts. During the summer of 1999 she disappeared. Robinson told a Web designer he employed that she had been caught smoking marijuana and was deported.
About the time Lewicka disappeared, Robinson convinced a lonely licensed practical nurse by day and submissive slave by night named Suzette Trouten to move from Michigan to Kansas so they could travel the world together. Trouten's mother received several typed letters, purportedly mailed while the couple was abroad, although the envelopes were stamped with Kansas City postmarks, and the letters were, her mother said, uncharacteristically mistake-free. Later, Robinson told Trouten's mother she had run off with an acquaintance after stealing money from him.
The Arrest Of John Robinson
Like many other serial killers, Robinson became increasingly careless over time, and did a progressively poorer job of covering his tracks. By 1999 he had attracted the attention of authorities in both Kansas and Missouri as his name cropped up in more and more missing persons investigations.
John Robinson was arrested in June, 2000 at his farm near La Cygne, Kansas after two women filed sexual battery complaints against him. A task force searching the premises found the decaying bodies of two women, later identified as Izabela Lewicka and Suzette Trouten, in two 85-pound chemical drums. Across the state line in Missouri, other members of the task force, searching a storage facility where Robinson rented two garages, found three similar chemical drums containing corpses subsequently identified as Beverly Bonner and Sheila and Debbie Faith. All five women were killed in the same way, by one or two blows to the head. Then their bodies where stashed away in a chemical drum.
The Sentence
In 2002 John Robinson was sentenced to death in Kansas for the murders of Trouten and Lewicka, and life imprisonment for killing Stasi (because she had been murdered before Kansas reinstated the death penalty). Robinson simultaneously faced a complex legal dilemma in Missouri, where prosecutors were actively pursuing additional murder charges based on the evidence discovered in that state.
Robinson's attorneys opposed his extradition because Missouri is far more aggressive in capital punishment than Kansas, which has yet to execute anyone since reinstating its death penalty statute. However, Chris Koster, the Missouri prosecutor, insisted as a condition of any plea bargain that Robinson lead authorities to the bodies of Lisa Stasi, Paula Godfrey, and Catherine Clampitt. Since doing so would have constituted a tacit admission of guilt, which could have been used against him in Kansas, Robinson refused.
Koster, on the other hand, faced pressure to make a deal because his case was not technically airtight. (Among other issues, there was no unequivocal evidence that any of the murders had actually been committed within Koster's jurisdiction.)
When it became clear that the women's remains would never be found without Robinson's cooperation, a compromise of sorts was reached: In a carefully scripted plea in October, 2003,
Robinson acknowledged only that Koster had enough evidence to convict him of capital murder for the deaths of Godfrey, Clampitt, Bonner and the Faiths. Though his statement was technically a guilty plea, and was accepted as such by the Missouri court, it was notably devoid of any contrition or specific acceptance of responsibility.
John Robinson currently remains on death row in Kansas.
Source: Martin Smith |murderpedia | en.wikipedia.org
This site contains affiliate links. We may, at no cost to you, receive a commission for purchases made through these links