Jack Abbott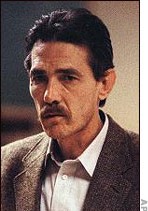 Jack Abbott was an American criminal and author. He was released from prison after gaining praise for his writing and lauded by a number of high-profile literary critics, but almost immediately he committed a murder and was locked up for the rest of his life.
He was born on a U.S. Army base in Michigan to an American soldier and a Chinese woman. As a child Jack Abbott was in trouble with teachers and later the law, and by the age of sixteen he was sent to a reform school.
In 1965, aged twenty-one, Jack Abbott was serving a sentence for forgery in a Utah prison when he stabbed a fellow inmate to death. He was given a sentence of three to twenty years for this offense, and in 1971 his sentence was increased by a further nineteen years after he escaped and committed a bank robbery in Colorado. Behind bars he was troublesome and refused to obey guard's orders and spent a lot of time in solitary confinement.
In 1977 Jack Abbott read that author Norman Mailer was writing about convicted killer Gary Gilmore. Abbott wrote to Mailer and offered to write about his time behind bars and the conditions he was in. Mailer agreed and helped to publish In the Belly of the Beast, Abbott's book on life in the prison system consisting of his letters to Mailer.
Jack Abbott
Norman Mailer supported Abbott's attempts to gain parole, which were successful in June 1980 when Jack Abbott was released. He went to New York City and was the toast of the literary scene for a short while.
Norman Mailer was subjected to some criticism for his role in getting Jack Abbott released and was accused of being so blinded by Abbott's evident talent for writing that he did not take into account Abbott's propensity for violence.
In a 1992 interview in The Buffalo News, Mailer said that his involvement with Jack Abbott was "another episode in my life in which I can find nothing to cheer about or nothing to take pride in."
On the morning of July 18, just six weeks after getting out of prison, Jack Abbott went to a small cafe called the Binibon in Manhattan. He clashed with 22-year-old Richard Adan, son-in-law of the restaurant's owner, over Adan's telling him the restroom was for staff only. The short-tempered Jack Abbott stabbed Adan in the chest, killing him.
The very next day, unaware of Abbott's crime, the New York Times ran a positive review of The Belly of the Beast.
After some time on the run, Jack Abbott was arrested and charged with murdering Richard Adan. At his trial in January 1982, he was convicted of manslaughter and given fifteen years to life.
Jack Abbott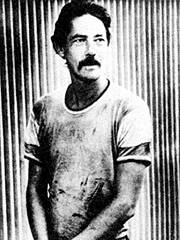 Apart from the advance fee of $12,500, Jack Abbott did not receive any profits from The Belly of the Beast, as Richard Adan's widow successfully sued him for $7.5 million in damages, which meant she received all the money from the book's sales.
There was a tragic irony to the murder, not lost on the community of aspiring writers and actors in New York. While Jack Abbott was an accomplished writer, Adan was both an actor and a playwright, whose talent was just beginning to be recognized: shortly before his murder his first play had been accepted for production by the La Mama theater company.
In 1987 Jack Abbott published another book titled My Return, which was not a success. It contained a great deal of self-pity, but no remorse for his crimes. In fact, Abbott blamed his crimes on the prison system and the government and said he wanted an apology from society for the way he had been treated.
Jack appeared before the parole board in 2001, but his application was turned down because of his failure to express remorse and his lengthy criminal record and disciplinary problems in prison.
On February 10, 2002, Jack Abbott hanged himself in his prison cell using a makeshift noose constructed from his bed sheets and shoelaces. He left a suicide note, whose contents have not been made public.
credit murderpedia