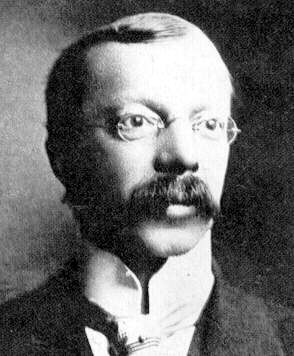 Dr. Hawley Crippen was hanged in Pentonville, England, on November 23rd, 1910 for murdering his wife. He has gone down in history as the first criminal to be captured with the aid of wireless communication.
Who Was Dr Hawley Crippen
Dr. Hawley Crippen was born in Coldwater, Michigan, to Andresee Skinner and Myron Augustus Crippen. He became a homeopathic doctor and started working for a homeopathic pharmaceutical company, Dr. Munyon's.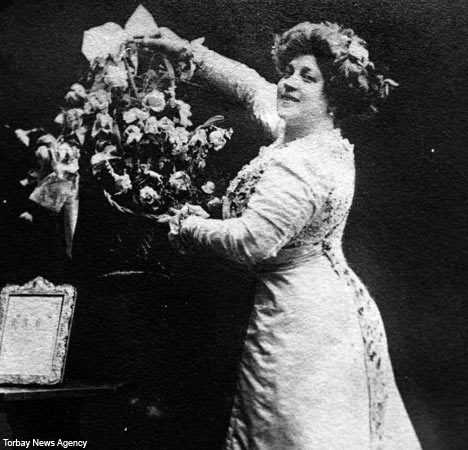 His second wife was Cora Turner, born Kunigunde Mackamotski to a German mother and a Polish-Russian father. She was a would-be opera singer, who went under the name of Belle Elmore. A rather overbearing woman, she tried to control every aspect of her husband's life. She openly had affairs, about which he did not complain very much.
In 1900, Dr. Hawley Crippen and his spouse moved to England. Unfortunately, his U.S. medical qualification was insufficient to obtain a doctor's position in the UK. The couple moved to 39 Hilldrop Crescent, Holloway, London where they had lodgers to compensate for Dr. Hawley Crippen's rather measly income.
Dr. Crippen was not a homeopath in the classic sense, in that he used many potions aside from homeopathic remedies.
Dr. Hawley Crippen and Murder
After a party at their home on January 31, 1910, Belle disappeared. Dr. Hawley Crippen told everyone she had returned to the United States, and later added that she had died in California and had been cremated.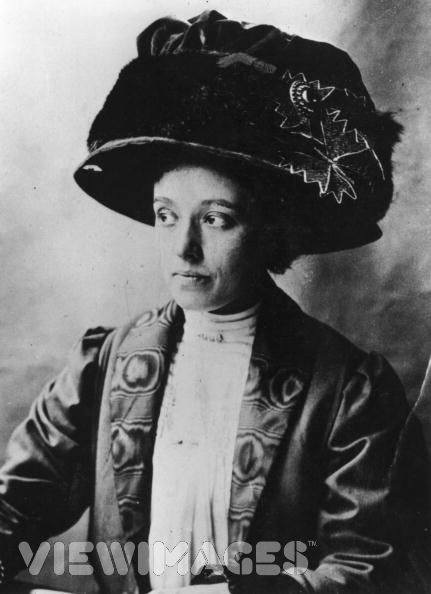 Meanwhile, his lover, Ethel le Neve, moved into Hilldrop Crescent and began openly wearing Belle's clothes and jewelry. The police were informed of Belle's disappearance by her friend, strong woman Kate Williams, better known as Vulcana. The house was searched but nothing was found, and the doctor was interviewed by police Chief Inspector Walter Dew.
After the interview (and a quick search of the house) Inspector Dew was satisfied and had no doubts regarding the truth of his story. However Dr. Hawley Crippen and le Neve did not know this, panicked and fled to Brussels spending the night in a hotel. The following day they went to Antwerp where they took the SS Montrose to Canada.
Dr. Hawley Crippen Recognized
Their disappearance led Scotland Yard to perform another three searches of the house. During the fourth and final search, they found the remains of a human body, buried under the brick floor of the basement. Sir Bernard Spilsbury found traces of hyoscine, a calming drug. Mrs. Crippen had to be identified from a piece of skin from her abdomen, because her head, limbs and skeleton were never recovered.
Dr. Hawley Crippen and le Neve fled across the Atlantic on the Montrose, with le Neve disguised as a boy. Unfortunately for them, Captain Henry George Kendall was keeping abreast of the news by wireless and was mingling among the first class passengers. He recognized the fugitives.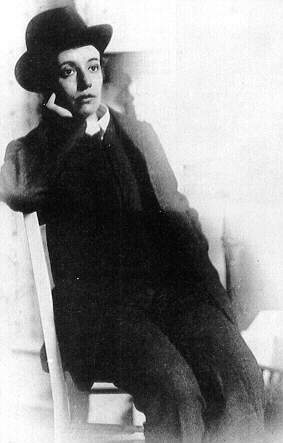 Just before steaming out of range of the land-based transmitters, Kendall sent a wireless telegram to British authorities: "Have strong suspicions that Dr. Hawley Crippen, London cellar murderer and accomplice, are among saloon passengers. Mustache taken off growing beard. Accomplice dressed as boy manner and build undoubtedly a girl."
The Transatlantic Arrest of Dr. Hawley Crippen
Had Crippen traveled second class he would have probably escaped Kendall's notice. On board the Montrose a wait of several days ensued because the ship was out of range of wireless communication. Dew boarded the faster White Star liner, the SS Laurentic, arriving in Quebec ahead of Dr. Hawley Crippen, where he contacted the Royal Canadian Mounted Police.
As the Montrose entered the British territorial waters of the St Lawrence River Inspector Dew, disguised as a pilot, came aboard. This was Dr. Crippen's second mistake concerning his evasion. Had he sailed directly to the United States, even if he had been one day eventually recognized, it would have required an international arrest warrant followed by extradition proceedings, complicated by the fact that he was a US citizen, to have him brought before the Old Bailey. As it was, Dew was a Scotland Yard detective on duty acting within the bounds of the British Empire.
Kendall invited Dr. Hawley Crippen to meet the pilots as they came aboard. Dew removed his pilot's cap and said, "Good morning, Dr Crippen. Do you know me? I'm Inspector Dew from Scotland Yard." After a pause Crippen replied, "Thank God it's over. The suspense has been too great. I couldn't stand it any longer." He then held out his wrists for the handcuffs. Dr. Hawley Crippen and le Neve were arrested on board the Montrose on 31 July 1910 and returned to England on board the Laurentic's sister ship, the SS Megantic.
The Trial and Execution of Dr. Hawley Crippen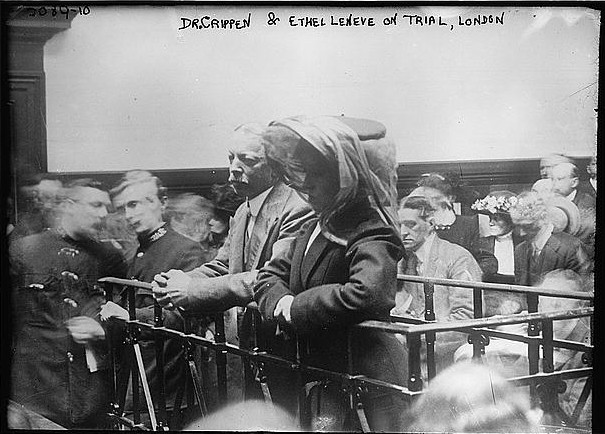 Dr. Hawley Crippen and le Neve were tried separately at the London assizes held at the Central Criminal Court, Old Bailey, London E.C.. After just 27 minutes of deliberations, the jury found Dr. Hawley Crippen guilty of murder and he was hanged by John Ellis in November. Ethel le Neve was acquitted.
Crippen's trial revealed the startlingly meticulous manner in which he had disposed of his wife's body. After killing her, he professionally removed her bones and limbs, which he then burned in the kitchen stove.
Her organs were dissolved in acid in the bathtub, and her head was placed in a handbag and thrown overboard during a day trip to Dieppe, France. Throughout the proceedings and at his sentencing, Dr. Hawley Crippen showed no remorse, only concern for Ethel's reputation and prospects. At his request, her photograph was placed in his coffin and buried with him.
Rumor had it that the good Dr. Hawley Crippen murdered his cheating wife because she had syphilis.
credit murderpedia