Sergei Ryakhovsky | Serial Killer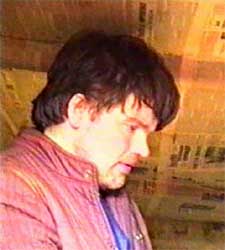 Sergei Ryakhovsky
Born: 12-29-1962
---
Hippopotamus
Russian Serial Killer
Crime Spree: 1988 and 1993
Death: 11-12-2007
---
Sergei Ryakhovsky a.k.a. The Hippopotamus, The Balashikha Ripper is a Russian serial killer and rapist who, between 1988 and 1993, killed in and around Moscow at least 19 people aged 14 to 78 years including 12 men, 4 women and 3 boys. He also assaulted six other victims who survived the attack.
The Victims
Ryakhovsky's main modus operandi was strangulation by rope or by bare hands, though victims were also sometimes stabbed or mutilated by a tools (usually a knife, hammer or screwdriver). Mutilation of the bodies was usually focused on the genital area. Almost all of Ryakhovsky's victims were raped post-mortem. His last victims show the signs of an escalation in violence.
In January, 1993 Sergei Ryakhovsky murdered a 78-years old man, cut off his head with a hunting knife and one day later, he returned to cut off his leg. His next victim, a 65-year old woman, had her abdomen ruptured by a weak pirotechnical device.
The penultimate victim of the Balakshikha Ripper, a 16-year old boy was hung, eviscerated, and then decapitated with a knife. Ryakhovsky was named 'The Hippopotamus' because his thick-necked, heavy-handed and pasty-faced appearance and hulking posture (six feet six inches tall and weighting in at 280 lbs).
The Arrest of Sergei Ryakhovsky
During a routine search of the crime scene area, investigators found a shack with a noose fixed to the ceiling. Considering it a part of the preparation for the next murder, they decide to make an ambush. On 13 April 1993 Ryakhovsky arrived at the shack and was subsequently arrested by the Militsiya officers. It is worth noting that despite his considerable strength and violent temperament shown later at trial, Sergei Ryakhovsky gives absolutely no resistance. Later he admitted that, after seeing weapons in the hands of officers, he became paralyzed with fear.
The Investigation
During the investigation Sergei Ryakhovsky cooperated with officials and investigators, willingly indicating crime scenes and describing methods of killing. According to his confessions, most murders were not planned and were rather an effect of a sudden impulse forcing him to "clean the world of homosexuals and prostitutes" (the same explanations were used to explain motivation behind the murder of a 70-year old woman and a 78-years old man Ryahovski accidentally met in the forest).
There was an exception however, as the murder of three homosexuals met in Izmailovski Park in 1988 were thoroughly planned and the murder of 45-years old woman that, according to Sergei Ryakhovsky, was a result of his sexual urge. Most victims were people over 40 and around 50 years of age, three of his were over 60.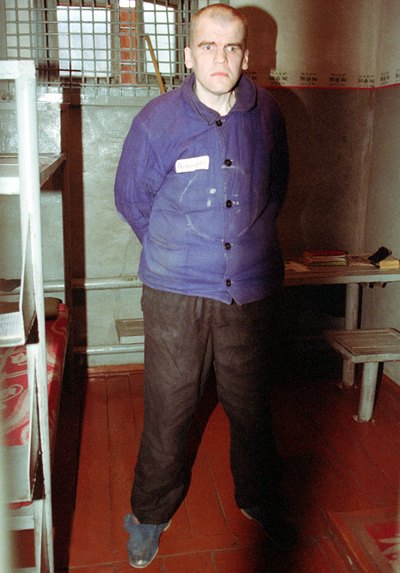 The Trial and Verdict
According to psychiatrists from the Moscow Serbsky Institute, Ryakhovsky's necrophiliac tendencies were caused by a malfunction in his central nervous system, however Sergei Ryakhovsky was evaluated as sane, competent for trial and fully responsible for his actions.
After being informed of his diagnosis, Ryakhovsky 's behaviour changed dramatically. The accused, at first complacent and fully cooperating with the investigators, suddenly became obtrusive, stopped his cooperation and began demanding punishment for the experts. He also revoked his previous confessions. This may suggest that he planned to avoid death penalty through an insanity plea.
Sergei Ryakhovsky was sentenced to death by firing squad in July, 1995. After hearing the verdict he said: 'I will be back'. However, in 1996 Russia imposed moratorium on executions and the sentence was changed to lifetime imprisonment in the maximum-security penal colony IK1.
credit murderpedia / wikipedia.