CAROLYN WARMUS – THE REAL FATAL ATTRACTION KILLER
Carolyn Warmus grew up in Birmingham, Michigan. She was the daughter of a self-made millionaire who accumulated his wealth through the insurance business.
Carolyn attended the University of Michigan. While in college, she struggled through a few unsuccessful romantic relationships. None lasted very long, mostly due to her odd and obsessive behavior toward men. Carolyn had a history of stalking her lovers. One of her former boyfriends, Paul Laven, actually went so far as to obtained a restraining order against her after she waged a relentless campaign to win him back. She called him and his fiancee and left messages on their answering machine, contacted their friends and bombarded them with notes. She even went so far as to falsely claim she was pregnant with Laven's child. But it was all for naught and a judge eventually granted a restraining order that demanded she stay away from the couple forever.
THE MOVE TO NEW YORK CITY
Carolyn graduated with a degree in psychology then moved to New York City. She earned a master's degree in elementary education from Columbia University. In 1987, she gained employment at the Greenville Elementary in Scarsdale, New York.
While there, Carolyn met thirty eight year old Paul Solomon and his wife. Paul was a fifth grade teacher, at the Greenville School, and Betty Jeanne, Paul's wife, was an account executive in New York. The couple had a thirteen year old daughter named Kristan.
Not long after their initial introduction, Carolyn, then 23, and Paul Solomon began their sordid affair. They would entertain their sexual encounters in Carolyn's apartment, hotel rooms and in Carolyn's car. In order to remain close to Paul, and to keep the affair hidden, Carolyn befriended both Betty and Kristan, showering them with gifts and taking the young girl with her on skiing trips.
THE MURDER OF PAUL SOLOMON'S WIFE 
On January 15th in 1989, a New York telephone operator received a call. The woman on the other end of the line was panicked and sounded in great distress. Suddenly the call was cut off and the line went dead. The operator immediately called the police. The authorities tried to locate the caller, but the reverse directory had an incorrect address and they were at a loss to discover where the call had come from or what it was all about.
At 11:42 pm, the body of Paul Solomon's wife, Betty Jeanne, was found in the family's Greenburgh home. Paul himself was the one who discovered her. She had been pistol-whipped about the face and head and had been shot nine times in her back and legs. None of the neighbors reported hearing shots, there was no sign of forced entry and no evidence of a struggle. The only upheaval to be seen was a disconnected phone and a woman's black woolen glove near the corpse.
The investigation initially focused on Paul Solomon. But he told officials that he had stopped briefly at a local bowling alley to see friends and then had spent the rest of the evening with Carolyn Warmus. He said that they had been at the Treetops Lounge in the Holiday Inn in Yonkers. When Carolyn, and several other witnesses confirmed the alibi, detectives turned their attention elsewhere.
Paul Solomon likewise shifted his attentions. He suddenly broke off his relationship with Carolyn and became openly involved with a new girlfriend. Her name was Barbara Ballor.
SUSPENSIONS GREW AND CAROLYN WARMUS BECAME A PERSON OF INTEREST
Investigators suddenly took an interest in Paul's former lover, Carolyn Warmus, when she began to relentlessly pursue Paul and his new love interest. But, when she actually followed the couple all the way to Puerto Rico and called the woman's family in an attempt to force an end to the relationship, red flags started popping up all over.
Investigator's gained information that Carolyn Warmus had obtained a .25 caliber Beretta pistol, with a silencer, shortly before the murder of Paul's wife. Detectives were suddenly interested in calls made from Carolyn's home phone on January 15th. They discovered a call made at 3:02 pm to Ray's Sport Shop in New Jersey. The store's records indicated the only female to purchase a gun, of said kind that day, was by a woman named Lisa Kattai, from Long Island.
When questioned, Ms. Kattai denied ever being in that shop and stated that she had not purchased any ammunition. She did reveal, however, that her driver's license had been lost, or stolen, while she was employed at a summer job. RED FLAG! One of her co-workers was Carolyn Warmus.
POLICE HAD ENOUGH EVIDENCE TO MAKE AN ARREST
Carolyn was indicted on the charge of second-degree murder on February 2nd, 1990. Her father made her $250,000 bail and paid for her bond. Carolyn's trial was held at the Westchester County Courthouse.
The trial dragged on as every piece of testimony, evidence, and speculation were closely scrutinized by the jury. Twelve days after the closing remarks, the jury announced a deadlocked. The judge, having little choice, declared a mistrial.
, howeverIn January 1992, the second trial began. During this trial, however, a wee bit of evidence grabbed the eye of the jury and truly was the undoing of Carolyn Warmus. It was the bloody, cashmere glove, that had been retrieved from the murder scene. It had been spotted in a photograph taken at the crime scene and was now identified as belonging to the killer. The glove belonged to Carolyn Warmus. 
This second jury took six days but, in the end, they did decide that Carolyn Warmus was guilty of murder. It was May 26, 1992.
The judge did not, however, grant Carolyn leniency, as some had expected. Instead, he said that she had "committed a hideous act, a most extreme, illegal and wanton murder."
Carolyn Warmus, the real fatal attraction murderer, faced a minimum of 15 years. But the judge sentenced her instead to the maximum allowed.
She was given 25 years to life in prison.
She is eligible for parole in 2017.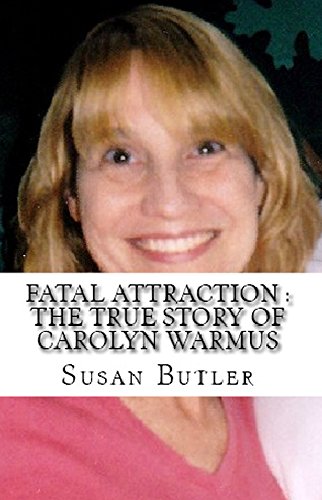 This book is available if you would like to read more.
credit – wikipedia