Richard Crafts and The Wood Chipper Murder – Convicted Without A Body
Helle Crafts was a Danish flight attendant who was murdered by her husband, Richard Crafts, an airline pilot and special constable. Her murder is sometimes called the "Wood Chipper Murder" because of the method by which Richard Crafts disposed of her body. Her death brought about the first murder conviction in the state of Connecticut in which a body was never found.
The Disappearance of Helle Crafts
Helle Crafts had known about her husband Richard's affairs with other women and had begun divorce proceedings against him. On the night of Wednesday, November 19, 1986, a friend of Helle's dropped her off at home in Newtown, Connecticut. This was the last time anyone but her husband saw her.

During the next few weeks, friends of Helle tried to contact her, but were told different stories by her husband. Richard told some that Helle had gone to visit her mother in Denmark. He told others that she had left, and he did not know where she was. Richard also stated that she was in the Canary Islands with a friend. Friends grew suspicious and concerned about Helle's safety because they already knew about Richard's aggression and fiery temper. Helle once said, "If something happens to me, don't think it was an accident."
The Investigation Begins 
By December 25, police had obtained a warrant to search the Crafts' premises. They uncovered a few clues. Several pieces of carpet from Richard and Helle's bedroom were removed from the floor. The family's nanny also came forward and told police of a dark, grapefruit-sized stain she had seen on the carpet of the bedroom, but that patch of carpet had apparently been removed. A blood smear was also uncovered on the side of the Crafts' bed.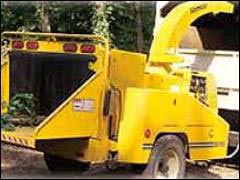 Police found among Richard's credit card records evidence that he had made several purchases before and after his wife's disappearance, including a new freezer that was not found in the home, new bed sheets, a comforter, and US$900 for the rental of a wood chipper.
Later, a private investigator, who had been hired by Helle Crafts, found in papers provided to him by Helle a receipt for a chainsaw. The chainsaw was later found in Lake Zoar in Newtown, Connecticut, and forensics experts would determine that it was covered in hair and blood that matched those of Helle.
A snowplow driver who knew Richard Crafts eventually came forward and said he had seen Crafts using a wood chipper at night near the shore of Lake Zoar, during a severe snowstorm. This was late on the night of November 19, the night Helle Crafts was last seen. With this new information, police focused their search around that area for many days, and even scanned the icy cold lake for clues.
Clues Found
They found many pieces of metal, less than 3 ounces (85 g) of human remains, including a tooth with unique dental work, a toenail covered in pink nail polish, bone chips, 2,660 bleached, blonde human hairs, fingernails and O type blood, the same type as Helle Crafts'. Analysis led the police to conclude the remains had gone through a wood chipper. The forensic investigation was led by renowned forensic scientist Dr. Henry Lee.
The Theory
Police theorized that in their bedroom, Richard Crafts first struck Helle unconscious with something blunt, which would explain the blood stains found, then carried her body to the freezer where he left it for some time. Police further postulated that Crafts had taken Helle's body out of the freezer on the night he was seen at the river by the witness, chopped it into several large portions with the chainsaw, and then put them through the wood chipper. The police believed the dismembered pieces of Helle Crafts' body were then scattered into the river and the area around it.
But Crafts could not be tried for causing his wife's death until state agencies officially recorded her as dead, and the absence of an identifiable body posed obstacles to that conclusion. After a forensic dentist confirmed that the found tooth was a match to Helle's dental records, the Connecticut State Medical Examiner's Office accepted this evidence and issued a death certificate for her and Richard Crafts was arrested for Helle's murder in January 1987.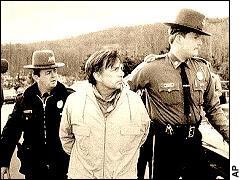 Due to extensive publicity, Crafts' trial was moved to New London, Connecticut. The trial then began in May 1988, in which forensic evidence was key. However on July 15, 1988, a mistrial was declared after the jury became deadlocked 11 to 1 in favor of conviction when one juror walked out of deliberations after refusing to vote to convict. Crafts was retried but the trial was moved to Norwalk, Connecticut again due to the massive publicity surrounding the case and subsequent mistrial in New London.
He was found guilty on November 21, 1989, three years and two days since Helle was last seen alive. In January 1990, Richard Crafts was sentenced to serve 50 years in state prison.
credit murderpedia / wikipedia.org