Chillicothe Ohio is a small Southern Ohio city located roughly 50 miles south of Columbus. Nice little place with one big problem! Women turn up missing and dead. At least six of them so far.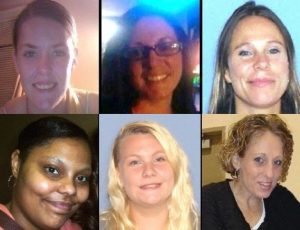 Three of the six women were found dead in local waterways. One was found shot to death. Two are still missing.
WHO ARE THESE WOMEN FROM CHILLICOTHE OHIO
Twenty-six-year-old Tiffany Sayre was last seen alive in Chillicothe, Ohio on May 11, 2015. She was headed to the Chillicothe Inn at the time of her disappearance. It remains unclear as to whether or not Sayre ever made it back to the hotel. The following month her body, wrapped in a sheet, was discovered near a culvert in neighboring Highland County. The coroner has ruled the death a homicide. Police are not sure where she was killed and they have no witnesses or persons of interest. According to the autopsy, she had cocaine, amphetamine, morphine, Dilaudid and alcohol in her system at the time of death.
Tameka Lynch, 30, disappeared in Chillicothe on May 3, 2014. She was found dead three weeks later, in a creek roughly 20 miles downstream from where it passes through Chillicothe Ohio. The location is not far from where Tiffany Sayre's body was later found. According to her autopsy report, Lynch's manner of death is listed as "undetermined circumstance." All they are certain of is that she was "already dead when she was put in the water."
Charlotte Trego, 27, was last seen by her family members the same day Tameka Lynch disappeared. She remains missing to this day.
Wanda Lemons, 37, was last seen in Chillicothe Ohio on November 3rd, 2014, exactly 6 months to the day that Trego and Lynch were last seen. She remains missing without a trace.
Shasta Himelrick, a 20-year-old expectant mother, disappeared after Lemons. Himelrick was last seen by her family on Christmas Day 2014. The following morning, her car was found abandoned near Higby Bridge in southeastern Ross County. Eight days later, searchers found Himelrick's body in the Scioto River, about a mile south of Higby Bridge. To the surprise, and disbelief, of family and friends, her death was ruled a suicide.
AND THEN ANOTHER WAS DISCOVERED
On May 29, 2015, the body of 38-year-old Timberly Claytor was found alongside a vacant building off Trego Creek Road in Massieville, a small town located about five miles south of Chillicothe, Ohio. The mother of five died as a result of multiple gunshot wounds.
Megan Lancaster, the mother of a 10-year-old boy, was last seen in Portsmouth on April 3, 2013. Her vehicle was later found abandoned at an area business. Portsmouth is a city located about 45 miles south of Chillicothe, Ohio.
It's now said that "when Megan disappeared, they all started disappearing."
It is believed that all of the victims were acquainted, in some fashion, one to the other. Many of them were suspected drug users. Some engaged in sex work to support their habit. Others spent time behind bars on various charges.
No matter the case, the mystery of the Chillicothe, Ohio murders of at least six women is an ongoing search for a killer amongst us!
credit – huffington post