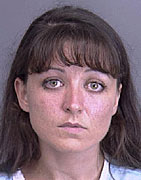 Darlie Routier is an American woman from Rowlett, Texas, who was convicted of murdering her young son Damon, and is currently on death row awaiting execution by lethal injection.
Two of her three children, Damon and Devon, were stabbed to death in the family's home on June 6, 1996. Darlie Routier was accused of killing both children but was only prosecuted for the murder of Damon, the younger of the two murdered boys.
What Was Her Motive
The prosecution's contention was that Darlie Routier murdered her sons because of the family's financial difficulties. She was a full-time homemaker but her husband Darin, a small business owner, earned a relatively high income.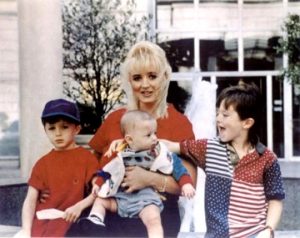 The family lived in a two-story home in a middle-class neighborhood, drove a mid-sized SUV, owned a used Jaguar automobile and a used boat.
Prosecutors described Darlie Routier as a pampered and materialistic woman with substantial debt, plummeting credit ratings and little money in the bank who feared that her middle class lifestyle was about to end.
Who Committed The Murders
Darlie Routier testified that an intruder killed her children but police found inconsistencies between her report and the crime scene evidence.
During the 911 call, Darlie can be heard saying that she'd found a knife on the floor. The 911 operator, thinking that Routier was speaking to her, told her not to touch anything, to which Routier responded that she had already touched it and picked it up and later said, "We could have gotten the prints, maybe."
Although Dr. Alejandro Santos and Dr. Patrick Dillawn referred to Routier's wounds as superficial, her neck wound came within two millimeters of her carotid artery. Blood spatter expert Tom Bevel testified that cast-off blood found on the back of Routier's nightshirt indicated that she had raised the knife over her head as she withdrew it from each boy to stab again.
Routier's bloody footprints were found underneath a vacuum cleaner and broken glass, indicating those items had been placed there after she went through the kitchen instead of before, as she'd claimed. In spite of broken glass being in the path of her bloody footprints, Darlie Routier had no corresponding injuries to her feet.
Silly String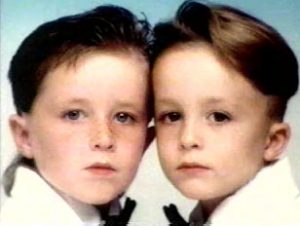 Newscasts appeared of Darlie and other family members holding a birthday party at the children's grave to celebrate posthumously Devon's 7th birthday, just eight days after the murders. Darlie Routier, smiling and laughing, appeared jovial as she sprayed Silly String on the graves in celebration of Devon's birthday.
Four days later, Darlie was charged with capital murder.
The Sentencing of Darlie Routier
Darlie Routier was ultimately convicted of murdering the younger of her two sons and was sentenced to death by lethal injection. Prosecutors did not try Routier for the death of her older son, holding his murder in reserve in the event she was acquitted in the first murder trial or her conviction was overturned on appeal, as there is no statute of limitations on any murder charge in Texas. Routier's defense attorney, Douglas Mulder, was the prosecutor responsible for the wrongful conviction and subsequent death penalty (both since overturned) of Randall Adams in 1977. The Adams case is profiled in the documentary The Thin Blue Line.
Darin Files For Divorce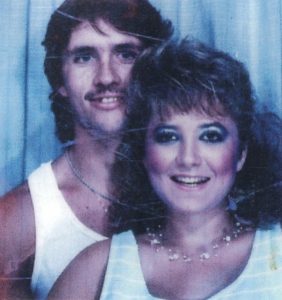 In June 2011 Darin Routier filed for divorce, having remained married to Darlie Routier after the murder of their sons. Darin Routier stated that the decision to divorce was mutual and "very difficult," and that he still believes his wife is innocent. He went on to say that they decided on the divorce to move on from the "limbo" they've been in since her arrest and conviction.
Claims of Innocence
Routier's family maintains a website which proclaims her innocence and a new site has been created by Routier's supporters to present their views and claims of her innocence.
Defense attorneys allege that errors were made during her trial and the investigation of the murders, especially at the crime scene. They also claim that there is significant exculpatory evidence which was improperly excluded, while questionable prosecution evidence was improperly allowed into evidence. Despite these claims, Routier's appeals have continually failed.
The Current Status of Darlie Routier
Routier's appeals have been remanded to the state level for improved DNA testing. Once all state-level testing has been completed, the testing ordered by the federal courts will begin. Darlie Routier remains incarcerated on death row located in Gatesville, Texas at the Mountain View Unit of the Texas Department Of Criminal Justice.
credit murderpedia