Cynthia Coffman
Cynthia Coffman was born in 1962. She was the privileged daughter of a St. Louis businessman. She was raised by her parents as a devout Catholic.
Abortion was unthinkable when she got pregnant at age seventeen. She was forced into a loveless marriage, enduring five years of domestic captivity before she left home and fled west. She traveled with little more than her car and the clothes on her back. Cynthia Coffman wound up in Page, Arizona. She found work waiting on tables in a diner. After several weeks, she moved in with a local man. In the fall of 1985, they were evicted from their small apartment after numerous complaints from neighbors of their drunken all-night parties.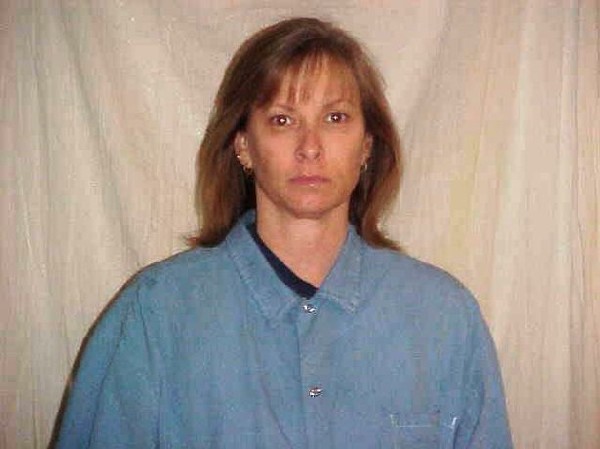 On May 8, 1986, Cynthia and her boyfriend were stopped for running a stop sign in Barstow, California. Police found a loaded derringer and a quantity of methamphetamine in her purse. She was arrested but released on her own recognizance. The charges were ulimately dropped. Her lover wound up serving six weeks in the county jail and it was during one of Cynthias visits that she first met his cell mate. This would be the man who would irrevocably change the life of Cynthia Coffman forever.
Enter James Gregory Marlow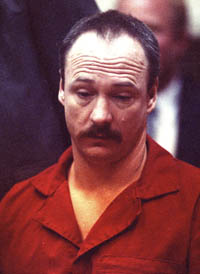 James Gregory Marlow was doing time for the theft of his sixth wifes car when Cynthia walked into his wasted life. Born in 1957, James had been a dedicated thief from age ten. He had been committed to Folsom Prison in 1980 for a series of home invasions and knife-point robberies. Marlow served three years on that conviction, earning himself a reputation as The Folsom Wolf. He proudly wore tattoos of the neo-Nazi Aryan Brotherhood.
It was love at first sight for Cynthia Coffmanand James. Upon Jame's release, the two headed to California. Marlow had relatives in the Border South and the couple began working their way through the family tree. They would sponge room and board where they could, ripping off any obvious valuables until they were finally asked to leave.
In time, it reached the point where Marlows relatives could see them coming, They were turned away with angry words any only pocket change, if someone was feeling generous. It didn't happen often. Before long they were reduced to sleeping in the woods, where Cynthia contracted head lice and James was forced to bathe in kerosene to rid himself of biting chiggers.
Cynthia Coffman and James Marlow Linked To Burglary
On July 26, 1986, Coffman and Marlow were linked to the burglary of a home in Whitley County, Kentucky, making off with cash, some jewelry and a shotgun.
Days later, in Tennessee, they were married. Cynthia celebrated the occasion by having her buttocks tattooed with the legend: I belong to the Folsom Wolf. That done, they drifted west again, in search of easy prey.
Cynthia Coffman and James Marlow Start Leaving A String of Dead Bodies In Their Wake
On the evening of October 11, 1986, 32-year-old Sandra Neary left her home in Costa Mesa, California, to obtain some cash from the automatic teller machine at her bank. She never returned. Her her car was found by police in a local parking lot. Two weeks later, on October 24, her strangled, decomposing corpse was found by hikers near Corona, in Riverside County.
Pamela Simmons, age thirty-five, was the next to die. On October 28 her car was found abandoned near police headquarters, detectives theorizing that she had been snatched while drawing money from a curbside ATM.
Ten days later, on November 7, 20-year-old Corinna Novis vanished on a similar errand in Redlands, California. The latest victim had been kidnapped from an urban shopping mall in broad daylight. Lynel Murrays boyfriend was worried on November 12, when the 19-year-old psychology student failed to keep a date after work. He found her car outside the dry cleaning shop where she worked, in Orange County, California. Another day would pass before her naked, strangled body was discovered in a Huntington Beach motel room. In addition to kidnapping and murder, there was also evidence of sexual assault.
The Police Need A Break In The Case
Police were praying for a break and, when it came, the case unraveled swiftly. First, Corinna Noviss checkbook was found in a Laguna Niguel trash dumpster, tucked inside a fast-food takeout bag with papers bearing the names of Cynthia Coffman and James Marlow.
Around the same time, Marlow and Coffman were linked to a San Bernardino motel room, where the manager found stationery bearing practice signatures of Lynel Murrays name. A glance at Marlows criminal record did the rest, and a statewide alert was issued for both fugitives .
On November 14, 1986, police were summoned to a mountain lodge at Big Bear City, California, where the proprietor identified his latest guests as James Marlow and Cynthia Coffman. A 100-man posse found the lodge empty, fanning out through the woods for a sweep that paid off around 3:00 P.M. The suspects were found hiking along a mountain road. Coffman and Marlow surrendered without a fight, both wearing outfits stolen from the dry cleaning shop where Lynel Murray worked.
Cynthia Coffman Leads The Law To Yet Another Body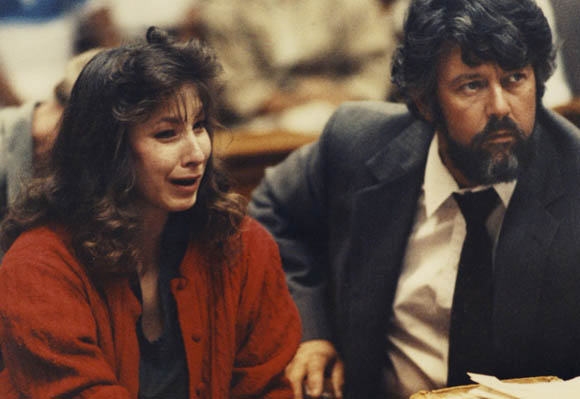 Within hours, Cynthia led officers to a vineyard near Fontana, where they found Corinna Novis, sodomized and strangled, lying in a shallow grave.
Marlow and Coffman were formally charged with that murder on November 17, held over for trial without bond. If any further proof of guilt were needed, homicide investigators told press that fingerprints from both defendants had been found inside Corinnas car, and Coffman had been linked to the Fontana pawn shop where the victims typewriter was pawned.
Another thirty-two months would pass before the killer couple went to trial. In the meantime they experienced a falling-out, each blaming the other for their plight. On one jailhouse visit, Cynthia's lawyer asked if there was anything she needed from the outside world. Yeah, she told him, pointing to her backside. You can find someone to help me lose this damn tattoo!
The couples murder trial finally opened in San Bernardino County on July 18, 1989. Both defendants were convicted across the board. Both were sentenced to death on August 30. Cynthia Coffman thus became the first woman sentenced to die in California since that state restored capital punishment under a new statute in 1977. It seems unlikely that a woman will actually be put to death in liberal California, but the 1992 execution of Robert Alton Harris cancels all bets, making anything possible.
credit murderpedia