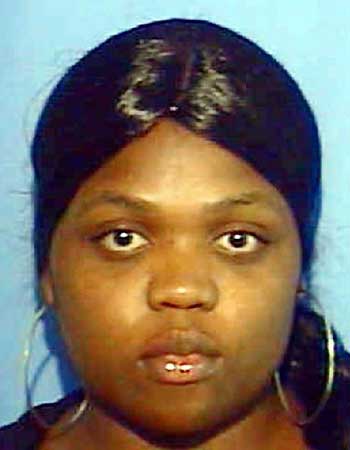 Tiffany Hall, an Illinois woman, pleaded guilty to killing her pregnant friend, the unborn child and the victim's three children, in a plea deal that allowed her to avoid the death penalty that she deserved!
Tiffany Hall, 26, pleaded guilty to all five charges against her — four counts of murder and one of intentional homicide in the death of the fetus, which she cut from the mother's womb — and was sentenced to spend the rest of her life in prison without parole.
St. Clair County State's Attorney Robert Haida said prosecutors agreed to no longer pursue the death penalty after defense attorneys approached them to discuss a plea, and after they spoke with the victims' relatives who said they wanted the case to end.
Tiffany Hall
Tiffany Hall, dressed in a yellow prison jumpsuit, showed no emotion in court. She answered Judge Milton Wharton's questions in a quiet voice, but declined to give any statement when asked if she would like to do so.
In court, Haida recounted the shocking details of the crime that began on Sept. 15, 2006.
Tiffany Hall struck her friend, Jimella Tunstall, on the head repeatedly with a table leg at Hall's mother's house. She then cut Tunstall's fetus from her womb in a bathtub. After Tunstall bled to death, Tiffany Hall dumped her body in an East St. Louis lot.
Hours later, Tiffany Hall told police in Illinois she had been sexually assaulted in St. Louis and given birth to a stillborn child after the attack. When police arrived, she had the dead fetus with her, claiming it was her own. She refused to be examined at a hospital.
More Murders On The Agenda of Tiffany Hall
Three days later, Tiffany Hall visited the father of two of Tunstall's children and the unborn child. The father treated all the children as his own, and was caring for them at the time. Tiffany lied to the father, saying Jimella wanted him to let her pick up the children and Tunstall's vehicle, he told police.
"He relayed to the officers that was the last time he saw his three children," Haida said.
Tiffany Hall then drowned all three of the children — DeMond Tunstall, 7, Ivan Tunstall-Collins 2, and Jinella Tunstall, 1 — in the same bathtub where she had killed their mother.
The Story Unravels
Authorities said Hall's story began to unravel on Sept. 21, 2006 at the funeral for the fetus, when she told her boyfriend, home on leave from the military, that the baby wasn't his and that she killed a pregnant woman and stole the fetus. He told police.
The bodies of the three children were found two days later hidden in a washer and dryer inside the East St. Louis apartment where the children lived with their mother.
Tiffany Hall later told authorities that she "had contemplated taking Jimella's unborn child for quite some time," Haida said. He said she bought rubbing alcohol, a sharp object and a nasal aspirator a week before the attack.
One of Hall's attorneys, James Gomric, said Tiffany Hall had been mentally fit to stand trial, but also said she had unresolved mental health issues and tested at an IQ in the mid-70's. After the court proceedings, Gomric said he could not speak to a motive in the case, or discuss if his client had ever shown remorse.
Tiffany Hall got life without parole!
credit murderpedia / fox news