CRAIGSLIST KILLER
Craigslist killer, Miranda Barbour was charged in the murder of a man she and her new husband met through Craigslist. She admitted to the crime in a jailhouse interview and said she has killed more than 20 others across America.
In the interview, 19-year-old Miranda Barbour said she wants to plead guilty to killing Troy LaFerrara in November. She also said that she has killed at least 22 others from Alaska to North Carolina in the last six years as part of her involvement in a satanic cult.
THE FBI IS CALLED IN
From information gathered, the authorities are taking Miranda seriously and have called in the big guns.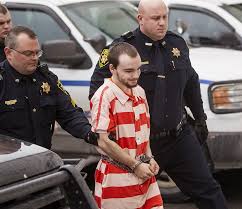 Attorneys for Miranda Barbour and her husband, 22-year-old Elytte Barbour, have both sought psychiatric evaluations for their clients.
Prosecutors are seeking the death penalty for both defendants in LaFerrara's killing.
THEY WANTED TO KILL TOGETHER
Miranda Barbour told investigators she met the victim (Troy LaFerrara) after he responded to her Craigslist ad offering companionship for money.
Elytte Barbour told investigators that he and Miranda committed the crime because they wanted to kill someone together. The couple, who moved to Pennsylvania about three weeks before the crime, told police that Miranda Barbour stabbed LaFerrara in the front seat of her car while her husband held a cord around the victim's neck.
Miranda Barbour said that she doesn't want to get out of jail and that she would kill again if she were released. She said she had no remorse and only killed "bad people.
credit – the guardian