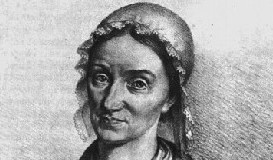 Gesche Gottfried was a German serial poisoner who murdered at least 15 people in Bremen and Hanover during the period 1813 through 1827. Her poison of choice was a mixture of arsenic and fat (called 'mouse butter' as it was usually used to kill mice) and her victims of choice were mainly her relatives and friends.
Called the Angel of Bremen, she was a perverted Pied Piper who lured her loved ones to doom and was also the last person to be publicly executed in Bremen. She was a woman of overriding ambition and, once she had identified what it was that she wanted she would not let anything – including parents, husbands and children – stand in her way.
She believed in the tortoise's course rather than the hare's and slowly and steadily administered small doses of arsenic to her victims until they died, all the while nursing them and publicly proclaiming her grief over her family members' inexplicable illnesses.
The First Murder for Gesche Gottfried
Gesche Gottfried killed her first victim, her husband Johann Miltenberg, in 1813 when it became clear to her that he was dissipating the inheritance that he had received from his father and which was their only means of support. Thereafter she set her sights on marrying Michael Christoph Gottfried and, during the course of a few months in 1815, ruthlessly and systematically got rid of everyone who may have posed a threat to her union with Gottfried. "Everyone" included both of her parents and all three of the children that she had had with Miltenberg.
Her twin brother, Johann, met his match in a dish of shellfish flavored with arsenic after he unexpectedly returned home in 1816 following a stint in the army and demanded his rightful share of the inheritance that Gesche had received from their parents. Her second husband, Gottfried, joined the list of the lost shortly after he married Gesche and she immediately inherited all of his property. Another seven people were to be added to this fatal list before she was apprehended and almost all of them were her close friends or relatives.
Gesche Gottfried Arrested
Gesche finally became careless, however, and a strange white substance was found on food that she had prepared for friends. This substance was identified as arsenic by a local doctor and, on March 6th 1828, Gesche Gottfried was arrested on suspicion of murder. She remained incarcerated for the next three years but was finally sentenced to death for her crimes and was beheaded on April 21st 1831.
A local custom was for the condemned to drink a final glass of wine before stepping into history and, in a surprise move, Gesche Gottfried took only one sip and then offered the rest to the judges presiding over the execution. Whether or not the glass contained a smattering of 'mouse butter', and whether or not the judges drank from it, was not recorded…
credit murderpedia / Maria Olsen