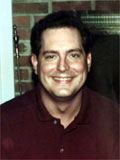 Mark Barton – Atlanta Spree Killer
The manager and his secretary thought they knew Mark Barton when he walked into the Atlanta office of the All-Tech Investment Group on a Thursday afternoon, July 29th 1999.
They greeted the day trader by name and he commiserated with them over the news lighting up every trader's terminal. He seemed to be the old client they were familiar with.
However, no one knew that Mark Barton was packing two handguns. They likewise didn't know that on Tuesday he had murdered his wife and placed her dead body in a closet away from his children's sight. Nor did they know that on Wednesday he had then murdered those children. They also didn't know that he had just been at the building across the street, at another brokerage, Momentum Securities, where he had also started off with small talk about the declining stock market before opening fire with a 9-mm Glock and a .45-cal. Colt, killing four people. And, at All-Tech, the pleasantries were about to end there too. In the exact same way.
Mark Barton Opens Fire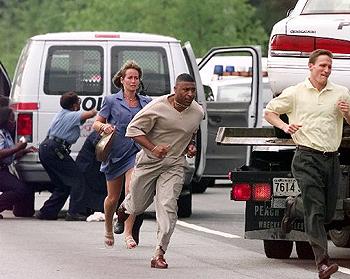 Five shots rang out from the meeting room, and the manager and his assistant were on the floor, seriously wounded. With his Colt in one hand and his Glock in the other, Mark Barton then marched onto the main trading floor.
Nell Jones, 53, looked up from her computer. From only 10 feet away, Mark Barton raised a pistol, pointed it at her face and fired, missing her forehead by mere inches and hitting her terminal. People fled the building and the shooter, who never slowed his pace. He just kept shooting. 
Five people would die that day at All-Tech. And, by dusk, Mark Barton, 44, would turn both the Glock and Colt on himself as police cornered him at a gas station in an Atlanta suburb.
Who Was Mark Barton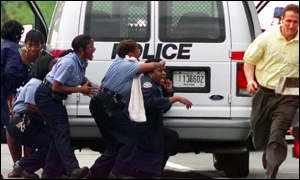 Mark Barton speaks through the notes that were found lying on the corpses of his murdered wife, Leigh Ann, 27, daughter Mychelle, 8, and son Matthew, 12, shrouded in towels and sheets, with only their faces showing.
Mark wrote in another note, "I don't plan to live very much longer, just long enough to kill as many of the people that greedily sought my destruction."
But Mark Barton also speaks in a 1995 deposition, obtained by TIME, in which he narrates his life in sober and calculated tones.
Mark Barton was trying to collect the $600,000 in insurance he had taken out on his first wife months before she and her mother were murdered in Alabama in 1993.
Mark Barton Speaks of His Life
The police had considered Mark Barton a suspect in the murders, so the insurance company balked, subjecting him to six hours of questioning.
He argued his case by talking about his life, appearing to discuss candidly the rootlessness of his life, the deterioration of his marriage to first wife Debra Spivey and his affair with Leigh Ann Lang.
The only child of parents in the Air Force, Mark Barton worked as a manual laborer and drifted briefly through one college before settling at the University of South Carolina, where he graduated with a chemistry degree in 1979.
That same year, he married Debra Spivey, a fellow student he had met while working as night auditor at a local hotel. After living in Atlanta, where Barton tested cleaning compounds, they moved to Texarkana, Texas. In 1988 he became president of TLC Manufacturing, a company he founded with some friends. He made about $86,000 a year. But, in 1990, he had a mysterious parting of ways with his company.
The Move To Georgia
Mark then moved to Georgia with his wife and, after starting up a firm he compared with a "paper route," he took a job as a salesman for a chemical company. In his new position, he got to know a young receptionist named Leigh Ann Lang. She was married at the time, but apparently not happily.
By May 1993, Mark Barton and Lang were having an affair. He bought a new wardrobe and began keeping up a tan. Debra grew suspicious. "She was jealous all throughout the relationship," Mark had stated.
At the same time, Mark Barton took out a life-insurance policy on Debra. He had wanted to take out $1 million, but couldn't afford the premiums. He settled for $600,000. It was her idea, he rationalized to the insurer. Debra had enjoyed being the wife of a company president. "She felt as time went on that she was just as important as I was and she developed an extreme sense of self-worth."
In June 1993, Mark Barton and Leigh Ann took a trip to Charlotte, N.C., where they had dinner with friends of hers. Over dinner, Barton said he had never loved anyone more than Leigh Ann, and that he would be free to marry her by Oct. 1st. At the end of August, Leigh Ann was ready to end her own marriage. She found an apartment and moved in with her sister.
Mark Barton and The Other Murdered Family
A few days later, Debra Barton went to Alabama to spend Labor Day weekend with her mother in a lakeside trailer. Mark Barton stayed home with their children, Mychelle and Matthew, or at least that was what he told the authorities. By the end of the weekend, the bodies of Debra Barton and her mother, Eloise Spivey, were found in a trailer, hacked to death by an ax-like tool that police never recovered.
Less than an hour after his wife's funeral, police showed up at Barton's home looking for evidence. He played a cat-and-mouse game with the investigators, who searched his possessions and sprayed the house with Luminol, a chemical that causes blood to glow in the dark. Although he was a chemist, Mark Barton claimed never to have heard of it but then added, "I had seen it on one episode of Columbo."
The police got a positive reaction in Barton's car, on the ignition switch and a seat belt. Barton had no explanation for why there might be blood there, but he did have a challenge for them.
In the end, the authorities had strong feelings that Mark Barton was guilty, but there were no witnesses to place him at the campground, no fingerprints and only inconclusive forensic evidence. 
Mark Barton Creates His New Family
Within a week of Debra's death, Leigh Ann was spending nights at the house with Mark Barton and his kids. The month after Debra's murder, Leigh Ann's divorce was final, and six months later, the two moved in together. By then Barton was living in Morrow, Ga., where neighbors knew nothing about his first wife's murder.
His second marriage, however, gave little promise of a happily-ever-after life. Leigh Ann would often pick up and leave, and neighbors would gossip about problems at home. There had been family trouble in February 1994, when Mychelle, then 2 1/2, told a day-care worker that her father had sexually molested her.
During the mental evaluations that followed, a psychologist said Mark Barton "certainly was capable" of committing homicide. However, given Mychelle's age, it was difficult for state attorneys to build a solid case around her against Barton or prevent him from keeping custody of the kids. 
Then, in 1997, the insurance company decided to settle for $450,000, figuring a jury would have sympathized with the plight of Barton's kids if the case went to court. The company stipulated, however, that $150,000 go into a trust for Mychelle and Matthew. With the insurance windfall, Mark Barton soon allowed himself to be swept into the risk-loving fraternity of day traders who try to make a living hunched over a computer terminal, betting on the daily gyrations of individual stocks. By this year Barton was a full-time day trader. But things turned bad that summer.
Mark Barton On A Down Hill Slide
Mark Barton had lost about $105,000 since June, almost all of it on volatile Internet stocks, according to Momentum Securities, where he traded most recently. Some reports said his account there had been closed on Tuesday after he was unable to meet a margin call–a brokerage firm's demand that a customer put up cash to cover a debt caused by falling stock prices.
To reopen the account, he reportedly wrote a check for $50,000; it bounced, and he was denied trading privileges Wednesday and Thursday. Momentum was his first stop when he began his shooting spree on Thursday. All-Tech says Mark Barton was a customer but had not traded with the company for months. The company is not divulging his trading records, but according to some accounts, Barton's total stock-market losses in the past year may have been as much as $300,000.
The Insanity Takes Control of Mark Barton
The words of Barton's suicide notes present some tantalizing enigmas. There is anger at the "people who greedily sought my destruction." Was this the world of the day traders? Then there is blame, regret and denial about his family. "I killed Leigh Ann because she was one of the main reasons for my demise. She really couldn't help it, and I love her so much anyway."
She was bludgeoned to death, her body hidden from the children in a closet. Mychelle ("my sweetheart") and Matthew ("my buddy"), he insisted, died "with little pain." He bashed their heads with a hammer while they slept, then held them underwater in a bathtub to ensure they were dead and would not wake in pain.
He placed a teddy bear on Mychelle's body, a video game on Matthew's. He left hand written notes on each corpse.
Mark Barton Scatters Clues 
A computer generated note in the living room read: To Whom It May Concern:
Leigh Ann is in the master bedroom closet under a blanket. I killed her on Tuesday night. I killed Matthew and Mychelle Wednesday night.
There may be similarities between these deaths and the death of my first wife, Debra Spivey. However, I deny killing her and her mother. There's no reason for me to lie now. It just seemed like a quiet way to kill and a relatively painless way to die. There was little pain. All of them were dead in less than five minutes.
I hit them with a hammer in their sleep and then put them face down in a bathtub to make sure they did not wake up in pain. To make sure they were dead. I am so sorry. I wish I didn't. Words cannot tell the agony.
Why did I? I have been dying since October. I wake up at night so afraid, so terrified that I couldn't be that afraid while awake. It has taken its toll. I have come to hate this life and this system of things. I have come to have no hope.
I killed the children to exchange them for five minutes of pain for a lifetime of pain. I forced myself to do it to keep them from suffering so much later. No mother, no father, no relatives. The fears of the father are transferred to the son. It was from my father to me and from me to my son. He already had it and now to be left alone. I had to take him with me.
Mark Barton Writes of Remorse and A Second Chance
I killed Leigh Ann because she was one of the main reasons for my demise as I planned to kill the others. I really wish I hadn't killed her now. She really couldn't help it and I love her so much anyway.
I know that Jehovah will take care of all of them in the next life. I'm sure the details don't matter. There is no excuse, no good reason. I am sure no one would understand. If they could, I wouldn't want them to. I just write these things to say why.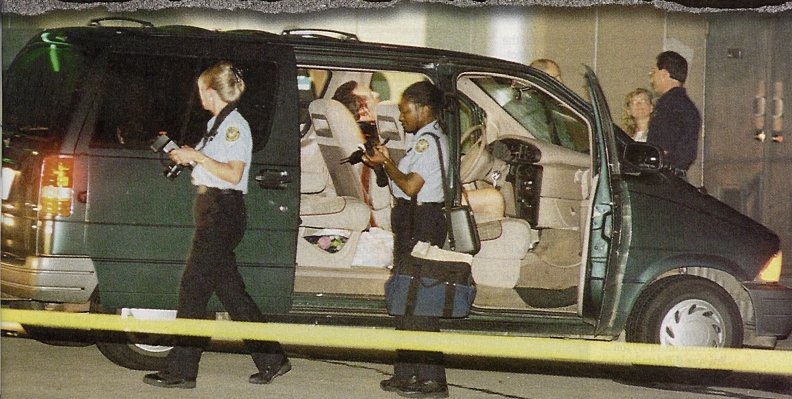 Please know that I love Leigh Ann, Matthew and Mychelle with all of my heart. If Jehovah is willing, I would like to see all of them again in the resurrection, to have a second chance. I don't plan to live very much longer, just long enough to kill as many of the people that greedily sought my destruction.
You should kill me if you can.
(signed) Mark O. Barton
But Mark Barton took care of that death himself too. Once trapped by law enforcement, he put the guns to his own head and quickly pulled the triggers. 
credit – murderpedia / Time Magazine