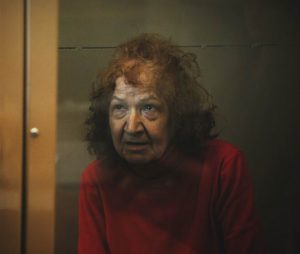 Granny
Tamara Samsonova
was anything but sweet. In fact she was a regular bitch who confessed in her diary that she was 'obsessed' with notorious Soviet murderer Andrei Chikatilo, aka the 'Red Ripper'! As Tamara sat before a judge she told him she'd been waiting on her day in court for years! And a lot of them. Several dozen in fact and her diary would prove she wasn't lying!  This little old lady from Russia was an admitted serial killer who had murdered, dismembered and eaten 14 people during two decades, one of whom was her own husband. (He'd gone missing 10 years prior to Granny's arrest.)
Tamara Samsonova
When Tamara Samsonova was seen carrying the remains of her neighbor's body down the elevator in a black plastic bag, it prompted a police investigation that would reveal a horror that no one would expect from a 68 year old woman. Tamara Samsonova was arrested for murdering her friend, (and last victim) 79-year-old Valentina Ulanova. She drugged the poor soul and then cut her up with a hack saw while she was still breathing! (They'd had a fight over a dirty coffee cup or something, according to Tamara. Truth was, Valentina was sick of the wicked old woman and told her to get out. Tamara didn't want to.) Anyway, after cutting the neighbor up and decapitating her, Tamara carried the body parts down the elevator (all caught on CCTV cameras) in a black plastic bag and discarded it near a pond.
The Investigation of Tamara Samsonova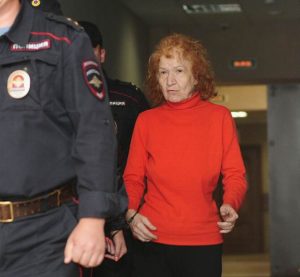 After her arrest, Tamara Samsonova, by now dubbed the 'Granny Ripper', investigators went through her apartment and found the details of her 'secret' life written down in diaries which she kept in Russian, English and German, alongside books of black magic and astrology.
From the writings , detectives suspect that the Tamara, a former hotel worker of 16 years, may have also eaten some body parts that she removed from the people she killed and then dismembered by chopping off their heads, arms and legs. Sources indicated that internal organs, in particular lungs, were removed from the bodies of victims.
Police immediately started comparing Tamara's elaborate diary entries with known cases of unsolved murders where victims were dismembered, and body parts packed in bags strewn around the city.
A headless, armless and legless man's body was found on the same street 12 years ago, and evidence found in her flat, including a business card for the victim, links her to the crime. Tamara Samsonova is also suspected of murdering her husband, who she reported missing in 2005. He was never found, dead or alive.
Diaries of Confessions
The 'Granny Ripper's' diary excerpts include a chilling confession of murdering one of her former lodgers. 'I killed my tenant Volodya, cut him to pieces in the bathroom with a knife, put the pieces of his body in plastic bags and threw them away in the different parts of Frunzensky district,' Tamara wrote. (Officers believe she killed and dismembered many of her tenants over 20 years.)
Neighbors say Tamara Samsonova was strange, but they were shocked that she has confessed to being a killer. Usually she remained at home during the day, only venturing out at night.
Officers learned that Tamara's killing technique was to poison or drug her victims first. When they were comatose she started hacking them into pieces, police believe, but neighbors never heard screams or any other unusual sounds from her flat.
The Ruling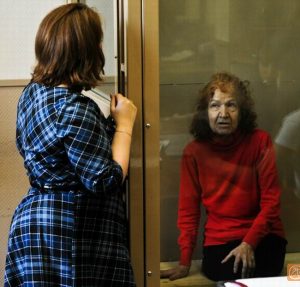 Amazingly, given the gravity of the charges against her, in her latest court appearance Tamara Samsonova seemed more concerned that journalists were there to report her case - and that her neighbors in St Petersburg were going to find out what she is accused of. After being remanded in custody, she told journalists: 'I knew you would come. It's such a disgrace for me, all the city will know.'
She then added: 'I was getting ready for this court action for dozens of years. It was all done deliberately. There is no way to live. With this last murder I closed the chapter.'
The judge said: 'I am asked to arrest you. What do you think?'
Tamara Samsonova replied: 'You decide, your honor. After all, I am guilty and I deserve a punishment.'
credit
murderpedia