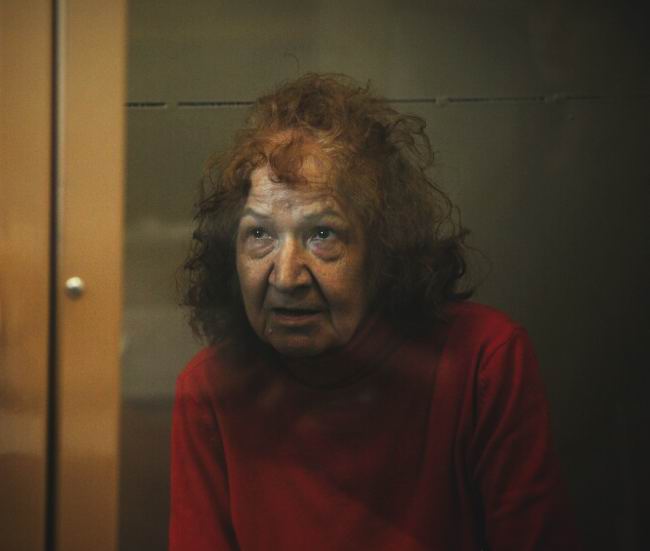 Tamara Samsonova
---
Cannibal Granny
Russian Serial Killer
Crime Spree: 2000 – 2015
Tamara Mitrofanovna Samsonova was born in Russia on February 5, 1947. She became known as Granny Ripper and is a Russian Serial Killer who was finally arrested in July of 2015 on suspicion of committing two murders with extreme cruelty. Tamara suffers from schizophrenia and was hospitalized several times in psychiatric hospitals.
Tamara Samsonova
After graduating high school, Tamara moved to Moscow and attended the Moscow State Linguistic University. After graduating, she moved to St. Petersburg and married Alexei Samsonov. In 1971, they settled in house number 4 on Dimitrov Street.
In 2000, Alexei Samsonov suddenly vanished. It was supposed that his wife murdered him and disposed of his body. She did report him missing but to no avail. Fifteen years later, in April 2015, Tamara turned to the authorities again, this time to the investigative unit of the Fruzensky District in St. Petersburg, giving a statement about her spouse's disappearance.
After her husband's disappearance, Tamara Samsonova began renting out a room in her apartment. According to investigators, on September 6, 2003, during a quarrel, she killed her 44 year old tenant. She then dismembered his corpse and disposed of it on the street.
Enter Valentina
In March of 2015 Tamara met a 79-year-old woman, Valentina Ulanova, who also lived on Dimitrov Street. A mutual friend of the two women asked Valentina to shelter Samsonova for a time due to the fact that her apartment was being renovated and she needed a place to stay for a bit. Valentina agreed to put her neighbor up.
Tamara lived in Ulanova's apartment for several months, helping with the housework, cooking and shopping. She liked living in this apartment and decided that she would be staying. When the time came for her to return to her own apartment, she refused to move out. Over time the relationship between the two elderly women deteriorated and Valentina eventually demanded Tamara leave.
Tamara decided to poison Valentina. She travelled to Pushkin, where she managed to persuade a pharmacist to sell her a prescription drug, phenazepam. Upon returning to the city, she bought an Olivier salad, one of Ulanova's favorite dishes. Tamara put the pills in the salad and gave it to Valentina.
Getting Rid of The Evidence
Tamara Samsonava found Ulanova's body lying on the kitchen floor on the night of July 23. She then proceeded to dismember it with two knives and a saw. She first sawed off Valentina's head, then cut the body in half. Tamara then sheared the body parts into pieces and put it into large bags. Now, in order to disposed of the bags, Tamara had to go in and out of the apartment several times. Samsonova left pieces of Ulanova's body scattered in the house.
On the evening of July 26, Ulanova's decapitated body with severed limbs, wrapped in a bathroom curtain, was found near a pond at house number 10 on Dimitrov Street. The package initially didn't attract any attention for several days, until a local resident took an interest in its contents.
The identity of the deceased was established on July 27, after a survey of apartment residents. When they knocked on Ulanova's apartment, Samsonova opened the door to the authorities. Having entered inside, police officers found traces of blood in the bathroom, and also fastening from the torn off curtain. Tamara was promptly arrested.
The Investigation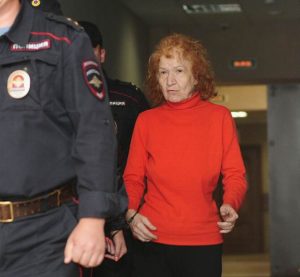 After her arrest, Tamara Samsonova, by now dubbed the 'Granny Ripper', investigators went through her apartment and found the details of her 'secret' life written down in diaries which she kept in Russian, English and German, alongside books of black magic and astrology.
From the writings , detectives suspect that the Tamara, a former hotel worker of 16 years, may have also eaten some body parts that she removed from the people she killed and then dismembered by chopping off their heads, arms and legs. Sources indicated that internal organs, in particular lungs, were removed from all the bodies of the victims.
Police immediately started comparing Tamara's elaborate diary entries with known cases of unsolved murders where victims were dismembered, and body parts packed in bags strewn around the city.
A headless, armless and legless man's body was found on the same street 12 years ago, and evidence found in her flat, including a business card for the victim, links her to the crime. Tamara Samsonova is also suspected of murdering her husband, who she reported missing in 2005. He was never found, dead or alive.
Diaries of Confessions
The 'Granny Ripper's' diary excerpts include a chilling confession of murdering one of her former lodgers. 'I killed my tenant Volodya, cut him to pieces in the bathroom with a knife, put the pieces of his body in plastic bags and threw them away in the different parts of Frunzensky district,' Tamara wrote. (Officers believe she killed and dismembered many of her tenants over 20 years.)
Neighbors say Tamara Samsonova was strange, but they were shocked that she has confessed to being a killer. Usually she remained at home during the day, only venturing out at night.
Officers learned that Tamara's killing technique was to poison or drug her victims first. When they were comatose she started hacking them into pieces, police believe, but neighbors never heard screams or any other unusual sounds from her flat.
Tamara Samsonova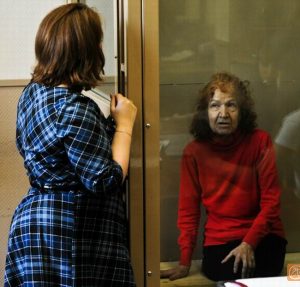 Amazingly, given the gravity of the charges against her, in her latest court appearance Tamara Samsonova seemed more concerned that journalists were there to report her case. She was concerned that her neighbors in St Petersburg were going to find out what she is accused of. After being remanded in custody, she told journalists: 'I knew you would come. It's such a disgrace for me, all the city will know.'
She then added: 'I was getting ready for this court action for dozens of years. It was all done deliberately. There is no way to live. With this last murder I closed the chapter.'
Tamara Samsonova was given a battery of psychological tests that determined she was a danger to others as well as herself. She was remanded to a state-run mental health facility where she still resides to this day and will most likely remain for the rest of her days.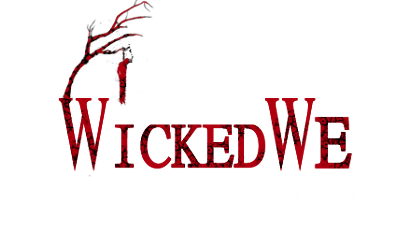 source: murderpedia | Wikipedia | ihorror.com
This site contains affiliate links. We may, at no cost to you, receive a commission for purchases made through these links