On Sunday, August 14th 2016, Sheborah Thomas, a 30 year old Houston woman, casually told a neighbor man that she had drowned her two small children and buried them under the house of a neighbor.
He took her to the law!
WHAT THE HELL DID SHE DO?
On Friday, August 12th, Sheborah picked up her son, Oraylyn (Ray Ray) Thomas, 7, and her daughter, five year old, Kahana Thomas, from the child care center. She brought them home, fed them and then systematically drowned each one in a bathtub.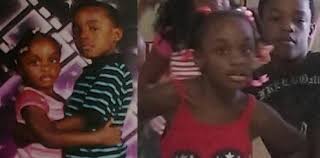 She drowned her little girl first. Then she moved on to her son. Like she had done with her daughter, she placed her seven year old in the the tub of water and tried to hold him down by his head. He struggled against her efforts but she eventually overpowered him and held his head under water until he was dead.
Sheborah told the police that she put the kid's bodies on the bed first but later decided to move them. That same afternoon, she put their tiny bodies in a trash can out behind the house.
SHE REGROUPED ONE MORE TIME AND MOVED THE BODIES AGAIN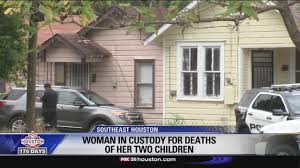 The following morning, Sheborah left the premise and went to her place of work to collect her pay check. After returning home, Sheborah said that she attempted to bury her children's corpses, but having only a piece of wood to work with, decided that the chore would take too long, so she simply rolled them up under the house of a neighbor.
Police found them, exactly were she said they would be and she now faces 2 charges of capital murder. She is being held without bond.
Sheborah's 12-year-old son was with his father at the time of the murders.