Morris Solomon Jr. | Serial Killer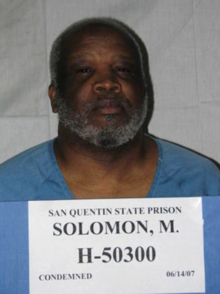 Morris Solomon Jr
Born: 03-15-1944
---
The Sacramento Slayer
American Serial Killer
Crime Spree: June 1986–April 1987
Death Row San Quentin, California.
---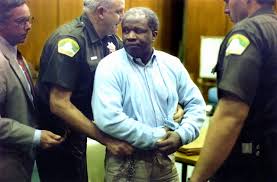 Morris Solomon Jr. was sentenced to death on September 16, 1992 for six murders.
According to police, the first victim was Yolanda Johnson, 22, found inside a closet of one of Solomon's previous residences, on Fourth Avenue in Sacramento, on June 18, 1986, two to three days after he had killed her.
Just a month later, Angela Polidore, 25, was found dead, buried underneath debris at another Sacramento home where Morris Solomon Jr. worked as a handyman.
Solomon was a suspect in both cases but walked away when authorities failed to come up with evidence sufficient enough to get an indictment. The handyman had four outstanding misdemeanor warrants (including one of solicitation of prostitution) when they allowed him to go free.
Morris Solomon Jr.
On March 19, 1987, the body of teenage prostitute Marie Apodoca, was uncovered in the yard of a home in Sacramento's Oak Park neighborhood. Morris had stayed at the house until November 1986. Another body was found on April 20th, when Cherie Washington, 26, was found in a shallow grave in the same neighborhood.
Solomon was taken into custody on April 22, after two more victims were discovered at his current residence. A seventh victim, 29-year-old Sharon Massey, was found on April 29 in the same yard where Marie Apodoca was found.
Held without bond, Morris Solomon faced seven counts of first degree murder. Due to the bodies advanced state of decomposition, determining the cause of death proved to be difficult.
Morris Solomon Jr.'s case failed to gain national attention due to a second, more controversial case of serial murder in Sacramento involving serial killer Dorothea Puente.
Seven bodies were found in the backyard of Puente's boardinghouse in the downtown Sacramento neighborhood of Aklai Flat on November 11, 1988.
Between Solomon and Puente, Sacramento had two serial killers working the city around the same time.
Morris Solomon Jr.
Morris was convicted of killing six of the seven women on August 29, 1991. His first death penalty phase was declared a mistrial, though a second jury voted unanimous to put him to death on September 16, 1992.
Solomon, an African-American, was the 342nd person to receive the death sentence in California and is now on death row in San Quentin, California. The handyman still denies any of the killings.
credit murderpedia / cncpunishment