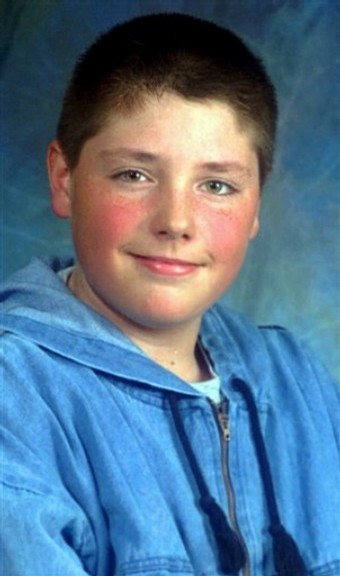 Mitchell Johnson and Andrew Golden were both middle school students who committed the Westside Middle School Massacre, killing four students and one teacher, and wounding ten others.
Mitchell Johnson lived in Jonesboro with his mother, stepfather, and his brother. His parents divorced when he was seven, and his mother remarried to Terry Woodward, an inmate at the prison where she was a guard. Johnson had a good relationship with his stepfather, and adults who remember him described him as being quiet and respectful. However, his fellow students at Westside Middle School described him as being a bully, who talked of wanting to belong to street gangs and smoke marijuana. He also spoke of "having a lot of killing to do" and holding a bitter grudge against Shannon Wright, his English teacher. His classmates also commented that he had a fascination with firearms.
Following the shooting, Johnson's attorney claimed that he had been sexually abused when he was 6 and 7 years old by a "family member of the day care where he was placed." One year prior to the shooting, 12-year-old Mitchell was charged with molesting a 3-year-old girl while visiting Minnesota with his family. However, the record of the case was expunged because of Mitchell's age.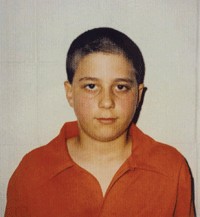 Andrew Golden lived in the Jonesboro area with his parents. By all accounts, he came from a stable and loving household, having a good relationship with both his parents, and visiting his grandparents after school. He was raised to be familiar with guns and their use at an early age; he was given his first firearm by his father when he was six years old. Golden's schoolmates described him as a bully, and faced troublesome behavior. He would often engage fist fights with other students, and would often use profane language. A classmate once accused him of killing her cat with a BB gun.
The
S
hooting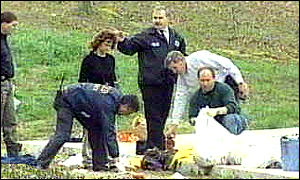 On the night of March 23, 1998 Golden helped Mitchell Johnson load his mother's 1991 Dodge Caravan with weapons, snack foods, and camping supplies.
The next day, Johnson stole his mother's keys and drove to the school with Golden. Johnson parked the van in the middle of the woods outside of the backyard of the school, planning to return there once the massacre was over. Mitchell Johnson then sat on a hill in the backyard of the school, while Golden went inside and pulled the fire alarm. Golden ran back and rejoined him at the hill with his weapon. As the students and teachers filed out of the building, thinking it was a routine fire drill, Mitchell Johnson and Andrew Golden opened fire on them.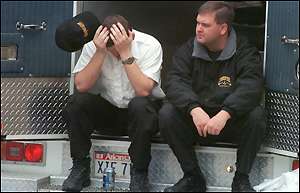 After they fired for four minutes, four students and a teacher were killed, and ten more were wounded. As the police arrived on the scene, Mitchell Johnson and Golden ran into the woods back to the van. However, they failed to outrun the officers that were pursuing them, and were both arrested by the police officers.
Th
e
Trial
During the trial, Mitchell Johnson hung his head and read a letter of apology he had written to victims' families. Mitchell said he wasn't targeting anyone. "We were not going to shoot at anyone in particular," he said. "I really thought we would scare them. I am sorry. I hope anyone who listens to these word knows how truly sorry I am."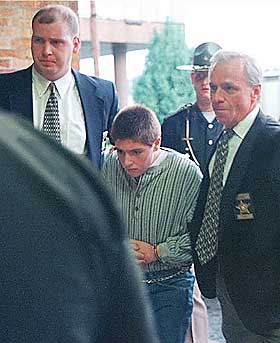 While in detention awaiting trial, Mitchell wrote a letter that stated: Hi. My name is Mitchell. My thoughts and prayers are with those people who were killed, or shot, and their families. I am really sad inside about everything. My thoughts and prayers are with those kids that I go to school with. I really want people to know the real Mitchell someday. Sincerely, Mitchell Johnson."
Due to their age, they were tried as juveniles, and were found guilty of 5 counts of murder. Following their convictions, Mitchell Johnson and Golden were taken by National Guard helicopter to Alexander, Arkansas, the location of the Youth Services Division's juvenile facility and the state's most secure juvenile facility.
The Release
Mitchell Johnson was released on August 11, 2005, on his 21st birthday due to federal gun crimes. Originally he was to only be held until he turned 18 years old. He spent less than 2 years in jail for each murder that he committed. He is allowed to buy and own firearms.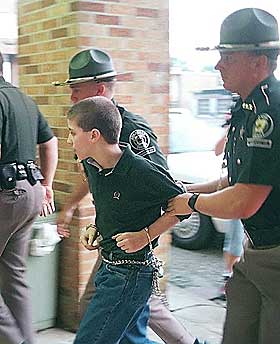 In interviews with Johnson's mother, she has said that he plans to leave Jonesboro and become a Baptist minister. However in a deposition taken for the civil case, he stated that he wanted to become a Seventh Day Adventist Minister, but hasn't found a Seventh Day Adventist church that he liked.
Andrew Golden was released on May 25, 2007, also his 21st birthday. Golden's exact whereabouts were unknown until he applied for a concealed weapon permit in Arkansas on October 7, 2008, under the name he now uses, Drew Douglas Grant. His application was denied by Arkansas state police, who noted that Golden had lied on the application about his previous residences and claimed it would be illegal for Golden to own or possess a firearm, though the reason for this is unclear. The assumed name that Golden was using had been unknown up until this point due to a gag order, but police were able to tie Andrew Golden to Grant through fingerprint records during the background check for the permit
Golden completed his civil case deposition on May 6, 2008.
2007-2008 Legal Trouble
On January 1, 2007, Mitchell Johnson was arrested after a traffic stop in Fayetteville, Arkansas on misdemeanor charges of carrying a weapon — a loaded 9 mm pistol — and possession of 21.2 grams of marijuana. Though the van Johnson was riding in was registered to him, the driver was 22-year-old Justin Trammell. Trammell and Johnson reportedly met at Alexander Youth Services Correctional Facility in Alexander, Arkansas, where Trammell was incarcerated after pleading guilty to the 1999 crossbow murder of his father, a crime committed when Trammell was 15. The pair are roommates and provided officers with the same Fayetteville address. Trammel was cited for careless driving and released. Johnson was arrested for possession of marijuana and a loaded weapon and later released on a $1,000 bond. He had a court appearance on January 26, 2007 at the Washington County, Arkansas courthouse.
Mitchell Johnson was indicted by a federal grand jury on October 24, 2007 for possession of a firearm while either using or addicted to a controlled substance. The U.S. Attorney's Office for the Western District of Arkansas reported that Johnson pleaded not guilty and was released on a $5,000 bond. Johnson's trial began on January 28, 2008. After two days of testimony from the prosecution and the defense witnesses, Johnson was found guilty on a charge of possessing a weapon while being a drug user.
In February 2008, just days after his conviction, Johnson was arrested again, this time for possession of marijuana at the convenience store he worked at and on suspicion of using a stolen credit card.
More Prison Time For Mitchell Johnson
On September 2008, US District Judge Jimm Larry Hendren sentenced Mitchell Johnson to four years in prison on the weapon and drug charges. In his sentencing, the Judge expressed dismay that Johnson had not taken advantage of the chance he had to go straight. He told him "No matter your sentence, you still have a life, those killed in 1998 do not". On October 7, 2008, Johnson plead guilty a felony theft charge and misdemeanor possession of marijuana. Johnson admitted that he stole a debit card left by a disabled man at the Bentonville gas station where he worked and subsequently used it to purchase a meal at a local Burger King. He also admitted that, at the time he was arrested, he was in possession of marijuana.
On November 14, 2008, Mitchell Johnson, now 24 years old, was sentenced to 12 years in prison for the theft charge and misdemeanor possession charges. Although Johnson could have faced up to 30 years, the sentence of 12 years was chosen because Johnson technically had no criminal record from the Jonesboro shooting.
On January 23, 2009, Johnson was sentenced to six additional years in prison for an additional charge of theft by receiving and financial identity fraud for using the stolen card to purchase a meal from a local Burger King. Circuit Judge William Storey told Johnson "You continue to run afoul of the law. I am hopeful this is the last time." This brought Johnson's combined state sentences to 18 years.
Mitchell Johnson will have to complete his federal sentence of four years before serving his 18-year state sentence. He will likely remain incarcerated well into his 30's.
source: murderpedia