The Mobile County Sheriff's Office has learned the names of the five victims killed in a "gruesome" and "vicious" mass murder Saturday at a home in Citronelle, Alabama.  It's being called one of the worst mass killings in Alabama state history. (WKRG/ News5)
On August 20th, 2016, Derrick Dearman, of Leakesville, Mississippi, walked into the Greene County Sheriff's Office and proceeded to confess to murdering someone. "Or, more than one, he'd added, in Citronelle, Alabama."
And I'd have to guess that the day went straight to hell from there for Mobile County District Attorney, Ashley Rich.
After examining the crime scene, she said "it was the most disturbing murder scene" she's ever seen.  From inside her 20 year career as a prosecutor, she stated "I've never seen a scene where there were five people that were brutally and viciously murdered."
SO WHAT THE HELL HAPPENED OUT ON JIM PLATT ROAD?
Well, according the report….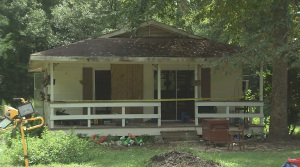 At around 1:00 in the morning, a call was made to the cops reporting that Derrick Dearman was trespassing on private property. The cops answered the call but the alleged perpetrator was nowhere to be found.
A short time later, Derrick returned to the house on Jim Pratt Road, broke in and attacked five people as they slept. He left only his ex-girlfriend and an unidentified 4 month old infant alive!
AND IT JUST KEEPS GETTING WORSE!
Evidently, Derrick's ex-girlfriend, Laneta Lester, was at the house and the understanding is that she was there in the hopes of avoiding an encounter with him that evening. But it didn't quite work out that way. After murdering five people, one of whom was pregnant, Derrick forced Laneta and the infant, whose parents were not identified, into his car! He then drove his abducted victims to his father's house in Mississippi!
It's really hard to sat at this point what actually took place once the trio arrived in Mississippi, but I think it's fair to say that a bunch of really 'not so good shit came out!'
In the end, Derrick, and his father, headed to the police station to turn himself in and Laneta called the law to say that she and the baby had been kidnapped. She also revealed that five of her friends had been slaughtered and Derrick Dearman was the culprit!
To say that an investigation is underway would be to state the obvious! And I'm guessing that Derrick and Laneta did not reconcile as he'd planned.