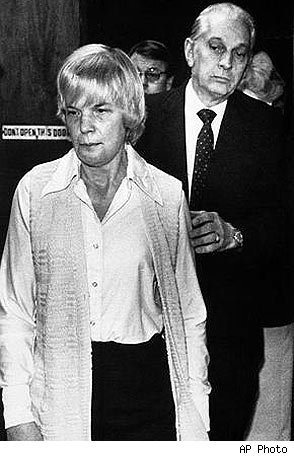 Marybeth Tinning
---
Serial Parricide
Parricide
Crime Spree: 1972 – 1985
Marybeth Tinning is an American prisoner currently serving a sentence of 20 years to life after being convicted of the murder of one of her children. She would murder her own kids so she could get sympathy from others.
Early Life
Marybeth Roe was born in Duanesburg, a small town in New York. She and her younger brother attended Duanesburg High School, where she was a typical student. Her father, Alton Roe, worked as a press operator for General Electric. She tried to kill herself several times as a child.
Over the next few years, she worked in a series of low wage jobs. Eventually, she became a nurse's aide at Ellis Hospital in Schenectady. In 1963, she met Joe Tinning on a blind date. The couple married in spring 1965.
Children's Deaths
Timothy
On Thanksgiving Day 1973, Marybeth Tinning gave birth to a son, Timothy. On December 10, three weeks after his birth, Timothy was brought back to the same hospital. He was dead. Tinning told doctors she found him lifeless in his crib. Doctors found nothing medically wrong. His death was officially attributed to SIDS.
Nathan
Two years later, on March 30, 1975 (Easter Sunday), Tinning gave birth to her fourth child, Nathan. On September 2, she showed up at St. Clare's Hospital with the baby dead in her arms. Marybeth Tinning said she was driving in her car with the baby in the front seat when she noticed that he had stopped breathing. Again, there seemed to be no explanation for his death. His death was also attributed to SIDS.
Mary Frances
In 1978, the couple made arrangements to adopt a child. The same year, Marybeth Tinning became pregnant again. The Tinnings did not cancel the adoption and chose to keep both children. In August 1978, they received a baby boy, Michael, from the adoption agency. Two months later, on October 29, Marybeth gave birth to her sixth child, Mary Frances. In January 1979, Tinning rushed Mary Frances to the emergency room, directly across the street from her apartment, saying the baby had had a seizure. The staff were able to revive her. However, on February 20, Tinning came running into the same hospital with Mary Frances, who was brain dead. Once again, Tinning said she found the baby unconscious and did not know what had happened to her. Her death was also attributed to SIDS.
Jonathan
Once Mary Frances was buried, Marybeth Tinning once again became pregnant. On November 19, she gave birth to her seventh child, Jonathan. In March 1980, she showed up at St. Clare's hospital with Jonathan unconscious. Like Mary Frances, he was successfully revived. Due to the family's history, Jonathan was sent to Boston Hospital where he was thoroughly examined. The doctors could find no valid medical reason why the baby simply stopped breathing. Jonathan was sent home. A few days later, Tinning returned to the hospital with Jonathan, and he was brain-dead. Jonathan died on March 24, 1980.
Michael
Less than one year later, on the morning of March 2, 1981, Marybeth Tinning showed up at her pediatrician's office with Michael, her adopted child, then two and a half years old. He was wrapped in a blanket and unconscious. She told the doctor that she could not wake Michael and had no idea what was wrong. When the doctor examined Michael, he was already dead. Since Michael was adopted, the long-suspected theory that the deaths in the Tinning family had a genetic origin was discarded.
Tami Lynne
On August 22, 1985, Tinning gave birth to her eighth child, Tami Lynne. On December 19, next-door neighbor, Cynthia Walter, who was also a practical nurse, went shopping with Tinning and later visited her home. Later that night, Walter received a frantic telephone call from Tinning. When Walter arrived, she found Tami Lynne lying on a changing table. Walter testified that the child was not moving and she could not feel any pulse or breathing. At the emergency room, the baby was pronounced dead.
Confession and Conviction
Suspicion mounted against Marybeth Tinning, who was always alone when the children died, but there wasn't any evidence of wrongdoing. However, after a police interrogation, Tinning confessed to smothering Tami Lynne, Nathan, and Timothy (which she later retracted). She denied having harmed the other children. She was convicted in Tami Lynne's case and sentenced to 20 years to life in prison.
Her first attempt for parole was in March 2007. At the parole board meeting Tinning said, "I have to be honest, and the only thing that I can tell you is that I know that my daughter is dead. I live with it every day," she continued, "I have no recollection and I can't believe that I harmed her. I can't say any more than that." Her parole was denied.
In late January 2009, Marybeth Tinning went before the parole board for the second time. Tinning stated "I was going through bad times," when she killed her daughter. The parole board again denied her parole, stating that her remorse was "superficial at best." Tinning was eligible for parole again in January 2011. In 2011 parole was denied again.
source: murderpdia
This site contains affiliate links. We may, at no cost to you, receive a commission for purchases made through these links