JOANNA DENNEHY
Joanna Dennehy, who wore a star tattoo beneath her right eye, was a rare and quite unique individual. At one point in her young life, she dreamed of being a lawyer. What she managed to become was an alcohol-guzzling, spouse-beating, child-neglecting, drug-driven, knife-whiling serial killer who was now in dire need of an extremely good lawyer of her own!
In November of 2013,  much to the surprise of her dumb-struck lawyer, a guilty plea was, surprisingly, blurted  out by Joanna Dennehy, in regards to all three of the murder charges, and two attempted murder charges, that had been brought against her.
In March, Kevin Lee, a property developer, and Joanna's lover, was murdered. Joanna decided, for one insane reason or another, to stab the man to death. She then dressed his dead body in a black, sequenced dress and dumped the decorated corpse in a ditch.
Dennehy would later confess to a psychiatrist that she felt murder was "moreish" (meaning -causing a desire for more or to be palatable.  ) and after her first kill, she just had a 'taste' for it.
And evidently she did. Because she did it again! Twice…. in 10 days!
Her roommates would both be found dead, murdered between March 19th and the 29th. And, as with her lover, they would both be found stabbed to death and laying in ditches.
After the premeditated murders of people that she knew, Dennehy drove into Hereford and proceeded to stab two men at random. One man was stabbed in the neck and throat, while the other would take the blade to his chest. Luckily, both men survived.
Once convicted, Dennehy would explain to a psychiatrist that she chose men to murder, because she didn't want to murder women, especially those with kids. She actually had a goal of murdering nine men, wanting to be like Bonnie of Bonnie and Clyde.
Joanna stabbed men to death for the sake of entertaining herself. She once told her boyfriend – an accomplice in deposing the bodies – "I want my fun. I need you to get my fun."
She was diagnosed with psychopathic, anti-social and personality disorders. She was sentenced to life with absolutely no possibility of ever being paroled.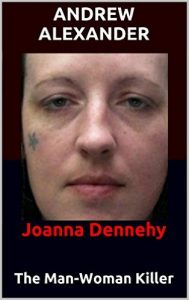 This book is available if you would like to read more
pic credit – Murderpedia