Kathleen Megan Folbigg is an Australian child killer. Folbigg was convicted of murdering her three infant children, eight-month-old Patrick Allen, 10-month-old Sarah Kathleen and 19-month-old Laura Elizabeth. Folbigg was also convicted of the manslaughter of a fourth child, Caleb Gibson, aged 19 days. The murders took place between 1991 and 1999, coming to an end only when her husband discovered her personal diary, which detailed the killings.
Kathleen Megan Folbigg was originally sentenced to 40 years' jail, with a non-parole period of 30 years, but on appeal this was reduced to 30 years, with a non-parole period of 25 years. Folbigg maintains her innocence, claiming all four children died from natural causes.
Early Life of Kathleen Megan Folbigg
On January 8th 1969, Kathleen Megan Folbigg's natural father, Thomas John Britton, murdered her mother, also named Kathleen, by stabbing her 24 times. Following her father's arrest on the day after the murder, Folbigg was made a ward of the state and placed into foster care with a couple.
On July 18 1970, Kathleen Megan Folbigg was removed from the care of the foster couple and placed into Bidura Children's Home.
In September of 1970, Kathleen moved into the home of Mr and Mrs Marlborough, a couple who also provided foster care and expressed a desire to adopt Folbigg. While living there she was treated, particularly by Diedre Marlborough as a slave and not allowed to spend time with friends.
She was not told of her mother's murder by her father until 1984. In fact she was not told that she had always been a ward of the state, always believing she had been adopted by the Marlborough's. Kathleen completed her Trial HSC in 1985 at Kotara High School, until life at home became unbearable and she was forced to leave home and school, finding work and then met Craig Gibson Folbigg in 1985. The pair formed a relationship and bought a home in the north-western Newcastle, New South Wales suburb of Mayfield in May 1987. They married in September that same year.
The Children – The Deaths
Caleb Gibson
Caleb Gibson Folbigg was born a healthy baby on February 1st in 1989. Caleb was known to breathe noisily and was diagnosed by a pediatrician to be suffering from a mild case of laryngomalacia, something he would eventually outgrow. On February 20th 1989, Kathleen Megan Folbigg put Caleb to sleep in a room adjoining the room she shared with her husband.
During the night, Caleb stirred from midnight until 2 a.m. Kathleen attended to her baby's cries, subsequently smothering him. The death however was attributed to sudden infant death syndrome (SIDS).
Patrick Allen
Patrick Allen Folbigg was born on June 3rd in 1990. Craig Folbigg remained at home to help care for his wife and baby for three months after the birth. On 18 October 1990, Kathleen Megan Folbigg put Patrick to bed. Craig Folbigg was awakened by the sounds of his wife screaming and found her standing at the baby's cot. He noticed the child wasn't breathing and attempted to revive him by cardiopulmonary resuscitation. An ambulance was called and Patrick was taken to hospital. Patrick would later be diagnosed to be suffering from epilepsy and cortical blindness.
Sarah Kathleen
The couple moved to Thornton in the City of Maitland. Sarah Kathleen Folbigg was born on 14 October 1992, and died on 29 August 1993.
Laura Elizabeth
In 1996, the couple moved to Singleton. On 7 August 1997, Laura Elizabeth Folbigg was born. On 27 February 1999, Laura died.
The Trial
Folbigg's trial lasted seven weeks. During a jury replay of Folbigg's police interview, she attempted to run from the court room.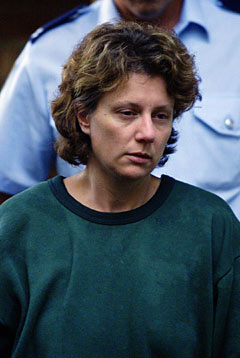 The prosecution alleged Kathleen Megan Folbigg murdered her four children by smothering them in periods of frustration. Folbigg relied on the defense that all four of her children had died from natural causes and denied that the contents of her diary related to the killing of her children.
The Defense
The appellant did not kill her children or harm Patrick. She did not think Craig was responsible for their deaths. There were natural explanations for the events, such as Sudden Infant Death Syndrome and, in the case of Laura's death, myocarditis. The appellant in fact was a caring mother, who, for example, always kept her children clean and tidy and was attentive to their appointments with doctors. Many of her diary entries in fact showed that she was concerned as a parent and enjoyed being a parent, something that was noticed by Craig and other witnesses at various times and passed on to the police during their investigations.
There was no direct statement of responsibility for a death and it is understandable how a mother would blame herself in the appellant's situation, even though she was not responsible. There was no 'failure to thrive' by the children, apart from Patrick's difficulties with epilepsy and blindness, and they were well-nourished and cared for. The appellant appeared to be utterly distraught when the ambulance officers, the former police officer Mr. Saunders and others came to the house after the deaths of the children.
The Prosecution
Prosecution had no evidence that was not circumstantial, and questioned at least eight expert witnesses. None of the doctors came to a consensus on the cause of death for any children.
Verdict
On 21 May 2003, Kathleen Megan Folbigg was found guilty by the Supreme Court of New South Wales jury of the following crimes: three counts of murder, one count of manslaughter and one count of maliciously inflicting grievous bodily harm. On October 24th 2003, Folbigg was sentenced to 40 years' imprisonment with a non-parole period of 30 years.
Appeal
On February 17th 2005, the court reduced her sentence to 30 years' imprisonment with a non-parole period of 25 years on appeal. Due to the nature of her crimes, Kathleen Megan Folbigg resides in protective custody to prevent possible violence by other inmates.
credit murderpedia