JOHN CHILDS NARCISSISTIC, PSYCHOPATHIC SERIAL KILLER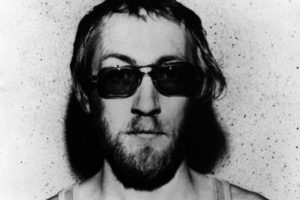 John Childs, a narcissistic, psychopathic serial killer, admitted to slaughtering Terence Eve, Robert Brown, George Brett, Terry Brett, Frederick Sherwood, and Ronald Andrews.
Childs is a British murderer who killed these six people between 1974 and 1978. He was a professional criminal and contract killer, although he surpassed many gangland hit men in sheer brutality. One victim was shot three times and then stabbed with a sword, while another was violently battered with an ax and lead pipe before being strangled.
One unsuspecting victim was lured to a factory to be killed. Unfortunately the man arrived with his 10-year-old son in tow. Ignoring the unwritten rule of the gangster code, which supposedly refrains from hurting women and children, John Childs murdered the man if front of his son and then shot the boy dead.
The remains of all of John Childs' victims were never found because he dismembered the bodies and cremated them in the fireplace of his London home.
Childs was sentenced to life imprisonment in 1980 and remains in prison. It is suspected that he is on a whole life tariff, meaning he will die in jail, though his name has never been publicized as such. The last published list made it clear that some names had been held back for various reasons, and it is possible Childs' name was one such.
THE VICTIMS
Terence Eve was the first to die in 1974 and, when plans to put his body through an industrial mincing machine failed, his remains were cut up and burned. Terry was beaten with a piece of pipe and an axe before Childs strangled him to death.
Robert Brown – was killed in January 1975. Robert was shot 3 times then axed and stabbed with a knife and a sword.
George Brett and Terry Brett murdered in November 1975, were father and son, both victims were shot in the head.
Freddie Sherwood was killed in July 1978, he was also shot in the head.
Ronald Andrews was killed in October 1978, shot in the head.
DISPOSING OF THE BODIES
Childs burnt the body of each victim in the fireplace of his London home. Childs had tried to mince the body and dispose of it down the toilet. This proved to be impossible so the bodies were dismembered with a saw and a wooden mallet, before incinerating them
John Childs has been behind bars since his guilty pleas in 1979 and an appeal against his convictions failed in 2014. Today, his lawyers asked the High Court to give him light at the end of the tunnel and fix a date when he can seek release on parole.
But Mr Justice Nicol was unmoved and said: "The enormity of his crimes is hard to overstate" and ruled that John Childs deserves to be in the select group of notorious killers who are serving "whole life" sentences and will never be freed. He will die in prison.
Childs' legal team pointed out that he (John Childs) has been diagnosed with an anti-social personality disorder, with a "grandiose need for admiration". His drive to seek attention and total lack of empathy for others were classic signs of a narcissistic psychopath. Not to mention he was deemed a "pathological liar".
Childs' lawyers argued the killings were "not particularly sophisticated" and there had only been limited planning or premeditation.
But the judge disagreed, ruling John Childs' crimes so "exceptionally serious" that, in his case, life would mean life.
Childs, who suffered a devastating stroke almost 20 years ago, has been moved between numerous jails during his decades behind bars and has a history of riling the authorities – once even launching a legal challenge over the lack of peanut butter behind bars.
credit – murderpedia / mirror.co.uk