Carl Watts – The Sunday Morning Slasher
Carl Watts was also known by his nickname Coral. He was an American serial killer dubbed "The Sunday Morning Slasher." Watts is now suspected to have killed more than 100 women, which would make him the most prolific serial killer in American history.
Early Life of Carl Watts
Carl Eugene Watts was born in Killeen, Texas to Richard Eugene Watts and Dorothy Mae Young. His father was a private first class in the Army and his mother was a kindergarten art teacher. When Watts was less than two years of age his parents divorced and Carl was raised by his mother. Watts and his mother moved to Michigan and, in 1962, Dorothy Mae married a mechanic named Norman Caesar with whom she had two daughters.
As a child, Watts was described as being strange. Around the age of twelve, Watts claimed that this was when he started to fantasize about torturing and killing girls and young women. During adolescence, Carl Watts began to stalk girls and is believed to have killed his first victim before the age of 15.
When Watts was 13, he was infected with meningitis which caused him to be held back in the eighth grade. Upon his return to school, Carl had difficulty keeping up with other students. At school, he would often receive failing grades, and was reading at a third grade level at the age of 16. He also suffered severe bullying at school.
Carl Watts Arrested
On June 29, 1969, Carl Watts was arrested for sexually assaulting 26-year-old Joan Gave. When Watts was tried, he was sentenced to the Lafayette Clinic, a mental hospital in Detroit. According to a psychiatric assessment, Carl was revealed to suffer from mild mental retardation, with a full scale I.Q. of 68. He was said to have a delusional thought process.
A police officer, that interrogated Carl Watts after his arrest, stated that Carl appeared to be "very, very intelligent" with an "excellent memory."
Carl Watts was released from the Lafayette Clinic on November 9, 1969.
Carl Watts Returns To School
Despite his poor grades, Carl Watts graduated from high school in 1973. He received a football scholarship to Lane College in Jackson, Tennessee. He was, however, quickly expelled from Lane College because he was accused of stalking and assaulting women.
Another reason Carl Watts was expelled from the college was because many people there believed that he was a suspect in the brutal murder of a female student. And he may very well have been the killer. However, there was not enough evidence to convict him of the crime. After his expulsion he moved to Houston, Texas.
Career Serial Killer
Watts' career as a serial killer supposedly began when he was 20 years old, in 1974, by kidnapping his victims from their homes, torturing them and then murdering them.
On October 30, 1974, Carl Watts tortured and then brutally murdered 20-year-old Gloria Steele, who was believed to be his second victim.
Watts, who was African American, almost always killed young white women between the ages of 14 and 44. He used methods such as strangulation, stabbing, bludgeoning, and drowning. Watts had murdered dozens of women between 1974 and 1982 and, despite the number, he was not discovered as a serial killer for almost eight years.
So Long Undetected
There were several reasons for this. He attacked in several different jurisdictions and even different states. Even with the advent of DNA testing it was still nearly impossible because he rarely performed sexual acts on his victims. Unlike most serial killers of women and girls, Watts' crimes did not have a sexually motivation. Watts was also not suspected to be involved with any of the murders by the people who knew him and he was not a police suspect in any of the murders until his arrest in 1982.
Discovery and Arrest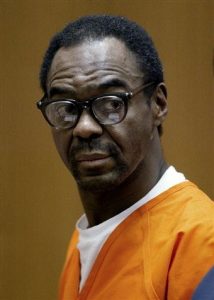 On May 23, 1982, Watts was arrested for breaking into the home of two young women in Houston and attempting to kill them. While in custody, police began to link Watts with the recent murders of a number of women. Until early 1981, he had lived in Michigan, where authorities suspected him of being responsible for the murders of at least 10 women and girls there. Watts was previously questioned about the murders in 1975, but there had not been enough evidence to convict him. At that time, Watts had spent a year in prison for attacking a woman, who survived.
Prosecutors in Texas did not feel they had enough evidence to convict Watts of murder, so in 1982 they arranged a plea bargain. If Watts gave full details and confessions of his crimes, they would give him immunity from the murder charges and he would, instead, face just a charge of burglary with intent to murder. This charge carried a 60-year sentence. He agreed with the deal and promptly confessed in detail to 12 murders in Texas. However, Michigan authorities refused to go in on the deal, so the cases in that state remained open.
Carl Watts Tells His Tale
Carl Watts later claimed that he had killed 40 women and also implied that there were more than 80 victims in total. He would not confess outright to having committed these murders, however, because he did not want to be seen as a "mass murderer."
Authorities still consider Carl Watts a suspect in at least 90 unsolved murders.
Michigan Trial
Watts was sentenced to the agreed 60 years. However, shortly after he began serving time, the Texas Court of Appeals ruled that he had not been informed that the bathtub and water he attempted to drown Lori Lister in was considered a deadly weapon. The ruling reclassified him as a nonviolent felon, making him eligible for early release.
At the time, Texas law allowed nonviolent felons to have three days deducted from their sentences for every one day served as long as they were well behaved. Watts was a model prisoner and had enough time deducted from his sentence that he could have been released as early as May 9, 2006. The law allowing early release was abolished after public outcry but could not be applied retroactively according to the Texas Constitution.
Charged
Although Carl Watts had immunity from prosecution for the 12 killings he had admitted to in Texas, he had no immunity agreement in Michigan. Before his 2004 trial, law enforcement officials asked the trial judge to allow the Texas confessions into evidence, which he agreed to.
Watts was promptly charged with the murder of Helen Dutcher. A Michigan jury convicted him on November 17, 2004, after hearing eyewitness testimony from Joseph Foy.
On December 7, he was sentenced to life imprisonment. Two days later, authorities in Michigan started making moves to try him for the murder of Western Michigan University student Gloria Steele, who was stabbed to death in 1974.
Carl Watts' trial for the Steele murder began in Kalamazoo, Michigan on July 25, 2007. The following day the jury returned a guilty verdict. Watts was sentenced to life imprisonment without parole on September 13. He was incarcerated at a maximum security prison in Michigan.
Carl Watts died of prostate cancer on September 21, 2007 in a Jackson, Michigan hospital.
RELATED: DORANCEL VARGAS GOMEZ – MAN EATER
Credit – murderpedia /  crime about .com