Gian Luigi Ferri
The 101 California Street Shootings
July 1st, 1993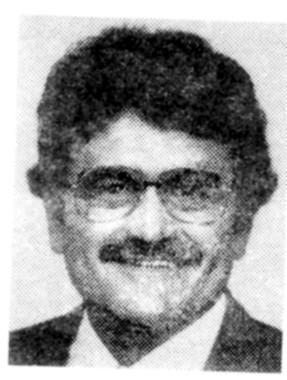 Gian Luigi Ferri appeared to be a portly middle-aged professional carrying an attache case and wheeling a lawyer's case on a dolly. But when he stepped into the law offices on the 34th floor of a downtown office building here, he shed his jacket, donned a pair of orange ear protectors and went to battle with three semi-automatic pistols.
The question today in San Francisco was what drove the gunman, identified as Gian Luigi Ferri of Los Angeles, into a murderous spree on a Thursday afternoon in which he killed eight people, wounded six others and then ended his own life with a bullet from a .45-caliber Colt placed under his chin.
Gian Luigi Ferri
A murky picture began to emerge today of Mr. Gian Luigi Ferri as a real estate speculator who once won a million-dollar judgment and more recently sought to file for bankruptcy. Members of the firm he assaulted, Pettit & Martin, were at first unable to recognize Mr. Ferri, but later discovered that he had been a client in 1981. They had given Mr. Ferri advice in several real estate transactions, mainly to buy several trailer parks in Indiana and Kentucky. No Contact since '1982.
Shortly after that, said Vickie Spang, marketing director for the firm, he ( Gian Luigi Ferri) had complained that the seller had made misrepresentations. She said the firm had helped him find local counsel in Indiana that helped him win a $1 million judgment there. Pettit & Martin had no records of any complaints about its own work from Mr. Ferri.
Whether Gian Luigi Ferri ever collected the judgment could not be learned, but it appeared that when he began shooting, Mr. Ferri was a man down on his luck. He recently approached a law office in Hollywood seeking to file for personal bankruptcy.
Gian Luigi Ferri told the lawyers in Hollywood that he had lost $300,000 in a land deal in Leadville, Colo., near Aspen. "Somebody did a real number on him," Elias Francisco, a paralegal at E. Francisco & Associates, a law firm run by his brother Emilio, had said.
Described as Quite Man
The county coroner, Boyd Stephens, identified the gunman as Mr. Gian Luigi Ferri, 55, of the Woodland Hills section of Los Angeles, owner of ADF Mortgage, which was incorporated in Nevada in 1987. The police found his 1986 or 1987 Cadillac in a parking garage in the Embarcadero Center, a block from the 48-story glass and granite tower where Mr. Ferri spread carnage.
"His name didn't mean anything to me," said Richard E. Climan, a partner in the Pettit firm, which has 160 lawyers in six offices and practices mostly business law.
In Woodland Hills, neighbors of ADF, which occupied a second-story office in a shopping strip, described Mr. Ferri as a quiet man who spoke with a foreign accent, when he spoke at all. He appeared to be in financial trouble, they said, and would sometimes sit in his car for two hours at time.
"He always stayed by himself and seemed lonely and sad," said Marilyn J. Petlack. "I never saw any clients going in there. I knew he was not doing well financially, but he didn't seem like a criminal type." At the nearby Oakwood apartment complex, where he rented a furnished one-bedroom apartment, the manager said Gian Luigi Ferri had not paid his June rent.
Wrong Place, Wrong Time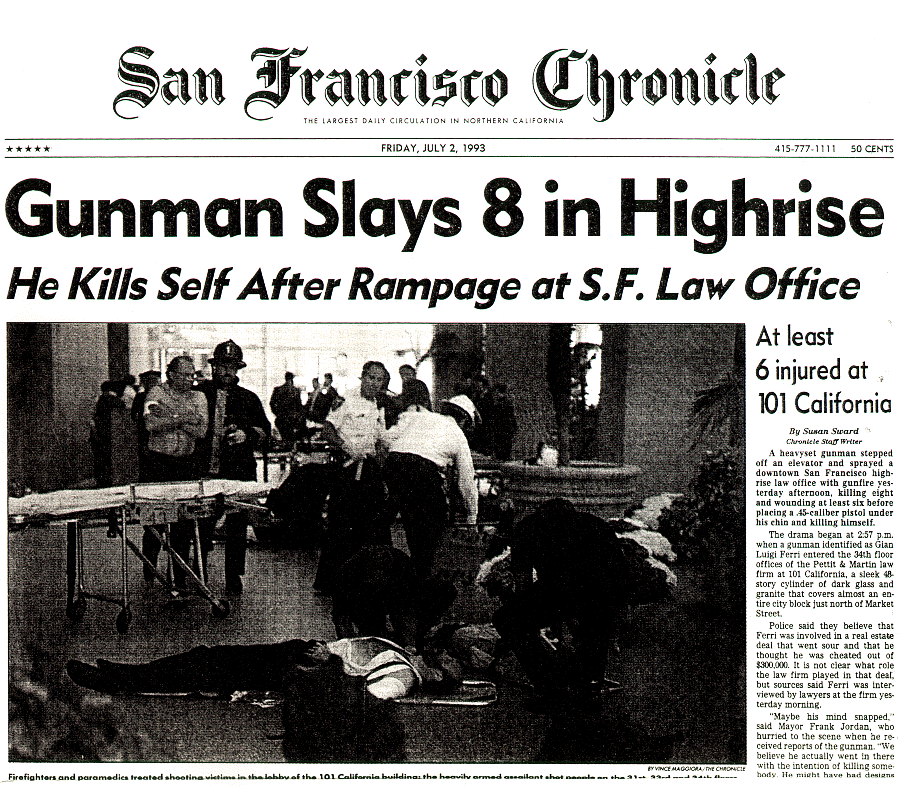 The police said they found a list of names on Mr. Ferri's body, but no one on the list appeared to be among the victims. And at least two of the dead appeared to have been entirely unrelated to any issue he had with the firm: Jack Berman, a 36-year-old partner in another San Francisco law firm, Bronson, Bronson & McKinnon, and a client of his, Jody Sposato, 30, who were there to give a deposition in a lawsuit she had brought against a former employer over her dismissal.
The San Francisco County coroner said the others killed were Deborah Fogel, a secretary for the law firm Davis Wright & Tremaine; Donald Michael Merrill, 48, of Oakland, whose employment and reason for being in the building were unclear; and four employees of Pettit & Martin, John C. Scully, 28, an associate lawyer in the firm; a law partner, Allen J. Berk, 52; a summer legal assistant, David Sutcliffe, 30, of San Francisco, and a secretary, Shirley Mooser, 64.
Gian Luigi Ferri Was Down On His Luck
Last October, Gian Luigi Ferri walked into the Hollywood offices of E. Francisco & Associates, bankruptcy lawyers based in Irvine, Calif., to ask about filing for bankruptcy. "He was very gentle, very friendly, a chubby little guy," recalled Elias Francisco. "But he was hard up. He was hurting."
He said Mr. Ferri described losing $300,000 when he was not allowed to build on land in Leadville. "I got the feeling he had a lot of money at one time," Mr. Francisco said. He said Gian Luigi Ferri could not even afford the $1,100 fee to file for bankruptcy. And this fact did not help the already fragile situation.
Gian Luigi Ferri Entered Prepared for Battle
San Francisco authorities gave this account of Thursday's events:
Mr. Ferri, dressed in a dark business suit and carrying his cases, entered the elevators at 101 California Street shortly before 3 P.M. At the 34th floor, "He shed his coat and prepared for battle," said Inspector Napoleon Hendrix.
His battle armaments were two 9-millimeter Intratec DC9 semi-automatic machine pistols, carried in shoulder straps and each loaded with 50-round magazines, a smaller .45-caliber semi-automatic handgun and hundreds of rounds of ammunition loaded into dozens of magazines carried in his innocent-looking lawyer cases.
Without speaking a word, Gian Luigi Ferri opened fire on a glassed-in conference room where a deposition was in progress, killing Mr. Berman, the lawyer, and his client, Ms. Sposato. He killed another person on the 34th floor, then moved to lower floors, leaving five more dead and six wounded.
Two minutes after the first emergency call, 110 police officers arrived and shut down the elevators. Terrified office workers tripped the fire alarms, but the police turned the alarm off, which locked the doors in the stairwell, trapping the gunman who was trying to escape down the stairs. Somewhere below the 29th floor, Mr. Ferri saw officers coming up the stairs, and fled back up the stairs and then shot himself to death with a single bullet.
And the unexplained battle just as quickly ended.
credit murderpedia – The Broker Who Killed 8 – By Robert Reinhold – The New York Times
The Insane Ramblings Of A Mad Man
By Robert Reinhold – The New York Times
The deadly rampage in the law firm appears to have been the irrational and desperate act of a deranged man.
That is the almost inescapable conclusion from a rambling semiliterate screed found on the man's body after he killed eight people, wounded six others and finally killed himself at the law offices of Pettit & Martin here. The 55-year-old gunman — variously identified by the authorities as Gian Luigi Ferri — carried a hit list of more than 30 names, apparently targets of his wrath, but no one on his list was among the victims.
In his four-page typed letter, Mr. Ferri ranted about a flavor enhancer in food, monosodium glutamate, the Food and Drug Administration, and the legal profession. Excerpts of the letter were published today in The San Francisco Chronicle.
The Letter
In his letter, Mr. Ferri said he had been "raped" by Pettit & Martin. Contrary to rumors of a recent connection between Mr. Ferri and the law firm, Pettit & Martin reported Friday that it had advised him a dozen years ago on some real estate deals in the Midwest but had no contact with him since then.
The letter, filled with misspellings and grammatical errors, said, "The last thing that made all of this come to a head is that I am one of those people of the 5% of the population (12.5 million people), where the poison monosodium glutamate (MGS) has reached such high levels in our cells, that a minimum amount more can kill us."
The letter ended with a blast at lawyers. "When you hire a consultant or an attorney you don't hire for the purpose of getting raped and than having all your efforts toward legal recourse totally thwarted by a corrupt legal system of 'esquires'. Esquires in the dark ages romed the countryside to steel from the working people and give tothe prince. Do attorney want us to call them esquires because their allegiance is to the monarchy?"
None of the dead or wounded appeared to have any connection with Gian Luigi Ferri or were on his "list of criminals, rapists, racketeeres, lobbyists."