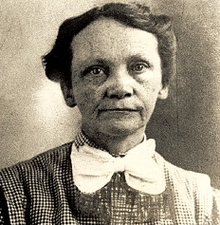 "Sister" Amy Duggan Archer-Gilligan was a Windsor, Connecticut nursing home proprietor. She was also a serial killer who systematically murdered at least five people by poison. One of those was her second husband, Michael Gilligan. The rest were residents of her nursing home. It is possible that she was involved in many more deaths. Authorities found 48 deaths total from her nursing homes and believe she may be behind many of them.
The Childhood and Marriage of Amy Duggan
Amy Duggan was born in October 1868 to James Duggan and Mary Kennedy in Milton, Connecticut. She was the eighth of ten children. She was taught at the Milton school and went to the New Britain Normal school in 1890.
Amy married James Archer in 1897. A daughter, Mary J. Archer, was born in December 1897. The Archers got their first job as caretakers in 1901. They were hired to take care of John Seymour, an elderly widower. They settled in his home at Newington, Connecticut. Seymour died in 1904. His heirs turned the residence into a boarding house for the elderly. The Archers were allowed to stay. They provided care for the elderly for a fee. In turn they paid rent to Seymour's family. They ran the house under the name of "Sister Amy's Nursing Home for the Elderly."
In 1907, Seymour's heirs decided to sell the house. The Archers moved to Windsor, Connecticut and used their savings to purchase a residence of their own. They soon converted it into their own business. It was called the Archer Home for the Elderly and Infirm. James Archer died in 1910 of apparently natural causes. The official cause of death was Bright's disease, a generic term for kidney diseases. Amy had taken out an insurance policy on him a few weeks before his death, so she was able to continue running the Archer Home.
Amy Duggan Marries Again
In 1913, Amy Duggan married her second husband, Michael W. Gilligan. Michael was a widower with 4 adult sons. He was reportedly wealthy and interested in both Amy and in investing in the Archer Home. Michael died February 20th in 1914. The official cause of death was "acute bilious attack/" In other words "severe indigestion". Amy Duggan Archer-Gilligan was once again a widow and financially secure. In their short marriage, her new husband had drawn up a will, leaving her the entirty of his estate.
Killlings and Capture of Amy Duggan
Between 1907 and 1917, there were 60 deaths in the Archer Home. Relatives of her clients had grown suspicious as they tallied the large numbers of its residents dying. Only 12 had died between 1907 and 1910. 48 had died between 1911 and 1916. Among them was Franklin R. Andrews, an apparently healthy man.
On the morning of May 29, 1914, Andrews was doing some gardening in the Archer house. His health suddenly collapsed within a day. He was dead by the evening. The official cause of death was gastric ulcer. His sister Nellie Pierce inherited his personal papers. She soon noted occasions where Amy Duggan Archer-Gilligan was pressing Andrews for money. Amy's clients showed a pattern of dying not long after giving their caretaker large sums of money.
As the deaths continued, Pierce reported her suspicions to the local district attorney. He mostly ignored her. Pierce then took her story to The Hartford Courant, a newspaper. On May 9, 1916, the first of several articles on the "Murder Factory" was published. A few months later, the police started seriously investigating the case.
The investigation took almost a year to complete, but the results were interesting. The bodies of Gilligan, Andrews, and three other boarders were exhumed. All five had died of poisoning, either by arsenic or strychnine. Local merchants were able to testify that Amy Duggan had been purchasing large quantities of arsenic, supposedly to "kill rats." A look into Gilligan's will helped establish it was actually a forgery, written in Amy's handwritting.
The Trials of Amy Duggan
Amy Duggan Archer-Gilligan was arrested and tried for murder. Originally on five counts. But ultimately, her lawyer managed to get the charges reduced to a single count (Franklin R. Andrews). On June 18, 1917, a jury found her guilty and she was sentenced to death. Archer-Gilligan appealed and was granted a new trial in 1919. She pleaded insanity. Mary Archer testified that her mother was addicted to morphine. Archer-Gilligan was nonetheless found guilty of second degree murder and was sentenced to life imprisonment.
The Death of Amy Duggan
In 1924, Amy Duggan Archer-Gilligan was declared temporarily insane and was transferred to Connecticut Hospital for the Insane in Middletown. She remained until her death on 23 April 1962.
credit murderpedia