Donald Neilson | Serial Killer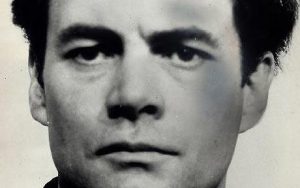 Donald Neilson
Born: 08-01-1936
---
The Black Panther
British Serial Killer
Crime Spree: 1974 – 1975
Death: 12-18-2011
---
Donald Neilson, known also as Donald Nappey, married 20 year old Irene Tate in April of 1955 at the age of 18. Their daughter, Kathryn, was born in 1960. After his daughter's birth, Nappey changed the family name to Neilson so that the little girl would not suffer the humiliation that he had endured at school and in the army because of his surname. According to David Bell and Harry Hawkes, Neilson bought a taxi from a man named Neilson and decided, then, to use that name instead of the former.
An alternative theory, proposed by a lodger, Miss Lena Fearnley, who stayed with the Neilson family in the early 1960's, is that Neilson took the name from an ice-cream van from which he and Irene often bought ice-cream for their daughter. Miss Fearnley told the BBC in an interview that he told her, "I like that name."
Donald Neilson Turns To Crime
A jobbing builder in Bradford, West Yorkshire, Donald Neilson turned to crime when his business failed. It is believed he committed over 400 house burglaries without detection during his early days of crime. Proceeds were low, however, which resulted in him turning to robbing small post offices.
Then Murder
His crimes became more and more violent and already having shot dead two sub-postmasters and the husband of a sub-postmistress as well as brutally battering sub postmistress Margaret "Peggy" Grayland in post office robberies, (Donald Skepper in Harrogate, Sidney Grayland in Langley, West Midlands, and Derek Astin of Accrington) the Whittle case made him Britain's most wanted man in the mid-1970's.
Kidnap of Lesley Whittle
Lesley Whittle was a 17-year-old girl and was Neilson's youngest and best-known victim.
On January 14th, in 1975, Whittle was kidnapped from the bedroom of her home in Shropshire, England. Donald Neilson demanded a £50,000 ransom from her family for her release. Her mother was asleep in the house at the time. The kidnapper had read that Whittle had been left a considerable sum of money (£82,000—almost half a million pounds compared to 2007 figures) by her late father George (who died in 1967 at the age of 62), who ran a successful coach company, one of the largest in the country, based at Highley and Kidderminster.
A series of police bungles and other circumstances meant that Whittle's brother Ronald was unable to deliver the ransom money to the place and time demanded by the kidnapper, who, it is widely believed, pushed Whittle off the ledge in the drainage shaft where he had tethered her in Bathpool Park, at Kidsgrove, Staffordshire, strangling her. An alternative to this scenario is that Neilson was not even there when Lesley died and that in fact he fled on the night of the failed ransom collection without returning to the shaft after he panicked, believing the police were closing in on him, leaving Lesley alive in the dark surrounded by rats and other vermin to slowly starve for a considerable period of time before falling to her death. If the police had searched the park and the shaft the morning after Ron Whittle's attempt to deliver the ransom the story might have had a very different ending.
Hanging From A Wire
Whittle's body was found on 7 March 1975, hanging from a wire at the bottom of the shaft. The subsequent post-mortem examination showed that Lesley had not, in fact, died slowly from strangulation but instantaneously from vagal inhibition. The shock of the fall had caused her heart to literally stop beating. The pathologist, Dr John Brown, reported that this would have been induced by high blood pressure in her carotid artery, caused by the constrictive wire loop around her neck triggering an alarm to her brain via the vagus nerve. The brain's response to this urgent signal for a reduction in artery pressure would be to slow down radically the heart and when that failed, her heart stopped altogether and she died. The pathologist noted that Lesley weighed only 98 lbs when found, her stomach and intestines were completely empty and she had lost a considerable amount of weight. Even if Neilson's assertions that he fed her chicken soup, spaghetti and meatball and bought her fish and chips and chicken legs were callous lies and the last time she actually ate was around 7 o'clock on the evening of January 13th this would only leave a window of around 80 hours for her to have lost the weight if the allegation that Neilson pushed her to her death in the early hours of January 17th is to stand scrutiny.
Capture and Arrest
In December 1975, two police officers, Tony White and Stuart Mackenzie, were in a Panda car in a quiet side road keeping a watch on the main A60 trunk road leading out of Mansfield in North Nottinghamshire when they spotted a small wiry man scurrying by carrying a holdall. As he passed the police car he averted his face drawing Mackenzie's attention. As a matter of routine, they called him over to question him. The man said he was on his way home from work, then produced a sawed-off shotgun from the holdall. He ordered White into the back of the car, the policeman opened the car door but the gunman snapped,"No time for that, climb the seat"! The officer did as he was told and the gunman settled himself in the passenger seat, jamming the gun into Mackenzie's armpit.
He ordered them to drive to Blidworth, six miles away and told them not to look at him. This presented PC Mackenzie with a problem. Gently he explained to the gunman that they were going wrong way and he would have to turn the car round. The gunman agreed but warned both officers if there were any tricks they would both be dead. As they were driving along Southwell Road the gunman asked if they had any rope.
As White pretended to look, Mackenzie reached a junction in the road. Turning the steering wheel violently one way then the other, he asked,"which way, left or right"? causing the gunman to look toward the road ahead. White saw the gun drop a few inches and realized his chance. He pushed the gun forwards and Mackenzie stamped on the brake. They were outside The Junction Chip Shop in Rainworth and called for help. The gun went off grazing White's hand. Two men (Roy Morris and Keith Wood) ran from the queue outside the fish and chip shop and helped subdue Neilson. Wood quietened the gunman considerably with a karate chop to the neck before Morris grabbed his wrists and held them for White to snap the handcuffs on. The locals attacked him so severely that in the end the police had to protect him.
They hauled Neilson to iron railings at the side of a bus stop and handcuffed him there before calling for back up, and when they found two Panther hoods on him, they realized that they had probably caught the most wanted man in Britain. This was confirmed when a fingerprint was found to match a single partial one found in a notebook in the drainage shaft with the body of Lesley Whittle, the only fingerprint evidence he ever made the mistake of leaving.
The Sentencing of Donald Neilson
Donald Neilson was sentenced to life imprisonment in July of 1976 for the murder of Lesley Whittle, two sub-postmasters and the husband of a sub postmistress. He was found not guilty of the attempted murders of sub postmistress Margaret "Peggy" Grayland and PC Tony White but guilty of the lesser alternative charges of inflicting grievous bodily harm on Mrs Grayland and possessing a shotgun with the intent of endangering life at Mansfield.
A charge of attempting to murder a security guard named Gerald Smith who he shot six times while checking the Whittle ransom trail was left on file because of legal complications due to fact that Mr Smith died more than a year and a day after being shot.
The trial judge recommended that Neilson receive a whole life tariff. He has since been confirmed on the Home Office's list of prisoners issued with whole life tariffs, as a succession of Home Secretaries have ruled that life should mean life for Neilson. The European Court of Human Rights legislation saw politicians lose that power in November 2002.
In 2008, Neilson applied to the High Court to have his minimum term reverted to 30 years. On 12 June 2008, however, Neilson's appeal was rejected, and he was told by the court that he will have to spend the rest of his life in prison.
Now in his seventies, Neilson continues to serve his sentence at HMP Norwich and remains one of Britain's longest-serving prisoners.
On 29 June 2008, it was revealed that Neilson has Motor Neurone Disease, a progressive and fatal disease.
source: wikipedia
This site contains affiliate links. We may, at no cost to you, receive a commission for purchases made through these links