Simply Coincidental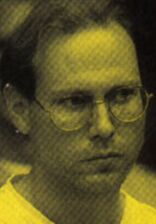 Criminal investigators don't like coincidences, so when Charles Rathbun was arrested for killing model Linda Sobek in November of 1995, the circumstances of his crime made police around the country sit up and take notice.
Charles Rathbun was a nationally recognized photographer who specialized in automotive subjects like the slick pictures found in magazines like Car and Driver or Motor Trend. Linda Sobek was an established model and former Los Angeles Raiders "Raiderette." She was on the cusp of establishing an acting career when she was slain in Angeles National Forest north of Los Angeles.
On November 16, 1995, the day she was killed, Sobek, 27, left a cryptic message on her answering machine letting callers know that she was unavailable because she had taken a last-minute modeling job. She didn't tell anyone the nature of the assignment or who the photographer was. As a result, her body lay in a shallow grave in the vast, mountainous national forest for a week before it was found.
Charles Rathbun
Sobek was a woman of contrasts. Her family testified that she was a born-again Christian who frequently posed in skimpy bikinis for calendars and who enjoyed the suggestive dancing of professional cheer leading/dance teams. She was looking to leave the world of pin-up modeling for serious acting, and was scheduled to audition for a part on the low-brow sitcom "Married with Children."
According to Charles Rathbun she was a stuck-up bitch and a difficult model to work with, while friends and family recalled that she was almost always cheerful and the type of woman who "if she hadn't talked to you in a few days, would drop a card in the mail just because."
It was equally hard to put a label on Charles Rathbun. He was a successful photographer who once stood trial for rape in Ohio (he was acquitted), and despite his achievements in his career, he was an enigma to his neighbors and unsuccessful with women. The guilt he felt for killing Sobek weighed so heavily on him that he twice attempted suicide, yet the crime appeared to be premeditated and was extraordinarily violent.
When Sobek disappeared, the case quickly caught the attention of the media, as a welcome alternative to the OJ Simpson story. It had everything the media needed: the mysterious disappearance of a beautiful woman with lots of suggestive photographs and videotape. The missing person case was nightly television fodder and even appeared on "Leeza" and "A Current Affair."
Charles Rathbun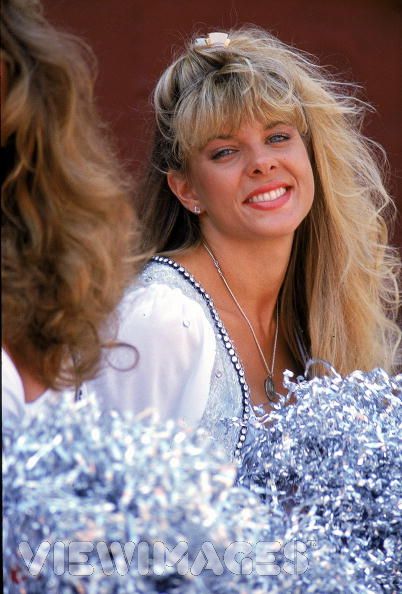 The case had "all the elements . . . a beautiful model who used to be a Raiderette," University of Southern California journalism professor Joe Saltzman told USA Today. "Those elements would have made this a story in the 1920's. We're interested in beautiful models."
Calls came in from across the world, sheriff's spokesman Deputy Gabe Ramirez said. "I couldn't even begin to tell you the number of calls."
For the better part of a week police had no leads in Sobek's case until Charles Rathbun, in a drunken state, called a friend and confessed that he "had something to do" with her disappearance. Over the phone he stated that he had a gun and was planning to kill himself. The friend, a female reserve deputy with the Los Angeles County Sheriff's Department, dismissed his claim, but rushed to his house to stop him from harming himself. It took her some time to get Rathbun to leave his house while she and another friend stood in the driveway, and when he did he accidentally fired his weapon. The shot ricocheted off the asphalt and injured the deputy.
When police arrived, Charles Rathbun repeated his confession and he was taken in for questioning. Police nearly blew the case when they failed to advise him of his rights before he was interrogated and confessed. His drunken, rambling confession, during which he vomited on himself, was eventually tossed out by a judge.
Charles Rathbun
Charles Rathbun agreed to take police to the gravesite and Sobek's body was recovered.
It was then that a number of coincidences brought him to the attention of law enforcement agencies across the country. On the surface it appeared that Rathbun might be a serial killer.
First of all, Sobek's murder was eerily similar to another case that police had not been able to solve.
Model Kimberly Pandelios was found murdered in a Southern California national park in 1992. Within days, the LA sheriff announced that Charles Rathbun was a suspect in that case, as well. Both young women were last seen heading to a modeling assignment involving cars.
"In addition to the Linda Sobek murder we are looking at possibilities of the involvement of the suspect Charles Rathbun and some other possible unresolved cases, including the Kimberly Pandelios case," Sheriff Sherman Block said. "We have people who've come forward who have indicated that there was acquaintanceship between Rathbun and Kimberly Pandelios," Block said at a news conference.
"We are now including the Pandelios case as a formal part of this investigation," Block said.
Charles Rathbun
Block said witnesses told investigators that Charles Rathbun and Pandelios met at a Denny's restaurant. Sobek's missing car was found last week at a Denny's lot just off the San Diego 405 Freeway in Torrance.
Block said a number of women have come forward to claim that Rathbun "made overtures to them for sexual favors … sometimes on photo shoots."
When they refused his advances, Block said, Rathbun became pretty pushy. "He didn't like to take no for an answer."
Charles Rathbun quickly became a person of interest in the murder of Stephanie Hummer, an Ohio State University student near Rathbun's father's house in Columbus, Ohio.
Rathbun was once a student at OSU. The Ohio State freshman disappeared March 6, 1994. Her body was found the next day. A blow to the head had killed her, according to police.
Charles Rathbun also became a suspect in the 1993 murder of 19-year-old Rose Larner, a Lansing, Michigan wannabe model. Rathbun lived in the Lansing area at the time of Larner's disappearence. She was last seen in a Delphi Township neighborhood near where Rathbun had a mailing address, police said.
Charles Rathbun
While the media repeated these speculative discussions by police, authorities tried — at least publicly — to downplay the daily revelations.
Columbus police Lt. Dan Wood said that investigators had no evidence that Rathbun committed any crimes in Columbus. "I think some of these links are pure speculation by the national media," Wood told the Columbus Dispatch. "I wouldn't even call them weak. I haven't seen any proof yet."
Back in Los Angeles, Charles Rathbun stuck to a feeble explanation that Sobek died by accident. He was photographing a 1996 Lexus SUV for Motor Week prior to the vehicles public release and was showing off by doing doughnuts in a dry lake bed when he clipped Sobek with a mirror. Panicking, Rathbun said he took her body to a wooded area in Angeles National Forest and buried her, using his hands to dig the grave.
The autopsy showed a much more violent death for the model. She had been asphyxiated by someone sitting on her back and pushing her throat against something that cut off her air supply. And, prior to her death, Sobek had been sexually assaulted with a blunt object, the coroner reported.
Police believed that Charles Rathbun brought the model to the forest with the intent of coaxing–or forcing–her into sex. "I think he took her out there to see what he could get," Deputy District Attorney Steven Kay told the jury at Rathbun's trial.
Charles Rathbun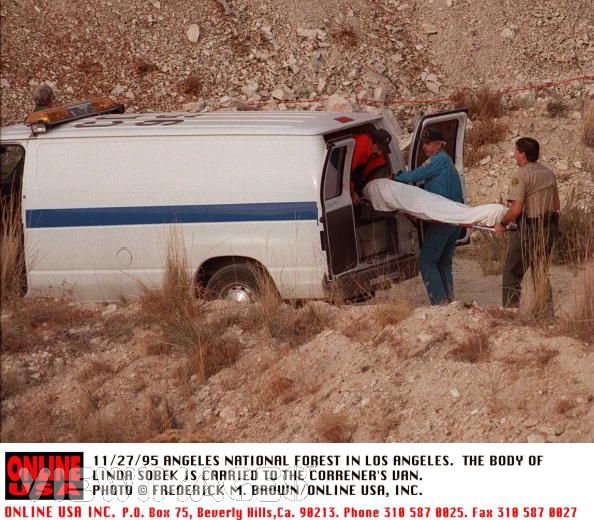 Sobek, who rarely drank, was heavily intoxicated when she died, the coroner said. Rathbun admitted that he bet her $60 that she could not chug the remnants of a bottle of tequila.
Kay said, the 5-foot-3 model was bound at the ankles by Rathbun and then sodomized, possibly with Rathbun's .45-caliber handgun. Sobek struggled so forcefully that her ankles were rubbed almost raw, Kay said, displaying graphic photos from her autopsy.
Taking the stand in his own defense, Charles Rathbun altered his story slightly to fit the new facts.
Rathbun said that he struggled with Sobek in the back seat of the Lexus. The argument, he testified, followed a driving stunt in the Angeles National Forest that went awry.
He said he did not run into her but came close enough for her to jump back and fall, cutting her head.
After she was injured he helped Sobek back to the car. There, he said, she angrily threatened him because of the near-accident and began kicking at the interior of the vehicle.
"I grabbed at her foot," Rathbun testified, trying to prevent her from further damaging the car. "It became a real struggle," he said. He said that he positioned his 6-foot-3, 210-pound frame on Sobek's back.
Charles Rathbun
"I was pinning her down to the seat," Charles Rathbun said. "At one point, she was struggling for about 30 seconds or so and then she got very calm. I kept holding her down, figuring she was playing possum."
Rathbun said he got off Sobek and spoke to her. But when she did not respond, he said, he checked her and could not tell if she was breathing.
He put her on the dry lake bed and tried to revive her. When she didn't wake up, he said, he made a vain attempt to get her back into the car. And when that failed, he said, he tried to help balance her by tying her ankles together using an ace bandage.
Nobody bought it and, eventually, Charles Rathbun was convicted of Sobek's murder and sentenced to life in prison.
credit - murderpedia /