Velma Barfield | Serial Killer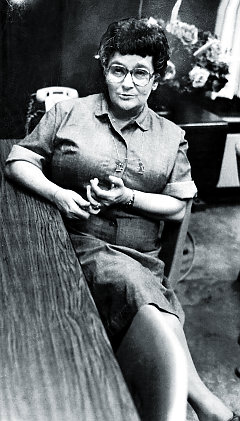 Velma Barfield
Born : 10-29-1932
---
Death Row Granny
Serial Killer
Crime Spree: 1969 – 1978
Executed by Electric Chair on 11-02-1984
By 1977, after two marriages, both of which had ended with the deaths of her husbands, Margie Velma Barfield was once again in a relationship. This time it was with Stuart Taylor, a widower and a tobacco farmer. As she had been doing for years, Velma began forging checks on Taylor's account to pay for her addiction to prescription drugs.
Fearing that she had been found out, Velma mixed an arsenic based rat poison into Stuart's beer and tea. He quickly fell very ill and Velma volunteered to nurse him. As his condition worsened she eventually took him to the hospital where he died a few days later.
Unfortunately for Velma, there was an autopsy which found that the cause of Stuart Taylor's death was arsenic poisoning and Velma Barfield was immediately arrested and charged with his murder.
At the trial Velma's defense pleaded insanity but this was not accepted and Velma Barfield was convicted. The jury recommended the death sentence.
Velma later confessed to the 1974 murder of her own mother (in whose name she had taken out a loan) and of two elderly people, John Henry Lee (by whom she was being paid as a housekeeper/caregiver) and Dollie Edwards (a relative of Stuart Taylor). Velma always attended the funerals of her victims and appeared to grieve genuinely for them.
The Life of Velma Barfield
Velma Barfield was born in rural South Carolina, but was raised near Fayetteville, North Carolina. Barfield's father reportedly was physically abusive and her mother, Lillian Bullard, did not intervene. She escaped by marrying Thomas Burke in 1949.
The couple had two children and were reportedly happy until Margie Velma had a hysterectomy and developed back pain. These events led to a behavioral change in Velma and an eventual prescription drug addiction.
Burke began to drink and Velma's complaints turned into bitter arguments. On April 4, 1969, after Burke had passed out, Barfield and the children left the house, and when they returned they found the structure burned and Burke dead. In 1970, Barfield married a widower, Jennings Barfield. Less than a year after their marriage, Jennings died on March 22, 1971 from heart complications.
In 1974, Lillian Bullard, Barfield's mother, showed symptoms of intense diarrhea, vomiting and nausea, only to fully recover a few days later. During the Christmas season of the same year, Bullard experienced the same earlier illness, but died in the hospital a few hours after being admitted on December 30, 1974.
In 1976, Velma Barfield began caring for the elderly, working for Montgomery and Dollie Edwards. Montgomery fell ill and died on January 29, 1977. A little over a month after the death of her husband, Dollie experienced identical symptoms to that of Bullard and died on March 1. Barfield later confessed to the latter death. The following year, Barfield took another caretaker job, this time for 76-year-old Record Lee, who had broken her leg. On June 4, 1977, Lee's husband, John Henry, began experiencing racking pains in his stomach and chest along with vomiting and diarrhea. He died soon afterward and Barfield later confessed to his murder.
Another victim was Rowland Stuart Taylor, Barfield's boyfriend and a relative of Dollie Edwards. Fearing he had discovered she had been forging checks on his account, Barfield mixed an arsenic-based rat poison into his beer and tea. He died on February 3, 1978, while she was "trying to nurse him back to health"; an autopsy found arsenic in Taylor's system. After her arrest, the body of Jennings Barfield was exhumed and found to have traces of arsenic, a murder that Barfield denied having committed. Although she subsequently confessed to the murders of Bullard, Dollie, and John Henry Lee, she was tried and convicted only for the murder of Taylor
Velma Barfield
The body of her late husband, Thomas Barfield, was later exhumed and also found to contain traces of arsenic. But Velma Barfield denied, and continued to deny, that she had killed him.
Her motives for these four murders were the same. She had misappropriated money from her victims and then according to her, tried to make them ill so she could nurse them whilst finding another job to enable her to repay the money. Needless to say, the jury was less than impressed by this defense.
article continued below
WickedWe Recommends:
Death Sentence
Death Sentence: The True Story of Velma Barfield's Life, Crimes, and Punishment by Jerry Bledsoe is the shocking story of a double life undone by murder. (Amazon)
When Stuart Taylor died after a sudden illness, his 46-year-old fiancée, Velma Barfield, was overcome with grief. Then a shocking fact came to light. The autopsy of the dead man revealed traces of arsenic poisoning. Turned over to the authorities by her own son, Velma Barfield then stunned everyone with a few revelations of her own. For starters, this wasn't the first time the born-again Christian had committed cold-blooded murder.
A riveting book about the life and death of a woman who came to be known as the Death Row Granny.
Velma Barfield In Prison
Barfield was imprisoned in Raleigh, North Carolina, in an area for escape-prone and mentally ill prisoners, as there was no designated area for women under death sentences at the time and she was the state's only female death row inmate. A death row unit for female inmates in North Carolina was subsequently established at the North Carolina Correctional Institution for Women.
During her stay on death row, Velma became a devout Christian. Her last few years were spent ministering to prisoners, for which she received praise from Billy Graham. Barfield's involvement in Christian ministry was extensive to the point that an effort was made to obtain a commutation to life imprisonment.
A second basis for the appeal was the testimony of Dorothy Otnow Lewis, Professor of Psychiatry at New York University School of Medicine and an authority on violent behavior, who claimed that Barfield suffered from dissociative identity disorder. Lewis testified that she had spoken to Barfield's other personality, "Billy", who told her that Velma had been a victim of sexual abuse, and that he, Billy, had killed her abusers. The judge was unconvinced. "One of them did it," Lewis quoted him as saying. "I don't care which one."
After Barfield's appeal was denied in federal court, she instructed her attorneys to abandon a further appeal to the U.S. Supreme Court.
Margie Velma Barfield was executed on November 2, 1984 at Central Prison by lethal injection. She released a statement before the execution: "I know that everybody has gone through a lot of pain, all the families connected, and I am sorry, and I want to thank everybody who have been supporting me all these six years."
Barfield chose as her last meal Cheez Doodles and Coca-Cola. She was buried in a small, rural North Carolina cemetery near her first husband, Thomas Burke.
Velma gained notoriety as the "Death Row Granny," becoming the first woman to be executed in the U.S. since 1962, and the first since the reinstatement of the death penalty in 1976.
source: casetext.com | exhibits.lib.unc.edu | digitalcommons.lmu.edu | wikipedia | murderpedia
This site contains affiliate links. We may, at no cost to you, receive a commission for purchases made through these links